meet your specialist trainer Janet Goosen
Dog Training & Behavioural Therapist for Leeds
Hi, My name is Janet Goosen. I am South African - born but have chosen to make my home in Leeds. Our home in Cape Town was complemented at any one time with dogs - Labradors, a Bull Terrier and a Staffie.
When my partner and I bought a home in Leeds, I felt there was something missing so we bought an English Bull Terrier whom we named Sebastian. After 6 months, he was completely running the home. He was stubborn and uncontrollable - although much loved and included. I called in Bark Busters and our lives were turned around.
I joined Bark Busters so that I may help others and make the responsibility of having a dog a pleasure. I intend to do this by teaching owners how to communicate with and understand their dogs. I feel confident with our non-physical method of training. Do not think the adage - You can't teach an old dog new tricks - is true, because it is not. I can assist with basic puppy training to mature dogs with complex behavioural problems.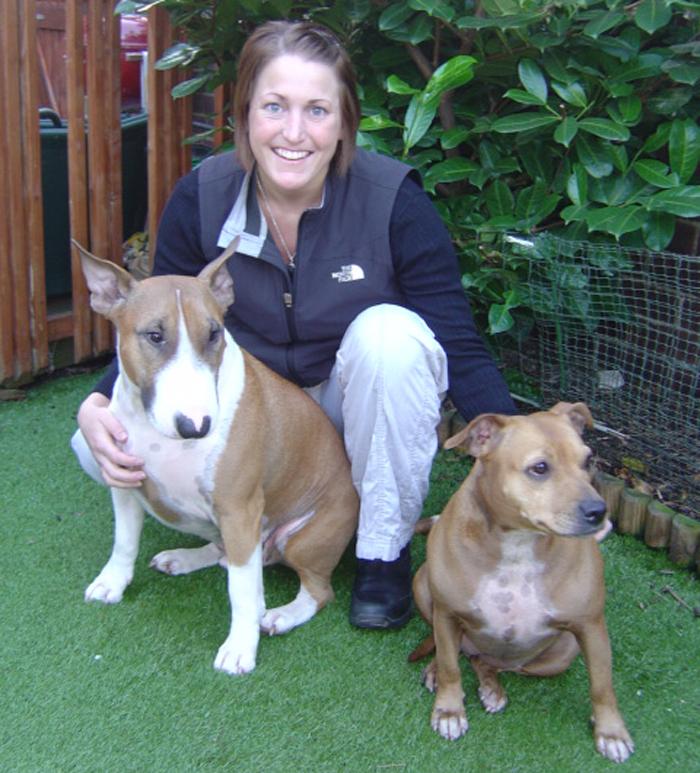 Services provided by Janet
more...
Call Janet on 0808 100 4071
Janet is a certified dog First Aider
how we can help you and your dog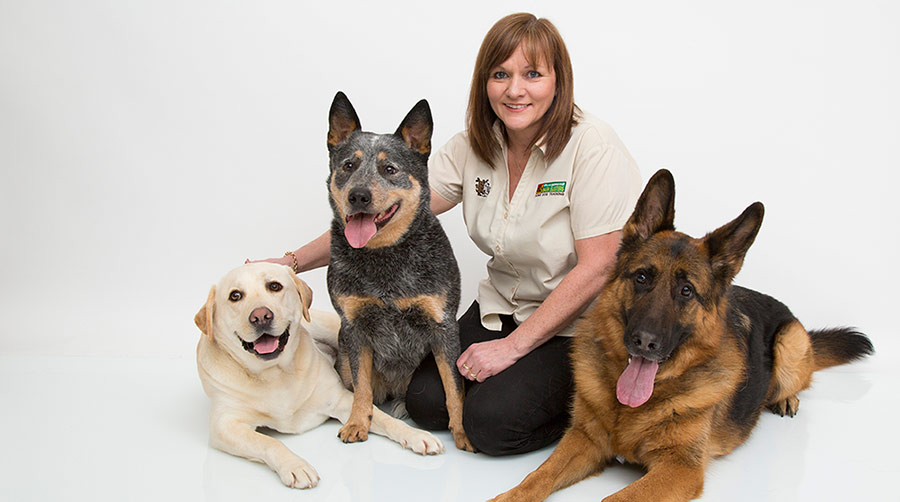 The Bark Busters Home Dog Training Methods helps solve dog behaviour issues such as aggression towards people or other animals
Cure embarrassing habits like barking, jumping up on people, scratching & whining at doors or inappropriate toileting.
Create an obedient dog or puppy that will happily walk on the lead without tugging, sit or stay on command, and come immediately when called.
Set off-limit areas for your dog.
Reduce the stress of separation anxiety without the need for sedatives or drugs.
We teach you to communicate with your pet.
Blah, blah, blah, bad dog! blah blah. Do you think your dog isn't listening to you? Maybe you're simply not speaking his language. You may have heard of dog whisperer or dog listener techniques. The Bark Busters dog training method is based on the way dogs communicate with each other and how they learn from older, more important dogs in the pack. This is what makes our dog training unique and effective.
Why do we train in your home?
Your dog lives with a family, in a home. This is where he misbehaves most often so this is where training is most effective. Dogs learn by association. Bark Busters teaches your dog to listen in the home environment. If he does not listen at home, he will not listen outside your territory.
Training in your home is a one-on-one system without the distraction of other dogs or the stress of being sent away for training.
Of course, where you are experiencing problems outside the home such as pulling on the lead or dog aggression, we will set up controlled training situations in the park or wherever is most practical.