meet your specialist trainer Alex Fraser
Bury Dog Training & Puppy Behaviour Therapist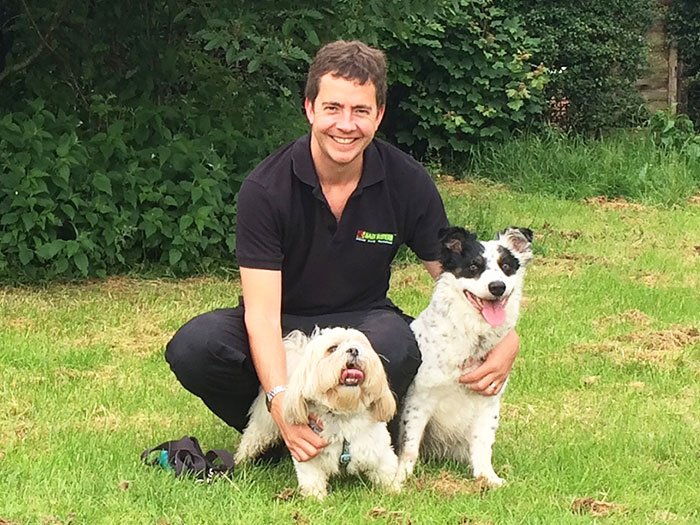 or call 0808 100 4071
Hello, I'm Alex Fraser, your local behaviour therapist for dog training Bury. If you are experiencing behaviour problems with your dog or you're simply looking for dog or puppy training or behaviour therapy, then I'm here to help you. I can show you how to resolve the behaviour problems your dog may have, so that you can fully enjoy the rewards of that very special human / canine bond. I deal with all kind of dog behaviour problems, from pulling, jumping, toileting and mounting, to aggression, separation anxiety, sibling rivalry and much, much more. I am also there for you if you simply want to get your new puppy off to the right start and avoid unwanted behaviours ever becoming an issue. My non physical and gentle training methods use the same methods that dogs use to communicate, body language and voice tone. I teach you how to communicate with your dog in a way that he will understand.
If you're looking for fast and effective dog training near you, then you've found the right place. My training is one to one in your home. This helps ensure your dog learns quickly, as he will be more relaxed in familiar surroundings; his own environment. All it takes is for you to follow my simple, tailor made instructions for 15 to 20 minutes a day and before long, your dog will be responding to you, resulting in a happy dog and happy owner!
The additional peace of mind of our 12 month or Life of the Dog Support Guarantee is of great reassurance to you, so if you feel some problems are reoccurring, or identify new behaviour problems, I will return and continue to support you for the duration of the guarantee. I would love to show you how you can take back the control to ensure you experience the joy of owning a happy and contented dog. By reading my page you've already started on the path to happy, fulfilling, rewarding relationship with your dog. Please take the next step so we can work to create the relationship both you and your dog deserve

A little about Alex...
I was raised in a family that love animals and have always had a dog in my life. One of my earliest memories was of our German Shepherd, Rusty. She was a rescue dog taken on by my parents and to this day I can remember being pushed around in my push chair and Rusty would never leave our side, which gave my Mum an immense feeling of security. As you come to realise this isn't always a good thing as it can lead to problems...
Following Rusty we had a beautiful cross called Kezzie. A lovely natured dog who really was part of the family. Although she used to love playing football in the park, Kezzie was always my Mum's dog and she certainly saw my Mum as a leader. Claire and I married and shortly afterwards we found ourselves at a local rescue centre. Within 24 hours Max was firmly footed in his new home. Apart from his name, poor Max came with nothing; no collar, no lead, no bed and certainly no toys. Whilst giving a needy dog a loving home was extremely important to us, we were a little nervous about adopting a rescue dog. We were told to expect some "settling issues". The first time we left him we were almost too scared to open the door to see what may greet us! Thankfully the warnings couldn't have been further from the truth and Max was patiently waiting for us when we got back. Max never once grumbled at either Claire or myself but he did have the tendency to grumble and show aggression to others until he got to know them. Walking to heel was terrible!!! He would pull wherever we took him. Despite various, expensive, obedience sessions, with several different trainers, we just could not correct his behaviour problems. We were still left with an anxious, over-excitable, at times aggressive, dog. Not ideal for a family, and certainly not a pleasant state of mind for our beloved Max. I then discovered Bark Busters! When I first saw one of the Bark Buster therapists in action, I was blown away by the results. From that point on I knew that this was my vocation. I have learnt so much from Bark Busters; how important it is to communicate in the correct manner with your dog in a way in which they understand. Finding the answer to the problem behaviour comes from finding out why the behaviour is happening in the first place.
Alex was friendly, professional and non judgemental. He equipped us with tips and tactics to address elements of our dogs behaviour. He demonstrated techniques and allowed us to practise with the onus being on our continued effort in maintaining the new behaviours going forward. We practised techniques both in the house, in the garden and on walks. Bark busters won't "cure" your dog's behaviour but it will give you the tools to change your behaviour and address issues with your dog- we can see a difference already!

S.J.

15th July 2020
I can also help if you are looking for a dog trainer in Oldham
Services provided by Alex
more...
how we can help you and your furry friend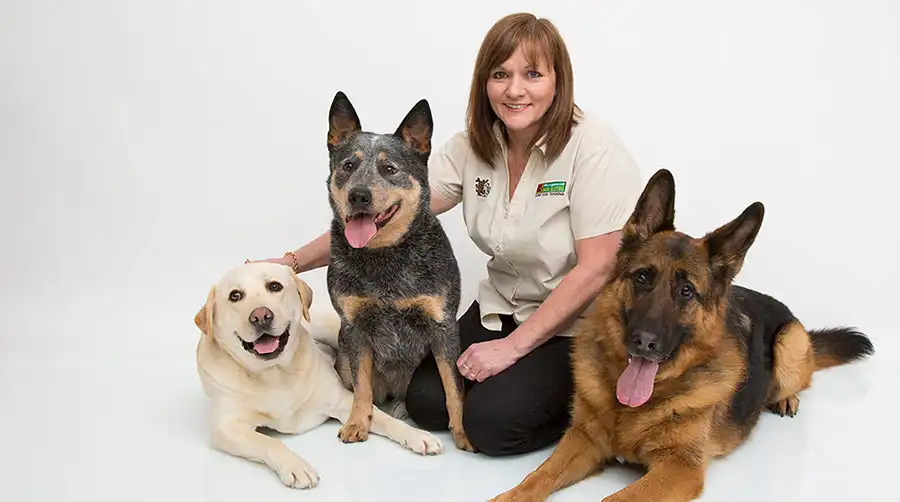 The Bark Busters communication methods help solve behaviour issues such as aggression towards people or other animals
Cure embarrassing habits like barking, jumping up on people, scratching & whining at doors or inappropriate toileting.
Create an obedient dog or puppy that will happily walk on the lead without tugging, sit or stay on command, and come immediately when called.
Set off-limit areas.
Reduce the stress of separation anxiety without the need for sedatives or drugs.
We teach you to communicate with your pet.
Do you find yourself shouting? Do you think your pet isn't listening to you? Maybe you're simply not speaking their language. The Bark Busters communication method is based on the way how our dogs communicate with each other and how they learn from older, more experienced members in the pack. This is what makes our training unique and effective.
Why do we train in your home?
Your pet lives with a family, in a home. This is where he spends most of his time and misbehaves most often, so this is where our programme is most effective. Our dogs learn by association. Bark Busters teaches him to listen in the home environment. If he does not listen at home, he will most probably not listen outside where there are far more distractions.
In your home we teach a one-on-one system without other distractions or the stress of being sent away from you to learn.
Of course, where you are experiencing problems outside the home such as pulling on the lead or dog aggression etc..., we will set up controlled situations in the park or wherever is most practical.
Your trainer is an independent business owner who operates their own business under a franchise agreement with Bark Busters. Mutts With Manners Ltd trading as Bark Busters, is a franchisee of BBDT (UK) Limited, the Master Franchise holder.