meet your specialist trainer Angela Young
Dog Training & Behavioural Therapist for Carlisle & North Cumbria, Croydon & Sutton, Lancaster & South Cumbria, Merseyside North, Preston, Romford & Ilford, South West Scotland, West London
Hello, my name is Angela and I'm your Therapist for Bark Busters Home Dog Training Preston and surrounding area. I work with you on a one to one basis to establish a training programme in your home that all of the family can easily follow. My training is specifically designed to address your dog's particular needs and behaviour problems and is backed by the Bark Busters Support Guarantee. This means that you have the peace of mind that I'm with you every step of the way and you can call on me to return for follow-up training at no additional cost.
Whether you have a rescue dog or a new puppy, I'm here to help you with any training needs or behavioural problems, whether that is fear and anxiety around other dogs or strangers, barking, separation anxiety, pulling on the lead, recall issues, jumping up, aggression, difficulties travelling in the car, toileting or dietary advice, or if you need some early guidance with puppy training. Bark Busters training methods are kind, easy to follow and are proven to be effective.
My family and I have owned, rescued and trained German Shepherd crossbreeds for the past 38 years. Our first family dog Nikki was very easy to train as a puppy and extremely well behaved and she ignited my passion for dogs. When she passed away at the age of 13, my next dog Sam arrived. He was unplanned and I rescued him on a roadside from an abusive owner when he was a 5 month old puppy. Sam was very intelligent, full of character and fun and was a joy to have as my loyal companion for the next 15 years. He was also very easy to train, which gave me the false impression that all rescued dogs would find it as easy to adapt to a new life as he had. When Sam passed away, my husband and I adopted an 8 year old German Shepherd crossbreed rescue dog called Bella, who was a gentle soul but she had clearly been emotionally damaged in her previous home where she had apparently been left outside, isolated for 13 hours a day. She was quiet and frightened at first, she didn't know how to play, was absolutely terrified of travelling in the car and was quite mistrusting of anyone she didn't know. We realised that she was quickly becoming over-protective towards us as she had now found the love, security, and company that she craved. We tried various professional training methods to make her feel more relaxed but nothing really worked so we just persevered with her. Over time, as she became older and more confident with us, she settled and became a more relaxed and well behaved dog. Bella made me realise that it's not as easy as I had thought to train a dog to be calm and relaxed, particularly when you didn't know too much about the past of rescue dogs, but you do need to address any issues as soon as possible for both your sakes.
I wish that I had known about Bark Busters back then, because I truly feel that Bella's anxiety would have been eased a lot earlier if we had benefited from the training methods and had a better insight into why and how anxiety in dogs can manifest itself and how you can effectively resolve the issues. Two years ago, Bella was diagnosed with lung cancer and she lost her brave fight 5 months later. We were devastated at losing our lovely girl and became volunteer dog walkers at the local Rescue Centre that Bella had come from. As we were experienced German Shepherd owners, we were asked to walk a young, very large and excitable German Shepherd crossbreed called Cole. It was love at first sight and we adopted him into his forever home. Cole loves playing with other dogs and has many pals at day-care but seemed fearful when out on the lead, lunging and barking at other dogs. Cole is much stronger than me as he is so large, I felt that we needed a training method that is not dependent on brute force or harsh methods. When I learned about Bark Busters' dog training methods, I was so relieved that we could train Cole by using calm leadership and communication, rather than relying heavily on physical control. My journey over the years has led me to becoming a Bark Busters Therapist as I want to help other people and their best friends to have a stress free and happy life together too.
Please don't waste any more time wishing your dog was easier to handle or less anxious and not knowing what to do about it. Unfortunately we all come to realise that their lives are too short and we wish that we had resolved their issues earlier so that we and our dogs find happiness and harmony for as long as possible.
I'm here to help you achieve that with very fast results. I look forward to meeting you and your best friend.
Wonderful advice and help. Would recommend to anyone. Understood our worries and helped us to sort them out. Can't speak highly enough of Angela. Made a great impression on her visit.

P.S.

26th February 2020
Services provided by Angela
more...
how we can help you and your furry friend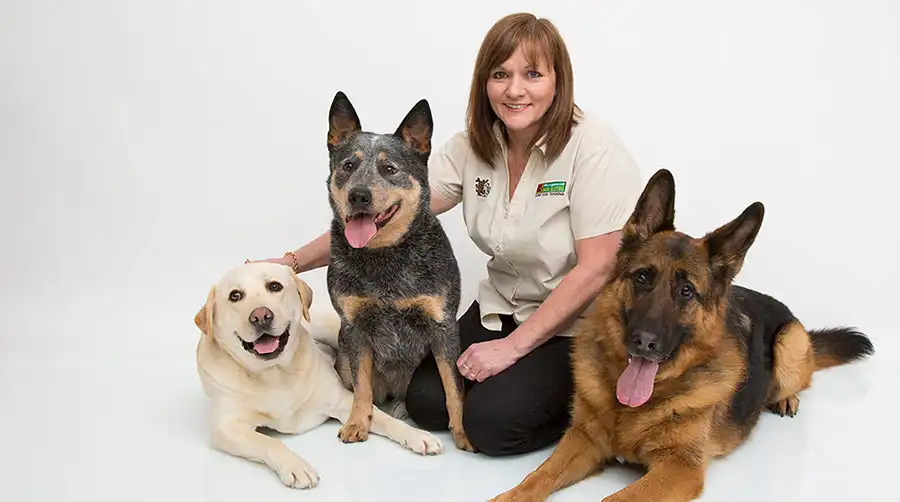 The Bark Busters communication methods help solve behaviour issues such as aggression towards people or other animals
Cure embarrassing habits like barking, jumping up on people, scratching & whining at doors or inappropriate toileting.
Create an obedient dog or puppy that will happily walk on the lead without tugging, sit or stay on command, and come immediately when called.
Set off-limit areas.
Reduce the stress of separation anxiety without the need for sedatives or drugs.
We teach you to communicate with your pet.
Do you find yourself shouting? Do you think your pet isn't listening to you? Maybe you're simply not speaking their language. The Bark Busters communication method is based on the way how our dogs communicate with each other and how they learn from older, more experienced members in the pack. This is what makes our training unique and effective.
Why do we train in your home?
Your pet lives with a family, in a home. This is where he spends most of his time and misbehaves most often, so this is where our programme is most effective. Our dogs learn by association. Bark Busters teaches him to listen in the home environment. If he does not listen at home, he will most probably not listen outside where there are far more distractions.
In your home we teach a one-on-one system without other distractions or the stress of being sent away from you to learn.
Of course, where you are experiencing problems outside the home such as pulling on the lead or dog aggression etc..., we will set up controlled situations in the park or wherever is most practical.