meet your specialist trainer Gavin Chambers
Dog Training & Behavioural Therapist for Bradford, Halifax & Skipton, Doncaster, Barnsley & Rotherham, Leeds, Sheffield, Wakefield & Huddersfield
Hello and welcome to Bark Busters Home Dog Training Sheffield. My name is Gavin, and I'm delighted to be working as your local dog behaviour therapist. If you are having problems getting any aspect of your dog's behaviour under control, I will be delighted to help you.
I am a dog lover and dog owner. My two working Springer Spaniels, Lottie and Pippa keep me fit, active and on my toes with their boundless energy and enthusiasm. Like any dogs, they are so much happier and relaxed when they understand the rules and feel safe and cared for. I love to see dogs retain their spirit and love of life and, once dog owners learn how establishing rules and boundaries, the sight of a happy and well-trained dog is a joy to behold.
It is my love of dogs, together with my previous career in the hospitality industry that combined to bring me to my career as a Bark Busters Home Dog Training behaviour therapist. I know you may be wondering - how does a career in the hospitality industry lead to a career as a dog trainer?
Firstly, I have always had a customer service focus offering value for money. This is something I am passionate about and bring to my role as a Bark Busters dog trainer. Additionally, my career had developed into a role as a lecturer in hospitality. This was a challenging and rewarding role where I learnt to recognise and respond to different learning styles and needs, when delivering training in new ideas and concepts. I love to watch people develop new skills and see the joy that this brings them. This carries through into dog training where, with patience and understanding, dog owners develop new skills and see the change in their dog's behaviour. All the months and years of stress that they have experienced disappear once they learn how to communicate with their dog in a kind and consistent way, so that both dog and owner can relax and enjoy their life together.
Whatever behaviour problems you are struggling with, I can help you. I will come to your home at a convenient time where, together, we will work on improving issues such as separation anxiety, barking, destructive behaviour, aggression to strangers, aggression to other dogs, pulling on the lead, recall, or even puppy training to get you and your puppy off to a good start. The lessons will involve lots of opportunity for you to practise your new skills, whilst I am there to show and guide you. Then I will leave you with lots of helpful, written information together with a programme for you to follow. My support guarantee means that I will return, free of charge, to assist you in your progress for the duration of your guarantee. It also means that I am always available by telephone or email to support you with any questions or queries you may have.
We are fortunate to live in a beautiful part of the country. My role means that I travel around the area meeting lots of fabulous owners and their dogs. It also means that, when customers need me to, I can enjoy walks in the wonderful countryside doing what I love most – teaching owners how to enjoy their beloved pet and watching their pleasure reflected back from their happy dog.
I would love to help you experience the joy of owning a well-behaved, happy dog. I hope to meet you very soon. Simply call free on 0808 100 4071 or click the red contact button, if you would like to find out more about my services and book a visit. You are very welcome to ask as many questions as you need to, and there is no obligation.
I was at end of my Tether with my rescue dogs . But just in one session Gavin gave me the confidence to know issues can be sorted. He helped me take away the guilt etc, and in the 1st day I already feel better and marmalade is a fast learner. Great knowing I've got Gavin at hand for support, lots of good things a head. I know it's your job Gavin but thank you so much.

W.M.

18th September 2018
Services provided by Gavin
more...
how we can help you and your furry friend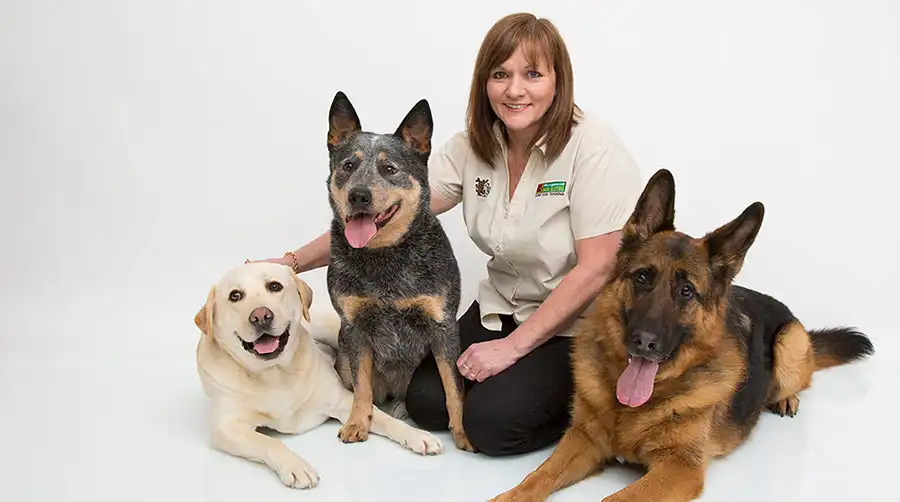 The Bark Busters communication methods help solve behaviour issues such as aggression towards people or other animals
Cure embarrassing habits like barking, jumping up on people, scratching & whining at doors or inappropriate toileting.
Create an obedient dog or puppy that will happily walk on the lead without tugging, sit or stay on command, and come immediately when called.
Set off-limit areas.
Reduce the stress of separation anxiety without the need for sedatives or drugs.
We teach you to communicate with your pet.
Do you find yourself shouting? Do you think your pet isn't listening to you? Maybe you're simply not speaking their language. The Bark Busters communication method is based on the way how our dogs communicate with each other and how they learn from older, more experienced members in the pack. This is what makes our training unique and effective.
Why do we train in your home?
Your pet lives with a family, in a home. This is where he spends most of his time and misbehaves most often, so this is where our programme is most effective. Our dogs learn by association. Bark Busters teaches him to listen in the home environment. If he does not listen at home, he will most probably not listen outside where there are far more distractions.
In your home we teach a one-on-one system without other distractions or the stress of being sent away from you to learn.
Of course, where you are experiencing problems outside the home such as pulling on the lead or dog aggression etc..., we will set up controlled situations in the park or wherever is most practical.