meet your specialist trainer Gina Hinsley
Dog Training & Behavioural Therapist for Bristol, Cardiff & West Valleys, Gloucester, Newport & East Valleys
Hi, I'm Gina Hinsley, your local therapist for Bark Busters Home Dog Training Bristol.
I have always had dogs in my life. As a child our first dog was a Golden Retriever named Ben, who was a delinquent and had none of the "normal" characteristics of a Golden Retriever. He used to tear around the house like something possessed, liked nothing better than lying in cow dung and eating bricks!!
After Ben we had a Cavalier King Charles Spaniel called Sadie, who after having Ben seemed so calm and well behaved. When I left home and got married I had a German Shepherd called Damian. He was a huge black German Shepherd and pulled badly on a lead and barked at anything that went past the gate; he was very territorial.
Finally, after Damian, I had three Cavalier King Charles Spaniels called Freddie, Sasha and Sadie. Freddie and Sasha came from the same breeder and were only 2 weeks apart in age. Sadie came along a year later and joined Freddie and Sasha. It took a couple of weeks before she was accepted into the pack but then it was like they'd always been together. Freddie and Sadie were the 'naughty ones' and Sasha used to tell them off frequently. Freddie used to run off at any opportunity he had, especially if it meant he could go and greet other dogs. Sasha was an angel who would walk by my side without a lead and was a dream dog.
Each of my dogs were so different in their character and had individual problems that I struggled with at times. I only wish I'd known about Bark Busters then, as the training methods used would have solved every one of the problems that I endured back then. Communicating in a way that your dog understands is the key to the training. Finding the answer to the problem behaviour comes from finding out why the behaviour is happening in the first place. Bark Busters achieves this with the non-physical, gentle training methods, leveraging the same methods that dogs naturally use to communicate; body language and voice tone.
I have always loved animals, especially dogs, and after working in a corporate world for 27 years I finally had the opportunity to leave and fulfil a lifetime ambition. Working with dogs, making a difference to dogs/owners lives, and to be self-employed. Bark Busters ticked all the boxes for me, so I jumped at the chance to work as a Bark Busters Dog Therapist & Trainer.
If you're experiencing behaviour problems with your dog such as pulling on the lead, aggression to people or other dogs, separation anxiety, barking or more, then I can show you how to resolve those problems. Maybe you are simply looking for dog or puppy training to get your puppy off to the right start and avoid unwanted behaviours ever becoming an issue. You will soon enjoy the rewards from having that amazing bond that only man's best friend can give you.
Bark Busters dog training is one on one in your home to ensure that your dog learns quickly in relaxed and familiar surroundings; his own environment. Simply follow the tailor made training programme for 15-20 mins per day and before long your dog will be responding to you, which will result in a happy dog, which in turn means a happy owner!
To give you peace of mind our Bark Busters 12 month or Life of the Dog Support Guarantee gives you the reassurance that you can call on me if the problems recur, or you identify new behaviour problems. I will return free of charge and continue to support you for the duration of the guarantee.
I'd love to help you take back the control, so that you can experience the joy of owning a happy and contented dog. You've taken the first step by reading this so take the next step to start on the path to that happy, fulfilling and rewarding relationship with your dog. We can work together to achieve the relationship that both you and your dog will love.
Gina was brilliant, she really made sure I was happy, and understood what I needed to do. I have been following the things Gina told me, and so far it's going well.  I'm making sure I do what I need to do every day, and I'm finding it is becoming part of the normal. I'm definitely looking forward to my next step

E.M.

22nd January 2020
Services provided by Gina
more...
Gina is a certified dog First Aider
how we can help you and your furry friend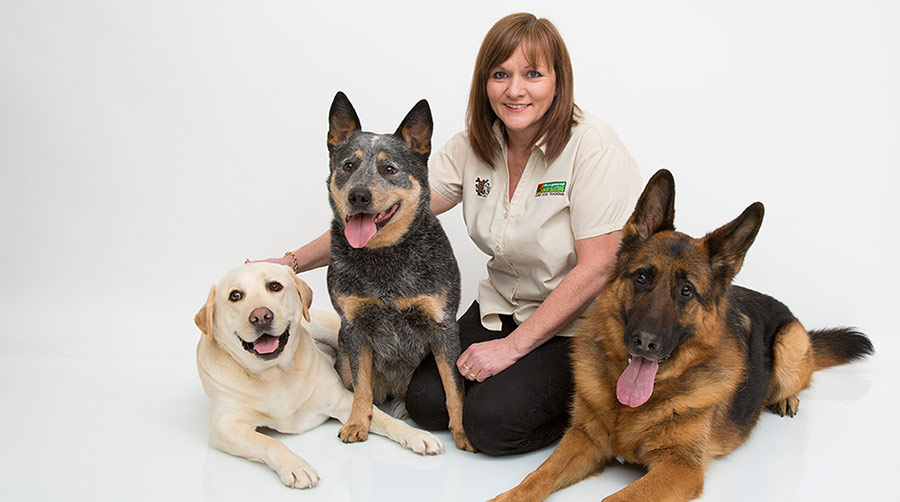 The Bark Busters communication methods help solve behaviour issues such as aggression towards people or other animals
Cure embarrassing habits like barking, jumping up on people, scratching & whining at doors or inappropriate toileting.
Create an obedient dog or puppy that will happily walk on the lead without tugging, sit or stay on command, and come immediately when called.
Set off-limit areas.
Reduce the stress of separation anxiety without the need for sedatives or drugs.
We teach you to communicate with your pet.
Do you find yourself shouting? Do you think your pet isn't listening to you? Maybe you're simply not speaking their language. The Bark Busters communication method is based on the way how our dogs communicate with each other and how they learn from older, more experienced members in the pack. This is what makes our training unique and effective.
Why do we train in your home?
Your pet lives with a family, in a home. This is where he spends most of his time and misbehaves most often, so this is where our programme is most effective. Our dogs learn by association. Bark Busters teaches him to listen in the home environment. If he does not listen at home, he will most probably not listen outside where there are far more distractions.
In your home we teach a one-on-one system without other distractions or the stress of being sent away from you to learn.
Of course, where you are experiencing problems outside the home such as pulling on the lead or dog aggression etc..., we will set up controlled situations in the park or wherever is most practical.