meet your specialist trainers Graham Milgrew
Dog Training & Behavioural Therapist for Romford, Ilford, Essex
I have always been what my friends and family call a "doggie person". Over the years I have been training and taken ownership of a lot of unwanted dogs, who always came with their own doggie baggage. Just a few of the dogs included a German Shepherd, Zak, who pulled so hard on the lead; he walked on his back legs, suffered terrible separation anxiety and liked eating my furniture. A mongrel, Bobby, who hated most other dogs when on the lead and regularly tried to drag me to get to the object of his dislike; he also had an issue with the postman and regularly shredded post that came through the door. A toy poodle, Heidi, who thought she owned the front door and made Zaks' life a misery with her constant rivalry. A miniature Poodle, Jason, who seemed to like training me; he was very possessive and barked and whined constantly whether we were in or out. Another mongrel, Prince, who was a great house dog when he wasn't trying to find a way to get out of the house to dig his way to Australia or run off when we went out. I bought a little puppy of my own, a Yorkshire Terrier called Billy, but he developed a serious medical problem which meant he couldn't cope with the stress and urinated in the house.
By a process of reading dog training books, consulting Vets, going to dog obedience classes and simple trial and error, I at least managed the situation so our lives weren't totally ruled by our Dogs. There was no quick fix and it was a hard slog to get results, but I always thought the slog was worth it.
Despite my training experience, I was totally out of my depth 3 years ago when my sister's dog, Ouzo, nipped my 15 month nephew. We knew there was a problem. He had started to growl at my nephew as soon as he was old enough to crawl. We were constantly telling Ouzo it was unacceptable and they were always supervised but the best supervision in the world doesn't work when a toddler decides he wants to grab the face of the family dog and you aren't quick enough to stop it. Everybody and I mean everybody, told my sister and brother-in-law to put Ouzo down or re-home him. They were put under terrible pressure, but fortunately they recognised that their usually obedient and loving dog needed a chance and they called in Bark Busters Home Dog Training.
The Bark Busters dog trainer came in and to our amazement, the problem was fixed from the first visit. Yes we all had to do our part with Ouzo and also change what we were doing, but the training had such a good effect there was no slog about it. At the time my sister gave a testimonial saying "immediate and remarkable results...truly fantastic". For me, it was a "light bulb moment". This is what I wanted to do! Why should people have to tie themselves in knots to solve problems on their own or put up with their dog issues or worst still, re-home their dog, when there are proven and practical methods to solve even the most difficult of problems?
The Bark Busters training has proved to be everything I hoped. It is a company that truly puts the dog first and really means what it says when it declares "any dog, any problem". Our methods are easy to learn and you have the peace of mind that our guarantee provides ongoing support free of any further charge for the service you choose.
Whether you want to give your puppy the best start to its life, or have training and behavioural problems you want to resolve, let me help you take control and experience the pleasure of having a calm and happy dog. Give me a call or email me to find out more; I'd love to help.
Jo and Graham have not only been very helpful but also great fun. They both obviously have a great depth of knowledge and experience and they pass it on in a very clear and easy to understand way. I felt like an experienced dog owner but wanted advice on introducing a puppy to my older dog. Jo not only helped with the transition phase but also taught me a LOT about both the new and the old dogs. My wife and I actually felt empowered after speaking to her. Graham is the one who visits and he also has a lovely manner and a calm, sure way of explaining things. He got INSTANT results with the puppy and in seconds he solved the problem of our old dog pulling on the lead. This has been bothering us for 9 years!!! I can't recommend Jo and Graham enough and we will be continuing to work with them over the coming months/years as I now see how expert advice has improved our relationship with our dogs.G.K.

17th December 2020
Services provided by Graham
more...
how we can help you and your furry friend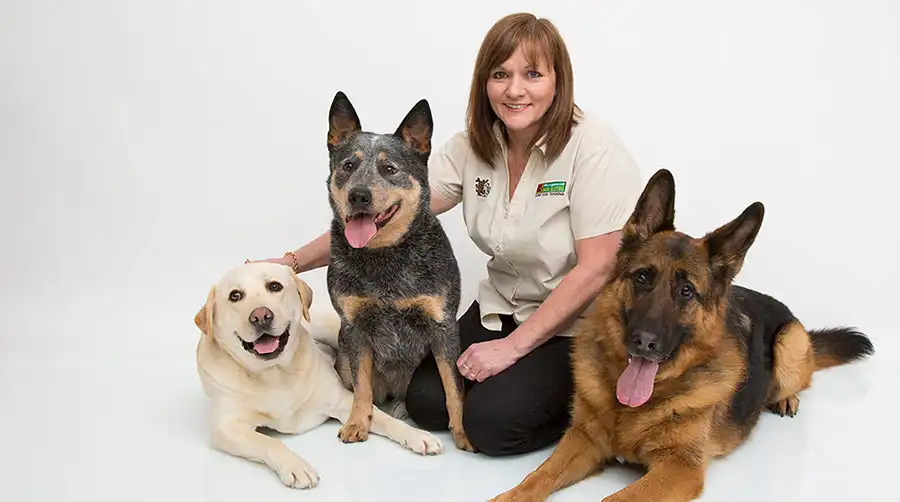 The Bark Busters communication methods help solve behaviour issues such as aggression towards people or other animals
Cure embarrassing habits like barking, jumping up on people, scratching & whining at doors or inappropriate toileting.
Create an obedient dog or puppy that will happily walk on the lead without tugging, sit or stay on command, and come immediately when called.
Set off-limit areas.
Reduce the stress of separation anxiety without the need for sedatives or drugs.
We teach you to communicate with your pet.
Do you find yourself shouting? Do you think your pet isn't listening to you? Maybe you're simply not speaking their language. The Bark Busters communication method is based on the way how our dogs communicate with each other and how they learn from older, more experienced members in the pack. This is what makes our training unique and effective.
Why do we train in your home?
Your pet lives with a family, in a home. This is where he spends most of his time and misbehaves most often, so this is where our programme is most effective. Our dogs learn by association. Bark Busters teaches him to listen in the home environment. If he does not listen at home, he will most probably not listen outside where there are far more distractions.
In your home we teach a one-on-one system without other distractions or the stress of being sent away from you to learn.
Of course, where you are experiencing problems outside the home such as pulling on the lead or dog aggression etc..., we will set up controlled situations in the park or wherever is most practical.