meet your specialist trainer Linda Dodsworth
As featured on BBC Radio Humberside and Minster FM
Hello I'm Linda, local expert for Bark Busters Dog Training York, Harrogate, Scarborough and surrounding areas.
It is thanks to my two Boxer dogs, William and Holly, that I came to join Bark Busters.
Many years ago William used to pull excessively on the lead and Holly had bad recall issues - even to the point of running after a dog that was being exercised by his owner while the owner was cycling. The cyclist couldn't hear me shouting for him to stop, as he'd got his iPod on, so Holly ran quite a long way before I could stop her! Not good when you're in a hurry to get to work
Unfortunately at the end of 2009 we suddenly lost William, he had a serious heart condition and he passed away just one week from his seventh birthday. His photo remains in place, as it was through him, that I realised just how much I wanted to help owners overcome their dog's behavioural problems.
Being a part of Bark Buster Home Dog Training means I work with various Rescue Centres, one being Boxer Dog Rescue. I received a call that there was a big problem with Bentley a white Boxer. Bentley was a very frightened dog and was suffering from fear aggression. It had been recommended in the past that he be put to sleep as there was no hope for him. He was also not coping well to being shut away in kennels and was showing very aggressive tendencies there too.
Nicki Platt, our behaviourist for Merseyside went along to assess the situation and she enlisted the help of Andy Waterhouse our London South East behaviourist and between us we got him to safety at Nicki's home. They contacted me to see if I could help the poor boy and to 'rehabilitate' him ready for adoption. Andy kindly drove him to me and I cared for him for six weeks
Holly instinctively knew what to do and she showed him how to learn and gave him his position in the pack (which was beneath her)! You can read all about Bentley on the Boxer Dog Rescue site, www.boxerdogrescue.co.uk - he has his own blog. I successfully rehomed Bentley to a wonderful family who have two other boxers and he lives happily ever after in Harrogate.
We now have a new addition to our pack, Oliver who is now 11 months old. I chose him when he was just a wee scrap of a puppy at two weeks old and I was able to visit him on a weekly basis until I could bring him home at 8 weeks. Oliver had reminded me just demanding and exhausting a new puppy can be, so I know what you new puppy owners are going through! So if you need help with any puppy problems whatsoever please don't hesitate to contact me.
After time and dedication Oliver is a contented young dog who is eager to learn. He even helps me with my Child Safety talks to primary schools and he loves all the fuss and attention. I love training him and he loves his training as I make it fun in lots of different ways. Lead work is especially going well, there is nothing worse than being dragged down the street by a young hooligan.
Our techniques are simple for both you and your dog! I teach you how to communicate with your dog in a way that they will understand. It is an extremely rewarding job and I love seeing the expression on the owners face as their dog becomes transformed before their eyes.
So whatever your behavioural problem whether that be jumping up, pulling on the lead, being aggressive, not coming when called or any other issues you may have with your dog give me a call. I'd love to help you and your dog.
Expert Dog Training Covering York, Harrogate, Scarborough
Services provided by Linda
more...
Linda is a certified dog First Aider
how we can help you and your furry friend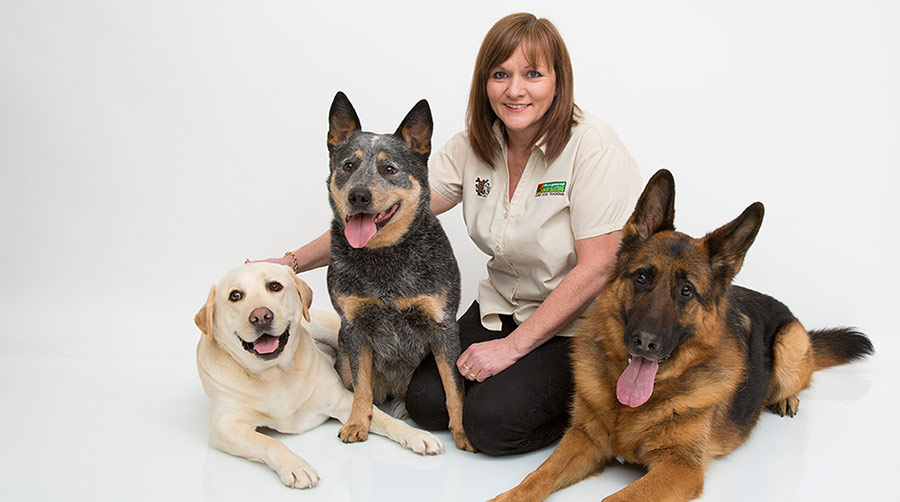 The Bark Busters communication methods help solve behaviour issues such as aggression towards people or other animals
Cure embarrassing habits like barking, jumping up on people, scratching & whining at doors or inappropriate toileting.
Create an obedient dog or puppy that will happily walk on the lead without tugging, sit or stay on command, and come immediately when called.
Set off-limit areas.
Reduce the stress of separation anxiety without the need for sedatives or drugs.
We teach you to communicate with your pet.
Do you find yourself shouting? Do you think your pet isn't listening to you? Maybe you're simply not speaking their language. The Bark Busters communication method is based on the way how our dogs communicate with each other and how they learn from older, more experienced members in the pack. This is what makes our training unique and effective.
Why do we train in your home?
Your pet lives with a family, in a home. This is where he spends most of his time and misbehaves most often, so this is where our programme is most effective. Our dogs learn by association. Bark Busters teaches him to listen in the home environment. If he does not listen at home, he will most probably not listen outside where there are far more distractions.
In your home we teach a one-on-one system without other distractions or the stress of being sent away from you to learn.
Of course, where you are experiencing problems outside the home such as pulling on the lead or dog aggression etc..., we will set up controlled situations in the park or wherever is most practical.