meet your specialist trainer Neil Price
Dog Training & Behavioural Therapist for Blackburn, Merseyside South, Warrington, Runcorn, St Helens & Widnes
Hi I'm Neil Price (dip.dog.psy) Is your dog like one of the family but you find it challenging and frustrating with their naughty behaviour? Or perhaps you're looking for obedience dog training? Then please read on! You love them, you walk them, you feed them yet nothing seems to be working. Unacceptable behaviour such as aggression, chewing, jumping up, chasing, pulling on the lead, selective hearing on recall and many more behaviour traits are not uncommon. It can be upsetting to see your pets showing signs of being nervous or fearful. If you would like to resolve these issues quickly and effectively, you have come to the right person!
I am the owner of six dogs, four of which were rescued. My rescue dogs came, varying in age, with their own challenges. Gemma, was a 16 months old working sheepdog when I rescued her. She was very nervous, sometimes displaying signs of aggression to both dogs and people. She was not house-trained and not in the best physical shape. In the first weeks she showed real signs of aggression. Her initial behaviour was very challenging, but with patience and training, Gemma and I now have a great relationship. Gemma and I now compete at a national level in the Kennel Club agility competitions. Gemma also has the highest award issued by the Kennel Club, which is Agility Warrant Gold.
I work with all breeds, all ages and all problems. From getting it right from the start with your puppy, child safety, expectant parents, sibling rivalry and many more. I recently worked with a deaf aggressive dog whose owners were on the point of having her euthanized. It was really fulfilling to help her and the owners understand each other and resolve her issues.
I have successfully passed my Diploma in Canine psychology with merit, accredited by the SFTR (National UK Therapists Register) and I'm a qualified Kennel Club judge.
Joining Bark Busters was a perfect career choice for me. I have personal experience, qualification, a good working knowledge all backed by Bark Busters intensive residential training.
I can teach you how to communicate quickly and effectively with your dog in a language they'll understand. My methods are kind and effective and you'll have peace of mind that if you need further help, this is provided free of charge under our Bark Busters Written Guarantee.
We've had Blu our 15 month old German Shepherd since he was 8 weeks old. In November he started to become reactive (constant lunging, barking and occasional snapping at dogs although not actual touching them) which meant we've not been able to do much off lead work with him when dogs are around. He's always been to doggy day care twice a week but that stopped in early July, and we would eventually love him to go back. Blu has always been to group puppy and obedience training but we've also put that on hold whilst we work with Bark Busters so we have consistency. Neil came to visit us last Sunday, he is very laid back and friendly and clearly has a lot of knowledge and experience. We were incredibly impressed with how Blu responded to Neil and the techniques he used for barking, and jumping up. We then went to the local park where dogs were playing, Neil observed us handling Blu and offered us sound professional advise. We're keeping up to date with our homework and trying to be as consistent as possible with Blu with lots of positive reinforcement . In just a week we've seen an improvement, yesterday I felt confident enough to take Blu to the park to do some training and playing whilst there was quite a few dogs in the area. I ensured that Blu had enough space between him and the other dogs and he did great, concentrating on me even though he was aware of all the other dogs around him. We've still a way to go, but delighted in just a week we've seen some positive changes. I suspect most of the changes are with us as handlers, which impacts Blu's behaviour. Thank you Neil, we look forward to our next session.

J.V.

15th September 2019
Services provided by Neil
more...
Neil is a certified dog First Aider
how we can help you and your furry friend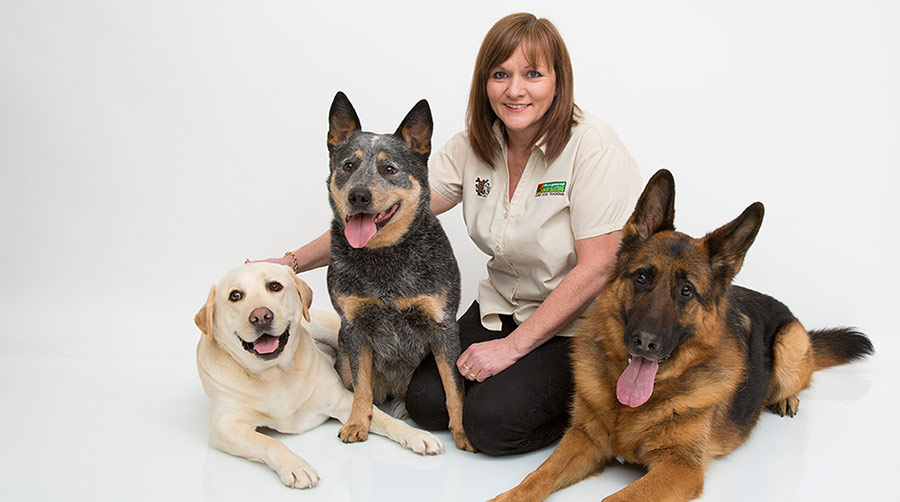 The Bark Busters communication methods help solve behaviour issues such as aggression towards people or other animals
Cure embarrassing habits like barking, jumping up on people, scratching & whining at doors or inappropriate toileting.
Create an obedient dog or puppy that will happily walk on the lead without tugging, sit or stay on command, and come immediately when called.
Set off-limit areas.
Reduce the stress of separation anxiety without the need for sedatives or drugs.
We teach you to communicate with your pet.
Do you find yourself shouting? Do you think your pet isn't listening to you? Maybe you're simply not speaking their language. The Bark Busters communication method is based on the way how our dogs communicate with each other and how they learn from older, more experienced members in the pack. This is what makes our training unique and effective.
Why do we train in your home?
Your pet lives with a family, in a home. This is where he spends most of his time and misbehaves most often, so this is where our programme is most effective. Our dogs learn by association. Bark Busters teaches him to listen in the home environment. If he does not listen at home, he will most probably not listen outside where there are far more distractions.
In your home we teach a one-on-one system without other distractions or the stress of being sent away from you to learn.
Of course, where you are experiencing problems outside the home such as pulling on the lead or dog aggression etc..., we will set up controlled situations in the park or wherever is most practical.