meet your specialist trainer Tina Edwards
I have always loved dogs and it had always been my dream to be involved with dog training. I grew up in Kent and when my corporate business life was no longer providing any satisfaction I looked to change my life completely and found Bark Busters! The residential training was long and testing, but hugely enjoyable and ever since I graduated, I have loved a rewarding job, helping owners forge new relationships with their dogs, giving them back the enjoyment previously lost through bad behaviour. Now instead of sitting on stifling trains and in front of a computer all day, I spend my working day with people and their dogs inside and out in parks and woodlands. I help them to solve such behaviour problems as barking, aggression and boisterousness and take great pleasure in the way dogs can change very quickly with our methods, delighting in happy relaxed dogs grateful to have their owners take control in a calm, quiet way. One of the jobs I really love is helping people with their new puppies. I can show them how to toilet train and to prevent the bad behaviour starting in the first place!! Most important of all with a young dog, I help to show them how to get their pup to come back when called, essential for everyone's safety and peace of mind. I do succumb to some cuddles and playtime too!
Amongst my early canine companions, were a Border Collie, Gus, whose barking drove me and the neighbours mad and later, Sam, a German Shepherd cross who I had to defend on many occasions from irate owners whose dogs he had aggressively attacked. I used to get so embarrassed and worried about the behaviours and tried everything I'd read in training books. But could I stop my dog barking? Could I prevent the unpredictable attacks? Sadly, no. Gus ended up being shut in most of the day and Sam was never allowed off lead. They both lived long and relatively happy lives, but I now realise that their behaviour problems could have been eliminated, allowing them and me to enjoy a much happier and less stressful relationship.
I found Bark Busters soon after I had taken on a second German Shepherd rescue dog to be a buddy for my lovely black German Shepherd bitch, Cindy. Finn was a young dog with many problems; aggression to dogs and people - especially vets; chasing joggers, cats, sheep, cars, in fact anything that moved! Plus racing round my garden barking at birds perching in my neighbours' trees! His saving grace was that he was very handsome and very sweet natured with people he knew.
I did wonder if I'd taken on too much one day, when I had him, all 43kg, on his hind legs lunging and snarling at a neighbour and their dog whilst Cindy and I were being dragged across the road towards traffic. I began despairing of ever socialising him, but then I found Bark Busters and within a few short weeks I had a dog I could trust and be proud of. I found to my amazement that I could control him with the simple and straightforward techniques of the Bark Busters system, put into practice by me, with expert and patient coaching from the trainer. Finn walked next to me past other dogs, was allowed off lead around joggers and no longer lunged at cars. In fact he now helps me in my work, often coming with me to help clients train their dogs not to be aggressive to other dogs.
Following the death of Cindy, I now have another rescue dog, an Alaskan Malamute cross Siberian Husky, as a playmate to my Finn. Laska has been a challenging dog in more ways than one, but I can proudly take him, as well as Finn, on sessions where I need "stooges" to help clients with their dog aggressive pooches.
So, for your local Bark Buster dog trainer, just give me a call and I'll help you with your dog's barking, pulling, aggression or any other problem... and they won't become another Gus or Sam.
Visit Tina's personal Dog Training Kent Website
Tina was fabulous not only with training Zeus but myself too, such simple techniques and understanding the language required to communicate with my puppy has changed our whole relationship. I was feeling overwhelmed, unsure whether I would be capable of caring for Zeus and yet with Tina's help I feel confident that Zeus is going to be an asset to our family

S.S.

2nd January 2019
Services provided by Tina
more...
Tina is a certified dog First Aider
how we can help you and your furry friend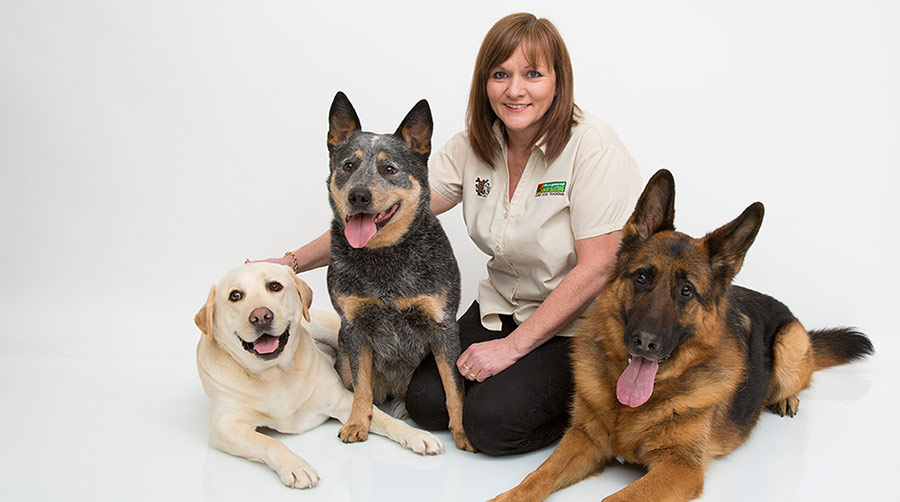 The Bark Busters communication methods help solve behaviour issues such as aggression towards people or other animals
Cure embarrassing habits like barking, jumping up on people, scratching & whining at doors or inappropriate toileting.
Create an obedient dog or puppy that will happily walk on the lead without tugging, sit or stay on command, and come immediately when called.
Set off-limit areas.
Reduce the stress of separation anxiety without the need for sedatives or drugs.
We teach you to communicate with your pet.
Do you find yourself shouting? Do you think your pet isn't listening to you? Maybe you're simply not speaking their language. The Bark Busters communication method is based on the way how our dogs communicate with each other and how they learn from older, more experienced members in the pack. This is what makes our training unique and effective.
Why do we train in your home?
Your pet lives with a family, in a home. This is where he spends most of his time and misbehaves most often, so this is where our programme is most effective. Our dogs learn by association. Bark Busters teaches him to listen in the home environment. If he does not listen at home, he will most probably not listen outside where there are far more distractions.
In your home we teach a one-on-one system without other distractions or the stress of being sent away from you to learn.
Of course, where you are experiencing problems outside the home such as pulling on the lead or dog aggression etc..., we will set up controlled situations in the park or wherever is most practical.