meet your specialist trainer Tracey Callaghan
Dog Training Bolton, Wigan
I'm your local dog training and behaviour therapist for Bolton and Wigan.
Back in 2001, on a day out in Chester I spotted a Bark Busters vehicle and promptly followed the driver into a cafe where I waited for him to finish his meal before interrogating him about the company - he turned out to be the Director of Bark Busters.
To cut a long story short, I went out for a coffee and came home with a business.
Although I did enjoy my previous employment as a Training and Employment Officer and have always enjoyed working with people, my lifelong dream has been to work with animals, particularly dogs.
Since that fortuitous meeting all those years back, I have seen and dealt with many different dog behaviour problems, including one young badly behaved rescue Border Collie who came to live with me after I went out one day to buy a garden shed and returned home with him instead - there seems to be a pattern forming here!
The many different problems I encountered with "Roodi" back then are too long to list, but included poor recall - especially if he saw another dog in the distance, aggression over food and in particular water. He would stand and growl at my other dogs if they attempted to step within a foot of the water bowl.
After some hard work and copious amounts of patience, he will now walk contentedly by my side off lead and when given some freedom he will return immediately when called - even when other dogs are around to distract him. He will also happily share a bowl of water with my other dogs.
I have several dogs living with me - all different breeds, shapes and sizes and all have required some level of training, but none as difficult to deal with as Roodi the rescue dog. If I can change his behaviour I can show you how to change your dogs behaviour too, so please do give me a call.
Services provided by Tracey
more...
how we can help you and your furry friend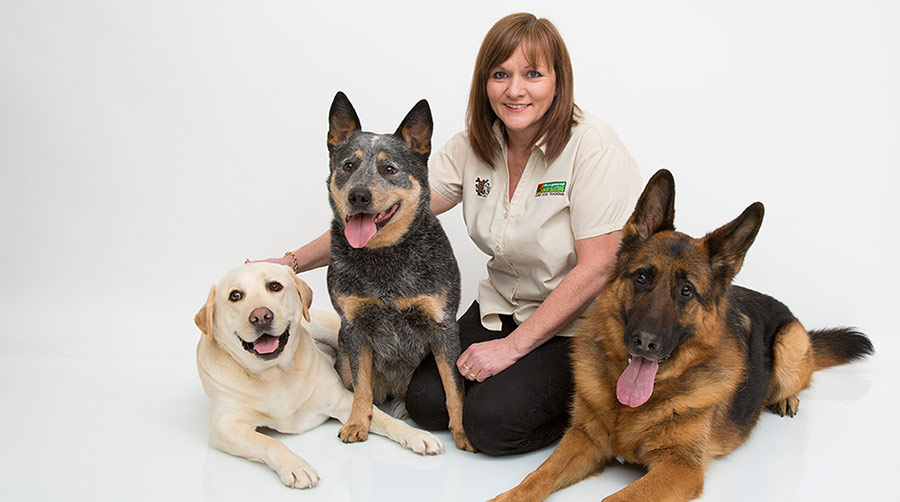 The Bark Busters communication methods help solve behaviour issues such as aggression towards people or other animals
Cure embarrassing habits like barking, jumping up on people, scratching & whining at doors or inappropriate toileting.
Create an obedient dog or puppy that will happily walk on the lead without tugging, sit or stay on command, and come immediately when called.
Set off-limit areas.
Reduce the stress of separation anxiety without the need for sedatives or drugs.
We teach you to communicate with your pet.
Do you find yourself shouting? Do you think your pet isn't listening to you? Maybe you're simply not speaking their language. The Bark Busters communication method is based on the way how our dogs communicate with each other and how they learn from older, more experienced members in the pack. This is what makes our training unique and effective.
Why do we train in your home?
Your pet lives with a family, in a home. This is where he spends most of his time and misbehaves most often, so this is where our programme is most effective. Our dogs learn by association. Bark Busters teaches him to listen in the home environment. If he does not listen at home, he will most probably not listen outside where there are far more distractions.
In your home we teach a one-on-one system without other distractions or the stress of being sent away from you to learn.
Of course, where you are experiencing problems outside the home such as pulling on the lead or dog aggression etc..., we will set up controlled situations in the park or wherever is most practical.