meet your specialist trainer Angela Young
Merseyside North Home Dog Training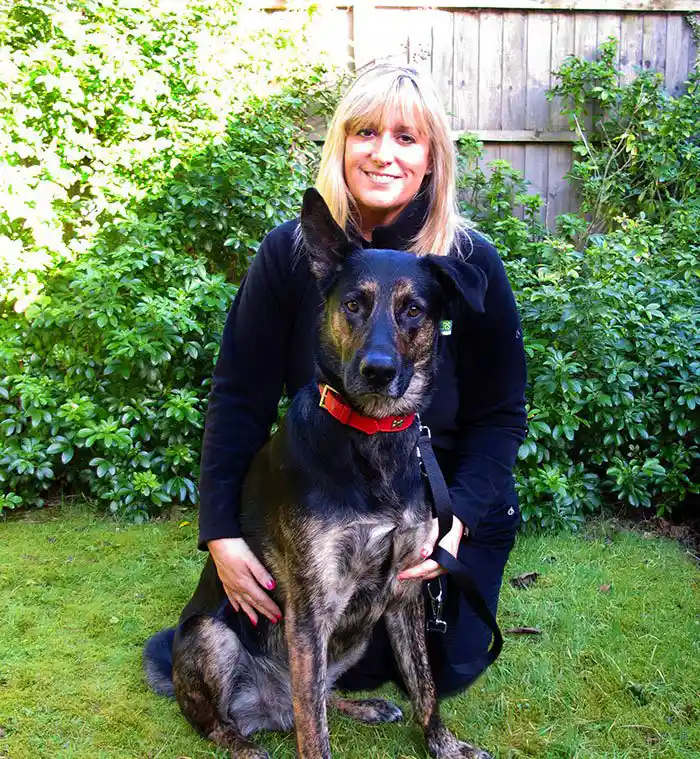 or call 0808 100 4071
Thank you for visiting my page. My name is Angela Young, and I am your local therapist for Bark Buster Home Dog Training Merseyside North .
Whatever problems you are having with your furry friend, I am confident that I can help you. Below is a brief overview of the service I provide. I hope that you find it helpful. Should you need to ask any other questions, the Bark Buster team are on hand to assist you with any queries without placing you under any obligation.
Do you have a behaviour issue with your dog that you feel unable to address? Many people experience difficulties at some time or another with the behaviour of their dog. They often complain that their dog just doesn't listen to them; or that they have tried everything and nothing works. What I very often find is that their dog is trying to listen to them, but simply doesn't understand what is being requested of him, or often genuinely believes that he needs to behave in this way.
Because I come to help you train your dog in your home, I am able to see what is happening in your relationship with your dog; how do you communicate with him? how consistent are you about rules and boundaries? Is your dog better at training you than you are at training him? You may laugh at that, but very often clients don't realise how well they have been trained by the dog!
Our training always begins in the home. Our initial meeting will last 2-3 hours and will give you a clear insight into why your dog is displaying the behaviours that are causing you stress. During this meeting, I will explain to you fully how the Bark Buster system of communication works, and I will show you how to use it in your daily interactions with your dog. There will be lots of opportunity for you to practise your techniques whilst I am with you so that, once I leave, you will be equipped to continue with the training.


An important point to mention is that our system is kind and effective. We do not use physical force or inflict pain to get a dog to listen to us. I will show you how to communicate using only verbal communication and body language, and you will be amazed at just how quickly your dog responds. Where dogs have been stressed by their perceived responsibility of guarding and protecting the family group, we often see them visibly relax once they know that you are in control and that your communication is clear and consistent.
Whether it's barking, jumping up, aggression, pulling on the lead, sibling rivalry or any other problem you are having (or a combination), I am confident that, by allowing me to show you our proven system of training and communication, you will see a difference in your dog's behaviour very quickly. Obviously that means that I will be training you as much, if not more than, I am training your dog. But all of my clients find that it is worth the effort, and enjoy the challenge of learning new skills. I am very friendly and make the sessions as helpful as possible for you.
I am particularly experienced in helping to rehabilitate rescue dogs. I provide my support to Freshfield Animal Rescue, and to the RSPCA in Southport, and I understand the need for patience and time to allow a rescue dog to settle into a new home. My own dog is a rescue. Cole is German Shepherd Cross who had been rehomed twice by the age of 14 months. I have trained him using the Bark Buster methods and he is now a well-behaved member of the family who hasn't lost his love of life and his enthusiasm.
I can also help you with all of your puppy-training needs. It's always a pleasure to help new owners get off on the right foot with a new puppy…and I also enjoy the puppy cuddles!
So, if you feel that you need help with your dog's behaviour, please do give me a call and allow me to help you. I'm confident that your dog will thank you for it, and you won't look back.
I can also help if you are looking for a dog trainer in Formby or Southport
Angela was fantastic in every way ! My dog, Elexii is a large collie cross who I adopted in Dec, she is a rescued Romanian Street dog. Elexii is a lovely friendly dog but due to her history (mostly unknown), was very nervous of pretty much everything and everyone, particularly of getting into or near the car and due to Elexii's size lifting her is not an option! Elexii is also very, very strong and often seems to get frightened of things when out on walks which results in Elexii just freezing wherever she is, usually in the middle of a road ! Elexii will refuse to move and nothing I can do will get her to move. Angela arrived for her first visit with Elexii and was simply amazing ! Angela's professionalism, knowledge, experience and passion for what she does is outstanding and Angela's techniques were all positive and reward based and really worked ! Even during Angela's first visit with us there were changes and improvements in Elexi's behaviour, which included Elexii actually getting into the car on 3 occasions which I honestly thought may never happen, ever ! Angela went above and beyond my expectations and helped me to learn how to best interact with, understand and lead Elexii in a positive manner, which is absolutely key ! I would highly recommend Angela to anyone who is struggling with any aspect of their relationship with their dog, what Angela has taught me is invaluable! I really can't thankyou enough Angela, thankyou for everything Jenny.

J.G.

7th April 2020
Services provided by Angela
more...
how we can help you and your furry friend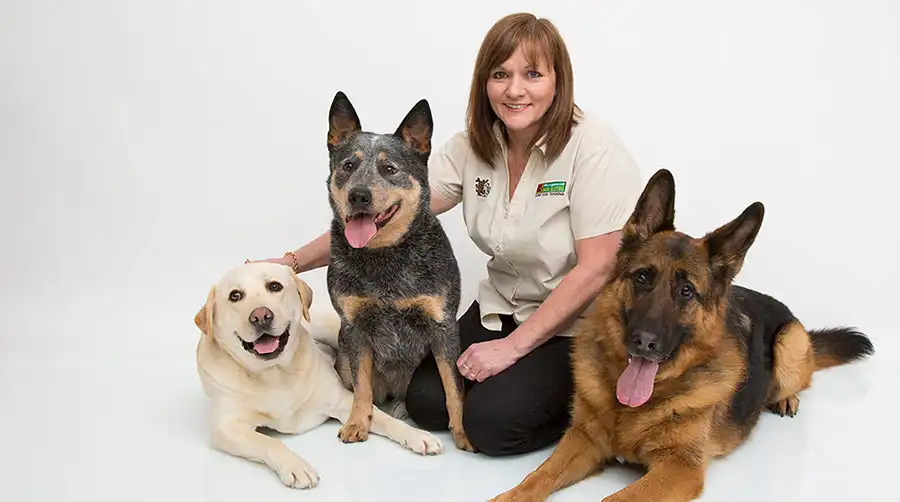 The Bark Busters communication methods help solve behaviour issues such as aggression towards people or other animals
Cure embarrassing habits like barking, jumping up on people, scratching & whining at doors or inappropriate toileting.
Create an obedient dog or puppy that will happily walk on the lead without tugging, sit or stay on command, and come immediately when called.
Set off-limit areas.
Reduce the stress of separation anxiety without the need for sedatives or drugs.
We teach you to communicate with your pet.
Do you find yourself shouting? Do you think your pet isn't listening to you? Maybe you're simply not speaking their language. The Bark Busters communication method is based on the way how our dogs communicate with each other and how they learn from older, more experienced members in the pack. This is what makes our training unique and effective.
Why do we train in your home?
Your pet lives with a family, in a home. This is where he spends most of his time and misbehaves most often, so this is where our programme is most effective. Our dogs learn by association. Bark Busters teaches him to listen in the home environment. If he does not listen at home, he will most probably not listen outside where there are far more distractions.
In your home we teach a one-on-one system without other distractions or the stress of being sent away from you to learn.
Of course, where you are experiencing problems outside the home such as pulling on the lead or dog aggression etc..., we will set up controlled situations in the park or wherever is most practical.
Your trainer is an independent business owner who operates their own business under a franchise agreement with Bark Busters. Angela Young trading as Bark Busters, is a franchisee of BBDT (UK) Limited, the Master Franchise holder.