Enjoy a Career running a Dog Training Business
We are looking for special individuals who:
Are passionate about the welfare of dogs
Are serious about running your own business
Desire an entrepreneurial lifestyle
Have great people and communication skills
Are self-motivated, enthusiastic and yet have patience for training
Will collaborate and work with Head Office on marketing and operations
Click here to see if we have a dog training business available in your area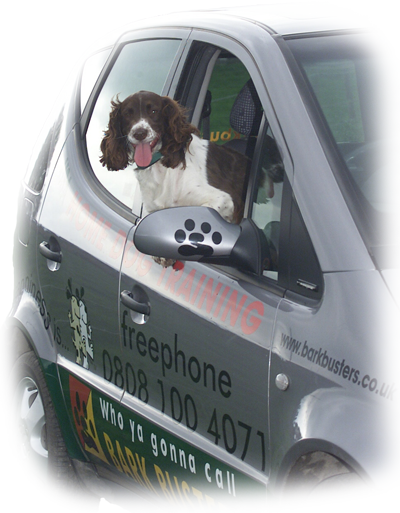 We offer large, protected territories, comprehensive training on all of our renowned Bark Busters home dog training techniques and business processes as well as on-going training and marketing support. Areas start from as little as £15,000.00 + VAT (includes licence fee and training fee) and offer a very rewarding annual return. We now offer self financing options after an initial down payment (please call to discuss this option further). You'll enjoy the flexibility of making your own work schedule as you build a successful and satisfying career.
Be part of a trusted company who have been helping owners and their dogs for 25 years and has now grown to be the world's largest dog training company. Achieve the prestige and rewards that come from owning a business you will love.
You know you're the best and you expect the best - for you and your family. You've worked hard for what you've accomplished, but you want more. You want to finally go out and do something that will make you proud, something that will help people and their dogs and something that will provide you with the lifestyle and freedom you deserve. You want to be your own boss.
If you're looking for an excellent international company providing a unique service in a recession-busting industry, this is it. Bark Busters can make you the leader of the pack and help you make your dreams a reality!
A Huge Industry... Growing Faster Than Ever
The UK spends in excess of £14.9 billion a year on our furry friends. That's over three times the amount spent on pets a decade ago. The market for Bark Busters is enormous. Experience has shown that once one of our dog training franchises is established in a local area, the word spreads quickly about the effectiveness of the services.
As a Bark Busters Home Dog Training business owner, you can tap into the large and growing pet market. In the UK approximately 48% of households now own at least one pet with over 23% owning at least one dog. That's over 8 million dogs in over 6 million households. A Bark Busters Home Dog Training business is a tremendous opportunity for you to make a difference in your own life and in the live of dogs and dog owners in your community. Bark Busters are a family of business owners focused on a common goal; to build a successful and satisfying business and to help others experience the joy of a well behaved dog.
Dog-loving entrepreneurs are immediately attracted to our positive approach dog training methods. Our call centre phones are consistently ringing with curious dog owners seeking an effective way to address their dogs' behavioural problems. They call us for hope, and we deliver that hope – right to their home. As a Bark Busters behaviour therapist, you will face each day with new and exciting challenges. You will work with a variety of clients, network with veterinarians and other pet industry business owners and, of course, our canine companions. As a business owner, you will achieve something magnificent every time you visit a home. Most frustrated dog owners have little hope before they call. They are sincerely grateful for the service you will provide. In many cases, we save these dogs from being unnecessarily euthanized.
Running your own business doing what you love is a dream many never achieve. Is this your passion, too? If you are a dog lover, then it makes sense to learn more about owning a Bark Busters franchise. This may be just what you need to achieve the job satisfaction and financial success that you've always dreamed about. Bark Busters has over 25 years of experience in its unique and effective dog training and behaviour system and continues to expanding in the UK and around the world. As a Bark Busters business owner, you not only have the benefit of an entrepreneurial lifestyle in running your own business, but also the pleasure of improving dog behaviour and creating "Happy Dogs and Happy Families" in your area. If you're passionate about dogs we will provide technical and business training and support you as you grow your Bark Busters Home Dog Training business..
Our Mission
As a world leader in dog training, Bark Busters' mission is to promote clear communications between owners and their dogs, using simple, effective, and natural training methods that appeal to the canine psyche. Through the professionalism and commitment of our network of dog behavioural therapists, we will work to enhance the human-canine bond and to reduce the possibility of maltreatment, abandonment and euthanasia of companion dogs.
Franchise Opportunity Overview
Bark Busters, the world's largest dog training company, is the undisputed leader of the pack in the pet services industry. The unique concept originated in Australia in 1989, the brainchild of world-renowned grand master dog trainers, Sylvia & Danny Wilson. Named "Best of the Best" by the SPCA International (Society for the Prevention of Cruelty to Animals, a leading animal protection organisation), Bark Busters has been proven successful worldwide. The techniques have been used to train more dogs in more countries than any other businesses training method - over 1 million dogs worldwide. This dynamic international company has over 350 businesses operating in 8 countries. The UK market is fast growing. In just a few short years the number of Bark Busters UK businesses has significantly grown and continues to grow each year. The company is well positioned to fulfil its goal of over 75 locations in the UK. This remarkable growth offers a tremendous opportunity for you, both now and in the future. The demand for high quality pet services is expected to continue its rise. That means there is great potential for your business and profits to expand year after year.