meet your specialist trainer Lee Hardy
Asbourne Home Dog Training & Puppy Education
or call 0808 100 4071
I offer a variety of options to conduct lessons whilst maintaining social distancing. This includes home lessons, conducting lessons in your garden / open spaces and using video conferencing where applicable. We have introduced a new "Home Lesson Risk Assessment" to help to combat the spread of the virus.
Hello, my name is Lee and I am your local dog behaviour therapist for Bark Busters Home Dog Training Ashbourne, here to help you with any problems your dog may be presenting.
I've been working as a Bark Busters do trainer for over 20 years and have helped over 4,000 dogs and their owners in that time. By learning my simple system of consistency and positive leadership, thousands of owners have been able to establish a new, happier relationship with their dog, and put an end to the annoying behaviours that were causing them and their dogs stress.
I have been in the same position as you and I can assure you that I will be understanding about the issues you are facing and I will not judge or criticise you. In fact, it was my struggle with my own dog, Rannan, 18 years ago that introduced me to the Bark Busters communication system of dog training. Having put the techniques into practise myself, and been amazed at the difference in Rannan's behaviour, I decided to train to become a Bark Busters therapist myself. 18 years on and I am confident that my expertise and experience coupled with my practical teaching skills will enable you to establish a new framework of communication that your dog will understand from the very start.
I love to see the smile on owners' faces when they realise that their dog is neither untrainable nor deaf! It must be said that I rarely meet a dog who is beyond hope of training; once owners learn how to communicate with them in a kind and consistent way, most dogs relax and become enthusiastic learners.
I genuinely believe that good communication is the key to good dog behaviour. I have used my system to help many dog owners in Ashbourne to resolve behaviour issues including barking, destructive behaviours, sibling rivalry, separation anxiety, poor recall, pulling on the lead, toilet training, aggression and much more. I can also teach you how to get off to a good start with your puppy training to avoid behaviour problems later in life. In fact, I have recently, very successfully and without stress, added a new puppy to my own 'pack' consisting of 3 humans and 3 other dogs including Duke, a Husky aged 10, Poppy a German Shepherd aged 13, and Princess, a Terrier aged 12.
My puppy is Candy, a Jack Russell/Chihuahua cross. She is now 5 months old and already a well-adjusted member of the family. She has been carefully introduced to the older dogs whilst I remain in control of Candy's training on how to interact with the older dogs. She is relaxed because she has plenty of good-quality food to eat, lots of appropriate things to chew between meals, and has plenty of undisturbed rest away from the other dogs, and away from my young daughter who has also been educated on how to act around a new puppy.
If you think I can help you build a better relationship with your dog, please simply click the red button or call us on 0808 100 4071. A lovely lady called Amanda will call you back really quickly with all the information you need without obligation. I also share lots of interesting news and information on my Facebook page https://www.facebook.com/BarkbustersDerby/ so please feel free to take a look and give it a 'like' to receive all of my news into your Newsfeed.
5***** I would highly recommend Lee, I was so impressed by the training , following the methods he taught us worked brilliantly, so many things fell into place following the techniques. He makes it easy to follow and understand we had instant results with our pack. Anxiety with Wilson is much improved, the dominant behaviour of one and insistent barking was worked on with excellent results straight away!! That says it all really!!! The follow up visit was informative and helps confidence going forward with our pack . Looking forward to the next time! Lee is a star !!!

G.J.

10th March 2020
I can also help if you are looking for a dog trainer in Burton on Trent or Derby or Swadlincote or Uttoxeter
Services provided by Lee
more...
how we can help you and your furry friend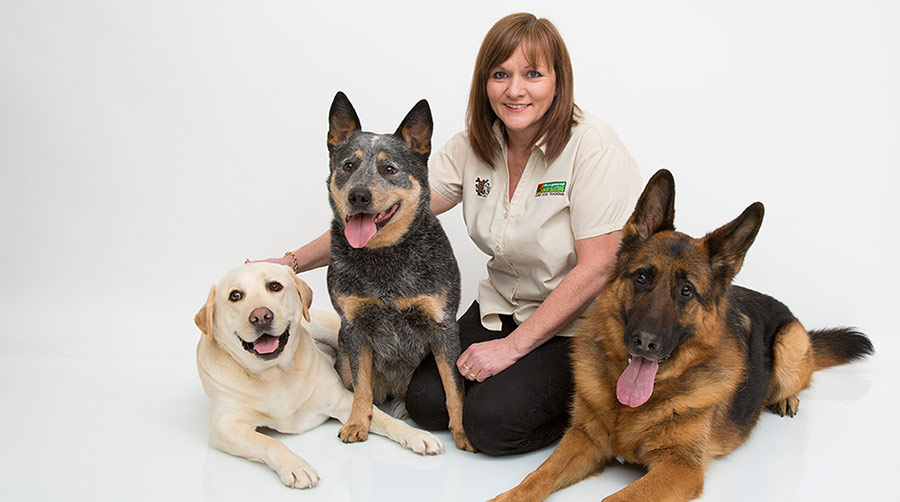 The Bark Busters communication methods help solve behaviour issues such as aggression towards people or other animals
Cure embarrassing habits like barking, jumping up on people, scratching & whining at doors or inappropriate toileting.
Create an obedient dog or puppy that will happily walk on the lead without tugging, sit or stay on command, and come immediately when called.
Set off-limit areas.
Reduce the stress of separation anxiety without the need for sedatives or drugs.
We teach you to communicate with your pet.
Do you find yourself shouting? Do you think your pet isn't listening to you? Maybe you're simply not speaking their language. The Bark Busters communication method is based on the way how our dogs communicate with each other and how they learn from older, more experienced members in the pack. This is what makes our training unique and effective.
Why do we train in your home?
Your pet lives with a family, in a home. This is where he spends most of his time and misbehaves most often, so this is where our programme is most effective. Our dogs learn by association. Bark Busters teaches him to listen in the home environment. If he does not listen at home, he will most probably not listen outside where there are far more distractions.
In your home we teach a one-on-one system without other distractions or the stress of being sent away from you to learn.
Of course, where you are experiencing problems outside the home such as pulling on the lead or dog aggression etc..., we will set up controlled situations in the park or wherever is most practical.