Chorley Home Dog Training & puppy Education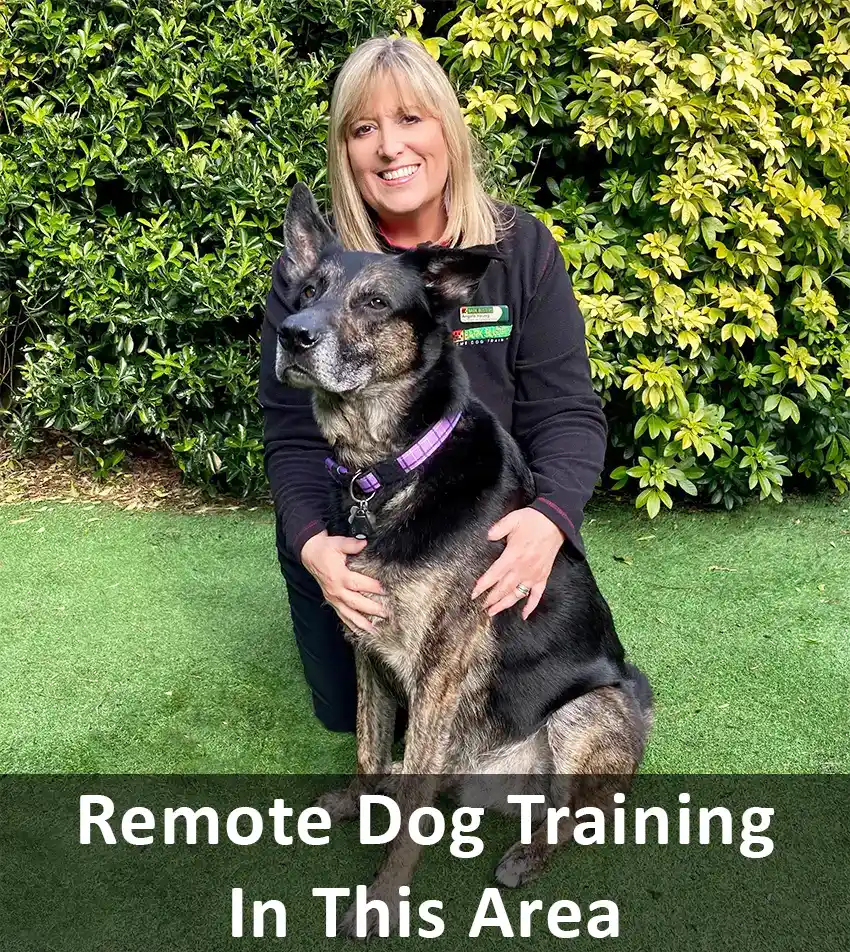 Welcome to Bark Busters Home Dog Training Chorley, Lancashire. I'm Angela Young, your local dog behaviour therapist and trainer. The Bark Busters methodology uses effective communication with your dog, and I will provide you with a better understanding as to why your canine friend is behaving in the way they do. My approach and ethic are non-physical, kind and effective, using verbal communication and body language to show your dog what you want from them and how to behave well. Your dog will quickly show you that they understand what you are asking of them and you will see calmness and focus when you show consistency in the training and communication methods that I will teach you.
The Bark Busters method DOES NOT use or advocate physical force or aversive methods, such as e-collars, spray collars, prong collars, intimidation or physical punishment. We do understand that many owners think the only other method of training is by plying their dogs with treats, but this is not necessary. By using effective communication and understanding your dog's motivation and causes for behaving in a particular unwanted fashion, getting to the root cause and addressing the reasons for their behaviour is much more effective and you will see a happier, more relaxed and confident dog in no time at all.
Apart from allowing me to meet all kinds of beautiful dogs and their owners every day, which I love doing, the best part of my job is seeing the transformation in a dogs' behaviour and the relationship between them and their families improving by helping to resolve issues that are causing disharmony and often distress in their relationship. If you are searching for a one to one dog trainer for general obedience or behaviour therapy, you are probably struggling with some aspect of your dog's behaviour and I am confident that I can help you.
The lessons will take place in your home, where your dog is stress free, most comfortable and familiar and likely to display the behaviours that you want to address, rather than being in an artificial environment where they may be unsure of their surroundings and not always display the behaviours that you want to work on. We will also work outdoors addressing lead work, dog on dog reactivity, fears and phobias and recall, if necessary. From the first time we meet, you will learn how to communicate with your dog and to gain their trust and focus, how to provide guidance and leadership. We will discuss your dog's history and their daily routine and the individual issues that you are struggling with. I will put a tailored training plan in place to help you to resolve the unwanted behaviour.
I will show and guide you through training exercises and the communication system so that you are confident to continue with the training and blend it in to your daily life. Many dog owners see a change in their dog's behaviour during the first lesson, and nothing makes me happier than seeing the smile on their faces once they realise that they have the skills to retrain their dog. I often see tears of relief and get a fair few hugs too, from dogs and their owners!


The Bark Busters behaviour therapy system has saved many dogs from being rehomed, or worse, when their owners are at the end of their tether and think the only option remaining is to give up their beloved dog. We pride ourselves in helping to save dogs, keeping them in their loving home and improving their relationship with their owners and giving them the ability to lead the life they are meant to, being happy and relaxed and well behaved. I also support rescue centres locally and help to work with dogs looking for new homes to ensure that their chances of rehoming are as strong as possible.
I have 2 dogs, a German Shepherd cross called Cole, who is a rescue dog and was onto his third home by the age of 14 months. He was a nervous and reactive dog who is very strong and was difficult to control. Using the Bark Buster system, I have trained him into better behaviour, to be calm and relaxed and to stop being such a worrier so that he is now a pleasure to be with whilst still retaining his lovely enthusiasm for life, and playful personality. My other dog is a Labrador cross called Snoop. We adopted him from a previous happy home at the age of 4, but unfortunately his family circumstances changed, and they knew the best thing for Snoop was to find him a new home. He is such a happy boy and loves his cuddles and playtime and he slotted into our family perfectly. Snoop and Cole are lovely brothers and best friends, even though they have very different personalities.
Whether yours is a rescue dog, a puppy, or a dog who you think you will never be able to train out of their unwanted behaviour, I can help you. I deal with all behaviours and life stages, from puppy training to adolescent exuberance right through to elderly dogs that may have different priorities and tolerances as they reach their twilight years. I deal with excessive barking, separation anxiety, aggression, pulling on the lead, recall, toileting, sibling rivalry, jumping up at people or kitchen worktops and stealing food and other items, or any other unwanted behaviour. If you need help, don't hesitate to contact me and I will arrange to visit you and put you on the right track to a happier relationship with your dog.
Your initial lesson will last for approximately 3 hours and you will be amazed at how quickly the time passes and how much you will learn! Our lessons are very interactive and will be enjoyable for both you and your dog, so the time will seem to fly by. I will leave you with a new confidence and a tailored training plan to follow daily, together with the knowledge that our support guarantee means that you can contact me for further help and support at any time, at no additional cost.
I would love to help you and your dog rebuild your relationship and live together harmoniously going forward. Our team are always on hand to answer any questions you may have about the services we offer and will be happy to chat to you without obligation.
I hope to meet you very soon. I'm confident that your dog will thank you, and you will wonder why you waited so long!
Areas Covered
Your trainer is an independent business owner who operates their own business under a franchise agreement with Bark Busters. Angela Young trading as Bark Busters, is a franchisee of BBDT (UK) Limited, the Master Franchise holder.
Contact Your Local Trainer
My Service Ratings