meet your specialist trainer Gina Hinsley
Bath Dog Training & Behaviour Therapist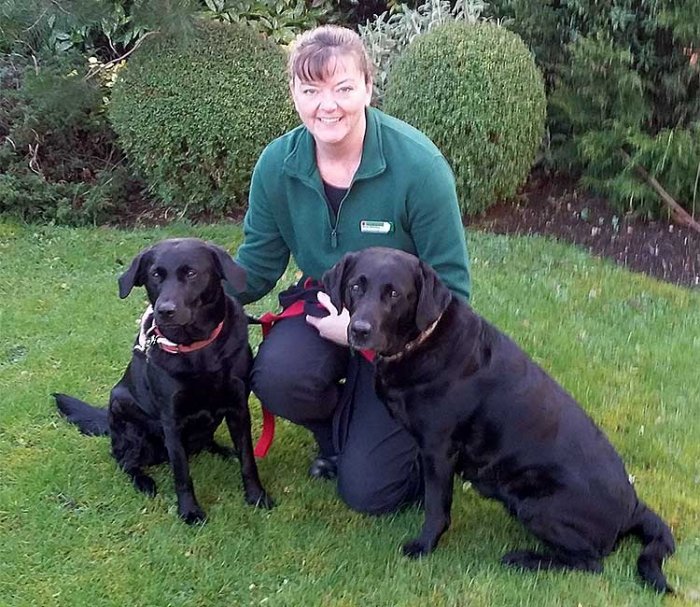 or call 0808 100 4071
Hello, I am Gina Hinsley. Welcome to Bark Busters Home Dog Training Bath, Trowbridge & Chippenham ares, where I am your local behaviour therapist.
I am a dog lover and have been the proud owner of several dogs throughout my life. Like you, I love dogs and want the best for them, including a relationship built on mutual trust and respect, where we all know what is expected of us. However, the availability of conflicting advice and opinions on training systems can leave you confused. Communication is essential and sometimes we can get it wrong which is why we make very little progress. I was introduced to the Bark Busters system of communication and training which realises how important it is to understand a dog's system of communication and to use it in a consistent way.
I was delighted when the opportunity arose for me to train with Bark Busters to fulfil my dream of working with dogs and their owners as a home dog training therapist. My background in the corporate arena is also useful to me as I am equipped to handle a variety of situations, people and problems. My skills in supporting and helping others will give you the confidence to help train your dog. Together we will discuss the unwanted behaviour you are seeing from your best friend, and work on a tailored plan to eliminate the bad behaviour and get your relationship back on track.
Whatever problems you are experiencing with your dog I am confident I can help you. Our communication system is fast and effective, and will help you to communicate with your dog in a new way, using voice tone and body language and without the need for gadgets or gimmicks. As I have already expressed, communication and consistency are key to success. You will quickly learn to use our system and from that will come your confidence to use it consistently.
How does our training create happy dogs and happy owners?
If you're looking for professional dog training near you, then you've found the right place. The training is arranged at a time to suit you. I will visit you and your dog in your home where we will chat about the issues you are having. Firstly, we will uncover the reasons for the unwanted behaviour, then we will put a tailor made plan into place. Before I leave your first lesson, I will have coached you in our communication methods, and given you lots of practise. Often owners see a change in their dog's behaviour by the end of the first lesson, and you will know how to build on that.
If your problem is simply that your dog pulls on the lead and ruins your walks together, I can help you with that. If you are struggling with more serious problems like aggression, barking, separation anxiety or any combination of issues, I can help with those. I will show you how, by changing how you interact with your dog, you can start to eliminate the unwanted behaviour.
I can also help if you would like to get off to a good start with a new dog, a rescue dog, or a puppy. Our puppy training is gentle and fun and gives you all you need to know to have a happy, healthy puppy. You will be prepared in advance for potential issues and know how to deal with them.
Whatever age, type, or size, and whatever the problem, feel free to get in touch and I will be delighted to help! Our unique Support Guarantee means that, after our first lesson together, I will continue to return to you and your dog free of charge to support you through your programme for the term of the guarantee.
Gina was brilliant, she really made sure I was happy, and understood what I needed to do. I have been following the things Gina told me, and so far it's going well.  I'm making sure I do what I need to do every day, and I'm finding it is becoming part of the normal. I'm definitely looking forward to my next step

E.M.

22nd January 2020
Services provided by Gina
more...
Gina is a certified dog First Aider
how we can help you and your furry friend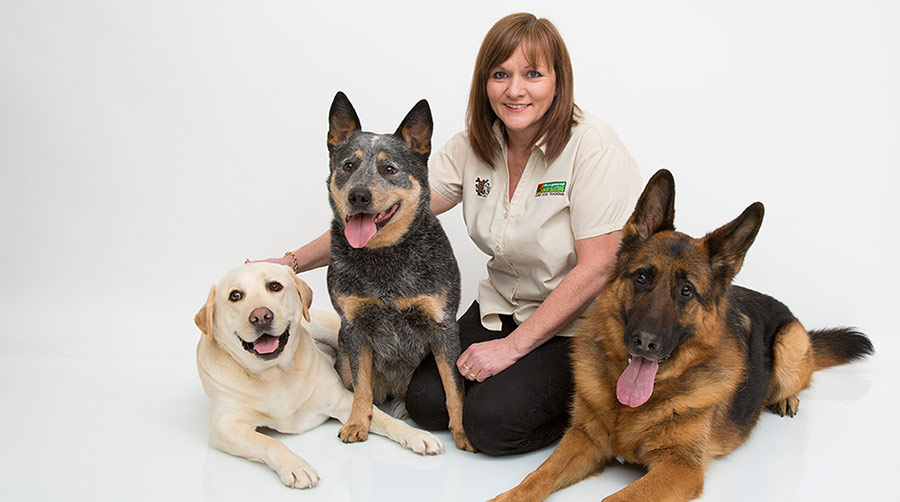 The Bark Busters communication methods help solve behaviour issues such as aggression towards people or other animals
Cure embarrassing habits like barking, jumping up on people, scratching & whining at doors or inappropriate toileting.
Create an obedient dog or puppy that will happily walk on the lead without tugging, sit or stay on command, and come immediately when called.
Set off-limit areas.
Reduce the stress of separation anxiety without the need for sedatives or drugs.
We teach you to communicate with your pet.
Do you find yourself shouting? Do you think your pet isn't listening to you? Maybe you're simply not speaking their language. The Bark Busters communication method is based on the way how our dogs communicate with each other and how they learn from older, more experienced members in the pack. This is what makes our training unique and effective.
Why do we train in your home?
Your pet lives with a family, in a home. This is where he spends most of his time and misbehaves most often, so this is where our programme is most effective. Our dogs learn by association. Bark Busters teaches him to listen in the home environment. If he does not listen at home, he will most probably not listen outside where there are far more distractions.
In your home we teach a one-on-one system without other distractions or the stress of being sent away from you to learn.
Of course, where you are experiencing problems outside the home such as pulling on the lead or dog aggression etc..., we will set up controlled situations in the park or wherever is most practical.