meet your specialist trainer Gina Williams
Bristol Dog & Puppy Training • General Obedience & Behaviour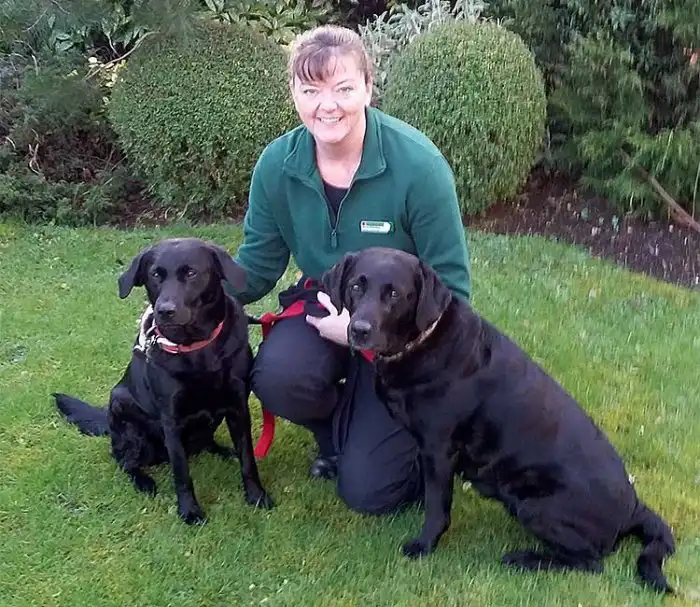 or call 0808 100 4071
Welcome to Bark Busters Home Dog Training Bristol and I am Gina Williams, your local behaviour therapist and trainer. I am passionate about dogs and was delighted when the opportunity arose for me to fulfil my dream of working with them and their owners as a Bark Buster trainer and therapist covering Bristol and surrounding areas. My background in the corporate field means that I am equipped to deal with many different situations and problems, and my ability to support and train others means that I will bring to you the confidence to train your dog or puppy and to eliminate any unwanted behaviour that is ruining your relationship with your best friend.
Whatever problems you are experiencing I am confident I can help you. I have owned several dogs, all of which challenged me in different ways, but whom I loved unconditionally. Like you, I always wanted them to have the best life possible, but sometimes I wasn't sure how to achieve this. There is so much differing advice available to owners, that it was difficult to know where to start and where to turn. I muddled along for all of those years in my own way until I was introduced to the Bark Busters communication method.
Our methods are simple, kind and effective, and will help you to communicate in a way that he/she understands. Communication and consistency are key to any successful programme. You will find that you will very quickly feel confident in using our system and, because of that, you will be confident in using it consistently. This is how we work to create happy pets and happy owners.
If you're looking for fast and effective dog training near you, then you've found the right place. The training programme takes place in your home and is arranged at a time to suit you. Together we will discuss the issues and uncover the underlying reasons for the behaviour that is causing any stress. Then, together we will put in place a bespoke programme to address the specific problems you are experiencing. Before I leave you after our first lesson, you will have been coached in the methods and communication we use, and had lots of chance to practise. Often, you will have already seen a change in the behaviour by the end of that first lesson, and you will be equipped to build on that success.
Whether your problem is something as simple as pulling on the lead, or as challenging as aggression to animals or humans, our fast and effective communication method will help you to eliminate the unwanted behaviour. I can also help you if you have a new pet into your family and you would like to get off to a good start, so you are prepared in advance for potential issues and know how to will deal with them. Our puppy training programme is effective and fun and gives all you need to know to have a happy, healthy puppy.
If you are looking for some help with behaviour problems, whatever the age, type or size, and whatever the problem, just give me a call and I will be delighted to help!
Gina's insight in to a dogs behaviour was so helpful. Wilf is not a difficult dog however with support from Gina we were shown how he had started to assume a guarding position and that this is not helpful behaviour for a family pet. Gina is exceptionally easy to work worth as she is very realistic with training and how as an owner you can influence training but we are all only human so do forget at times. Her ability to obtain a relationship with Wilf almost immediately was incredible to watch.A.H.

27th September 2021
Services provided by Gina
more...
Gina is a certified dog First Aider
how we can help you and your furry friend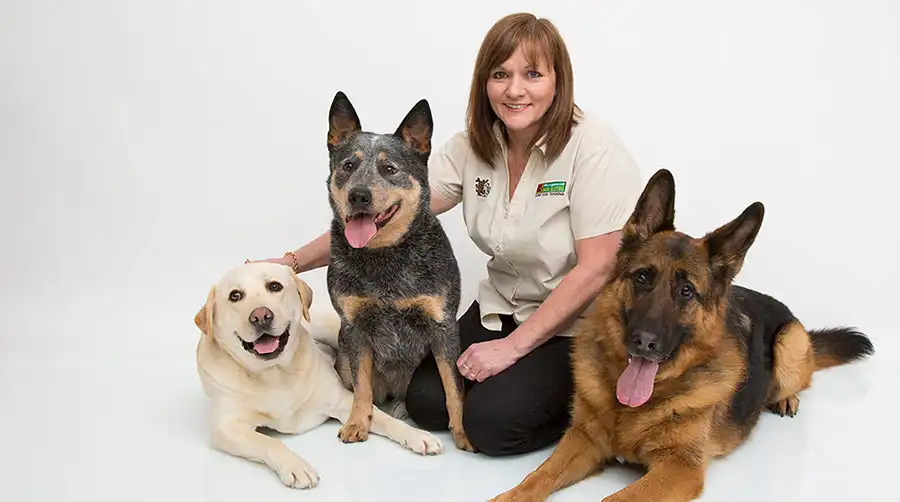 The Bark Busters communication methods help solve behaviour issues such as aggression towards people or other animals
Cure embarrassing habits like barking, jumping up on people, scratching & whining at doors or inappropriate toileting.
Create an obedient dog or puppy that will happily walk on the lead without tugging, sit or stay on command, and come immediately when called.
Set off-limit areas.
Reduce the stress of separation anxiety without the need for sedatives or drugs.
We teach you to communicate with your pet.
Do you find yourself shouting? Do you think your pet isn't listening to you? Maybe you're simply not speaking their language. The Bark Busters communication method is based on the way how our dogs communicate with each other and how they learn from older, more experienced members in the pack. This is what makes our training unique and effective.
Why do we train in your home?
Your pet lives with a family, in a home. This is where he spends most of his time and misbehaves most often, so this is where our programme is most effective. Our dogs learn by association. Bark Busters teaches him to listen in the home environment. If he does not listen at home, he will most probably not listen outside where there are far more distractions.
In your home we teach a one-on-one system without other distractions or the stress of being sent away from you to learn.
Of course, where you are experiencing problems outside the home such as pulling on the lead or dog aggression etc..., we will set up controlled situations in the park or wherever is most practical.
Your trainer is an independent business owner who operates their own business under a franchise agreement with Bark Busters. Gina Williams trading as Bark Busters, is a franchisee of BBDT (UK) Limited, the Master Franchise holder.