Croydon & Sutton Dog Training & Puppy Behaviour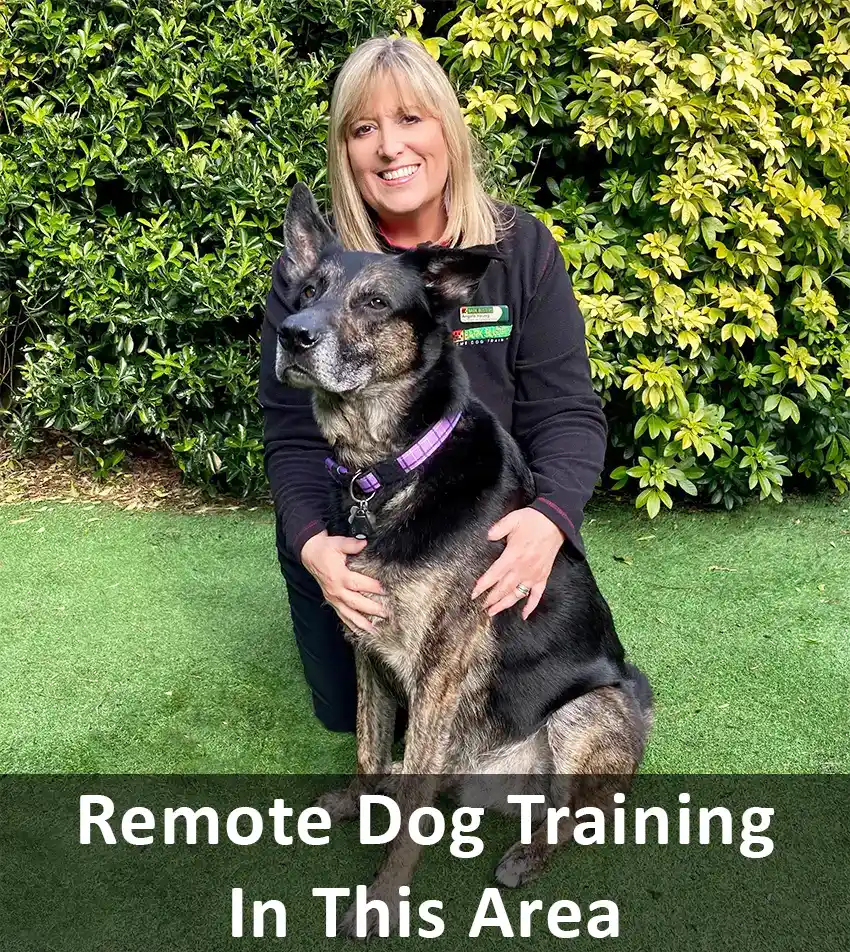 Live virtual dog training Croydon & Sutton. We currently do not have a dog trainer physically located in your area that could visit your home, however we don't let that stop us from helping you and your dog, as we do offer Live Virtual Meeting Training, with video, telephone, and email support between lessons, directly with Angela Young, who is our excellent and experienced trainer and behaviour therapist covering your area.
My name is Angela Young of Bark Busters Home Dog Training Croydon & Sutton. I'm a Master Dog Trainer and Behaviour Therapist, helping hundreds of dog owners like you to resolve their dog's behaviour problems. I also provide puppy training to give your new addition the very best start on their path to being a relaxed, confident and well-behaved canine companion. During my time with Bark Busters, I've had lots of experience and success in teaching and counselling people over live video and telephone to get them past frustrating dog behaviour problems and to help settle dogs into their new homes as I am also a volunteer behaviourist for a local rescue centre.
My virtual dog training lessons by video conferencing, in the comfort of your home, can be just the thing you need to solve any dog behaviour problems or general obedience issues that may be causing you and your dog stress and frustration. My virtual training is very effective, relaxed, and popular and you'll be amazed at the results you can achieve. I will be able to see your dog's behaviour over video link and I can observe how your dog interacts with you, so I can ensure that during the training exercises I guide you through, whilst meeting and coaching you online, your dog is responding directly to you and not the trainer.
If you are looking for dog training near you then you've found the right place. For those areas where we do not have a trainer physically located, I am able to effectively use my skills remotely with you by video meetings and telephone and email. I can help those who live outside Bark Busters' current coverage areas where we are unable to physically attend your home, but as I offer live personal training lessons to you online, you are able to benefit from the proven, successful, highly effective and dog friendly Bark Busters methods and techniques that have helped millions of dogs worldwide.

How it works:
Depending on the behaviour issues you are facing, we will schedule a series of video conference lessons. We will discuss the issues you are facing, I will give you a clear and easy to understand insight into why your dog may be presenting certain behaviours and I will give you a structured and bespoke training plan and exercises to practice during the lessons, where I can see and coach you so that you are comfortable to continue to practice them between meetings. At each subsequent lesson, we will evaluate your dog's progress and I will continue to guide you until you see the results you are looking for and have a more relaxed, content, and well-behaved dog or puppy. The number of lessons required is dependent on the behaviour problems and situation, as each dog is unique, but most dog owners see an immediate positive change to their dog's behaviour after the very first lesson. I have packages available to suit your budget and to help you overcome your dog's behaviour problems.
To discuss what would work for you and your dog, please call our freephone number 0808 100 4071 or use the red contact button and we will call you back as soon as possible.
I'm committed to helping people understand and communicate with their dogs because I know the end result is truly a wonderful experience and a happier relationship between dogs and their owner. With our ongoing support guarantee for the duration of your training programme, you are not alone with Bark Busters.
If you are still undecided on the best trainer for you and your dog, why not check out my client reviews, such as the ones above, to see what my clients say about me and my virtual training.
Don't delay, give us a no obligation call to talk about what we can do to help you. I hope to see you and your dog, virtually, very soon and to get you on the path to harmony, a well-behaved happy dog and an improved relationship.
Areas Covered
Selhurst, Addiscombe, Shirley, Croydon, East Croydon, Sanderstead, Coulsdon, Caterham, Mitcham, Collierswood, Streatham Vale, Warlingham, Woldingham, Manor Park, Thornton Heath, Purley, Kenley, Purley Downs, Crystal Palace, Norwood, South Norwood, Sutton, Carshalton, Belmont, Cheam, Morden, Wallington, Banstead, CR0, CR1, CR2, CR4, CR5, CR6, CR3, CR7, CR8, CR9, SM1, SM2, SM3, SM4, SM5, SM6, South Croydon, West Croydon, Central Croydon, Selsdon, Riddlesdown, Chipstead
Your trainer is an independent business owner who operates their own business under a franchise agreement with Bark Busters. Angela Young trading as Bark Busters, is a franchisee of BBDT (UK) Limited, the Master Franchise holder.
Contact Your Local Trainer
My Service Ratings