meet your specialist trainers Jo & Graham Milgrew
Home Dog Training Croydon & Sutton, Surrey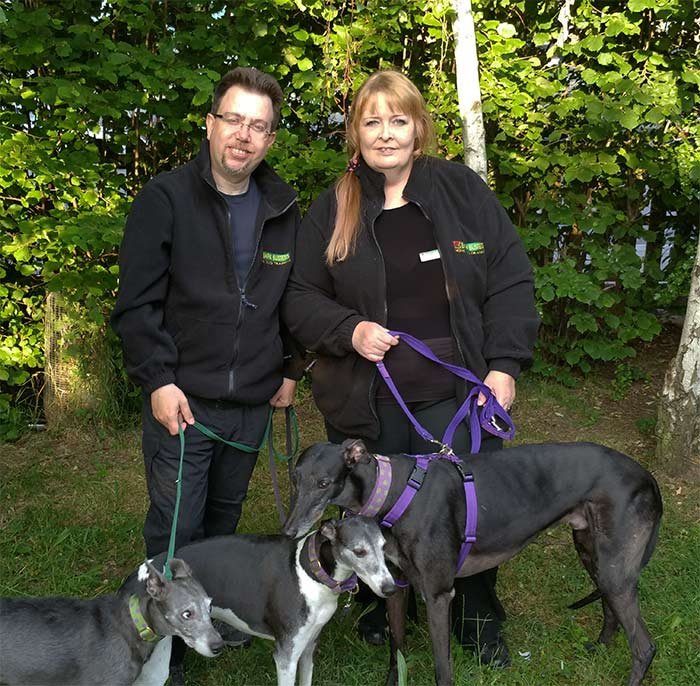 or call 0808 100 4071
Updated 5th January 2021 - We are currently operating under tier 5 Government Covid-19 Secure Guidelines and continue to offer a variety of options to conduct lessons whilst maintaining social distancing. This includes home lessons where appropriate, conducting lessons in your garden / open spaces and using video conferencing. We have a "Home Lesson Risk Assessment" in place to help to combat the spread of the virus. We also have "puppy quick start packages" available at competitive prices if you have a new addition to your home.
Hello, our names are Graham and Jo and we are your local behavioural therapists for Bark Busters Home Dog Training Croydon & Sutton.
Jo and I specialise in one-to-one training in your home. We have a genuine any breed, any age, any problem policy and help you and your dog in the environment where the problems are occurring. We provide you with concrete practical solutions and demonstrate how to actually train your dog. We then provide follow up visits with phone and email support for a whole year after your first visit.
If you're looking for professional dog training near you, then you've come to the right place. We help with all dog problems including jumping, pulling on the lead, recall (dogs that don't want to come back), mouthing and nipping, aggression to other dogs or humans (dogs that bark, growl and/or lunge). Hyperactivity (dog's that don't to calm down) plus destructive behaviour including chewing and digging, toilet training for all ages, chasing (animals, joggers. cycles, cars and even children). Barking, whining, howling and separation anxiety (dogs who don't like being on their own). Obsessive behaviours, attentiveness (dogs that don't listen!!) and general obedience. We will not be judgemental or critical in any way about your dog's behaviour. What we want to do is move forward, together, so that you and your dog can enjoy a happy and fulfilled bond.
For puppies we make sure you get off to the best start possible with the reassurance that you can contact us, whichever of us is your trainer, to answer all those little questions that always crop up with puppies together with follow up visits for further training.

More about Graham
Before meeting my wife and becoming a dog trainer, I lived in Crystal Palace and worked for many years travelling around Croydon, Mitcham, Sutton, Morden and New Addington and have explored virtually every park with my dog Smudge who used to come to work with me. During this time I had considered myself to be pretty good with dogs because most of the dogs that I encountered were 'pretty good'!
In a nutshell, that's the problem – many of the dogs that we encounter in day to day life are fairly accommodating and just fit into our life. This is what we expect. So when we encounter a dog with behaviour problems there's a tendency to get confused and then frustrated with the dog. "Why won't it just do as it's told?" "Is it my fault?" - If we're not careful we can behave inappropriately towards the dog and this only makes the situation worse.
Let me ask you a question – do you ever find yourself getting frustrated and upset with an aspect of your dog's behaviour? If the answer is yes, then I can empathise – I've been there!
My Whippet, Smudge, suffered terribly from separation anxiety and I made very elaborate arrangements so he was never left on his own because he would howl pitifully and pee in the house when I had to leave him. I then met my wife and found that finally there was a way to truly help him. I learned quickly that many of the things that I had been doing to try and fix the problem were having little effect. Smudge is now happy being left behind in the house.
I was then able to use my new found knowledge to help our Greyhound, Angus, who we rescued last year. Most Greyhounds are laid back couch potatoes but Angus wouldn't come when called and was aggressive with all larger dogs. He also had a habit of running up and down the garden barking so loudly that the windows seemed to shake! He had been stuck in a rescue for nearly six months as nobody wanted him so my wife persuaded me that he would be the perfect for us and a year on we have a beautiful dog who is a joy to live with. He is not perfect as big dogs still scare him terribly, (which seems strange as he is a huge dog himself) but he looks to us now for guidance and to protect him rather than going into "attack first and ask questions later" mode.
Our third dog is a small Lurcher called Lottie. She is a cross between a whippet and a terrier and although she looks like a whippet she has lots of terrier traits. She had been a working dog killing rats and rabbits until she had a serious accident when she was 7 and was then too slow to do her job. She had lots of problems when she first came to Jo including stealing food, biting people who tried to stop her and charging at dogs she didn't like to drive them away. When I met her she was still a very high energy dog and needed a lot of channeling in the right direction. She is now losing her sight so gets disorientated and did run at great speed in the wrong direction and as she is going deaf we can't call her. After a few scary incidents we have trained her to stay close and walks are no longer stressful.

More about Jo
I became a Bark Busters Trainer because of personal experience. My sister's dog was a lovely, friendly and obedient dog, but when my nephew started to crawl he would occasionally growl at him. We thought we were managing it successfully until one day he came too close to my nephew who was then 15 months old. He grabbed his face and Ouzo nipped him. At that moment our world turned upside down. Everybody told my sister and brother-in-law to get that once a dog has bitten he will bite again and that he was a bad dog and couldn't be trusted. Fortunately they recognised that they needed help with their dog and called in Bark Busters. The Bark Busters Therapist came to see us all and we were given a simple programme to follow. From the first session he was a changed dog. The fretful, growling dog around my nephew was gone. At the time my sister gave feedback saying "immediate and remarkable results...truly fantastic".
For me, this proved to be a life changing moment. I realised that people did not have put up with their dogs problems or try to solve it themselves. Even if it was a truly difficult problem, a dog could be helped by caring owners by following proven and practical methods. This was something I wanted to do and was a perfect fit with my own life experience.
I had always been what my friends and family call a "doggie person" and over the years I have taken ownership of a lot of unwanted dogs, who all came with their own doggie baggage. Bobby a mongrel who was badly attacked in a park and then went onto try an attack any other dog he met after. Zak, a beautiful German Shepherd who I couldn't walk at first he pulled so hard on the lead. He had terrible separation anxiety and destroyed my furniture when we first had him. Russ was a very elderly mongrel, who had a benign brain tumour and wobbled all over the place. Jason a 10 year old miniature poodle who narrowly missed being put down when his owner died and nobody wanted him. He also had separation anxiety and barked and whined at the door constantly when I went out. He wasn't very friendly at first and sat on my lap growling at everyone and anyone who came near. I thought I had taken more on than I could handle with him, but with a bit of hard work he became a happy dog loved by my whole family.
I did decide that I wanted a puppy at least once chose a Yorkshire Terrier. He was a delight to train, but sadly he had a serious medical condition which meant he couldn't deal with any stress and would toilet in the house. (Vets told me that I hadn't toilet trained him properly and this experience means that I am always look at possible medical reasons for problem behaviour).
As you can see, we have hands on experience of doing the job of training ourselves. I guess you could say that we truly practice what we preach! So if you want to get it right from the outset and give your puppy the best start in life, or you have doggy problems you want to resolve, then let us give you the tools and techniques so you can have the pleasure of a calm and happy dog. Please call or email to find out more; we'd love to help.
Jo and Graham have not only been very helpful but also great fun. They both obviously have a great depth of knowledge and experience and they pass it on in a very clear and easy to understand way. I felt like an experienced dog owner but wanted advice on introducing a puppy to my older dog. Jo not only helped with the transition phase but also taught me a LOT about both the new and the old dogs. My wife and I actually felt empowered after speaking to her. Graham is the one who visits and he also has a lovely manner and a calm, sure way of explaining things. He got INSTANT results with the puppy and in seconds he solved the problem of our old dog pulling on the lead. This has been bothering us for 9 years!!! I can't recommend Jo and Graham enough and we will be continuing to work with them over the coming months/years as I now see how expert advice has improved our relationship with our dogs.G.K.

17th December 2020
Services provided by Jo & Graham
more...
how we can help you and your furry friend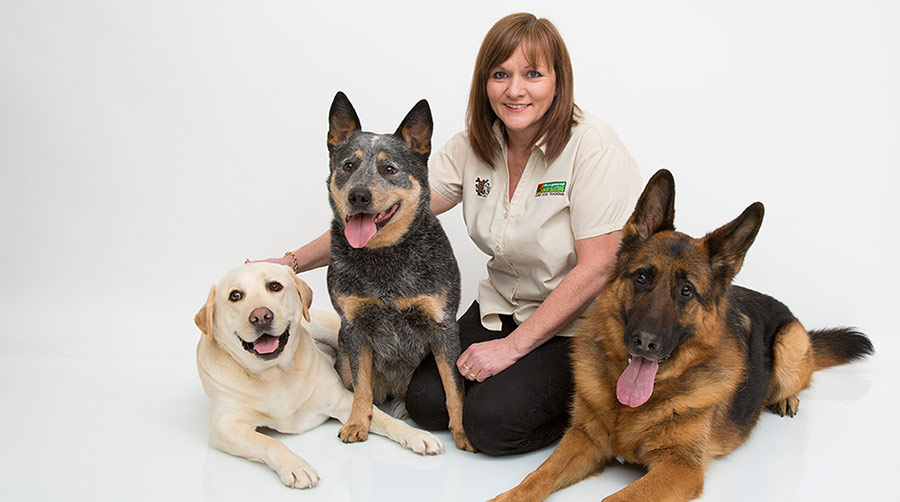 The Bark Busters communication methods help solve behaviour issues such as aggression towards people or other animals
Cure embarrassing habits like barking, jumping up on people, scratching & whining at doors or inappropriate toileting.
Create an obedient dog or puppy that will happily walk on the lead without tugging, sit or stay on command, and come immediately when called.
Set off-limit areas.
Reduce the stress of separation anxiety without the need for sedatives or drugs.
We teach you to communicate with your pet.
Do you find yourself shouting? Do you think your pet isn't listening to you? Maybe you're simply not speaking their language. The Bark Busters communication method is based on the way how our dogs communicate with each other and how they learn from older, more experienced members in the pack. This is what makes our training unique and effective.
Why do we train in your home?
Your pet lives with a family, in a home. This is where he spends most of his time and misbehaves most often, so this is where our programme is most effective. Our dogs learn by association. Bark Busters teaches him to listen in the home environment. If he does not listen at home, he will most probably not listen outside where there are far more distractions.
In your home we teach a one-on-one system without other distractions or the stress of being sent away from you to learn.
Of course, where you are experiencing problems outside the home such as pulling on the lead or dog aggression etc..., we will set up controlled situations in the park or wherever is most practical.
Your trainer is an independent business owner who operates their own business under a franchise agreement with Bark Busters. Jo Milgrew & Graham Milgrew trade as Bark Busters, and are franchisees of BBDT (UK) Limited, the Master Franchise holder.