meet your specialist trainer Gina Hinsley
Gloucester Home Puppy & Dog Training & Behaviour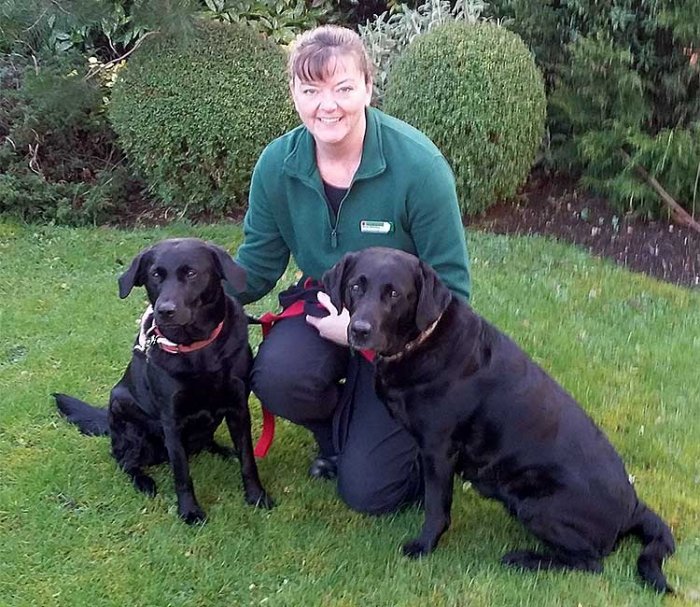 or call 0808 100 4071
Updated 5th January 2021 - I offer a variety of options to conduct lessons whilst maintaining social distancing. This includes home lessons where appropriate, conducting lessons in your garden / open spaces and using video conferencing. We have introduced a "Home Lesson Risk Assessment" to help to combat the spread of the virus.
Welcome to Home Dog Training Gloucester and I'm Gina Hinsley, your local Bark Busters behaviour therapist & trainer. I am thrilled to be working with dogs and their owners as a Bark Buster behaviour therapist. Whatever behaviour problems dog owners experience, our simple to follow, fast, effective and gentle training methods can be used to help. I will teach you how to observe the triggers for your dog's behaviour. We will work together to and you will learn how to change you dog's behaviour so that your dog starts to trust in your leadership, your confidence and quickly learning that it's ok to relax. I myself have owned challenging dogs, all of them I have loved unconditionally, despite sometimes despairing at their bad behaviour.
As you are reading this, you are probably wanting the best for your dogs but unsure how to achieve it. The vast array of advice available to dog owners makes it difficult to know where to turn. The Bark Buster method of dog training gives you a simple, tailor-made system that you can follow every day; one that will improve your communication with your dog, and create a happier, more harmonious life for the whole family.
Communication and consistency are the key components of success. With my guidance, and from the very first session, you will be confidently using our system and seeing the results. I will visit you in your home where we will discuss the issues and plan a way forward. Together we will put the training into place. I will train you to train your dog and before I leave you on that first session, you will have had chance to practise and perfect your techniques. As someone with a background in the corporate world, I am very confident about my coaching skills and my ability to support people as they learn.
If you're looking for professional puppy or dog training near you, then you've come to the right place. It may be simply that your dog's pulling on the lead is ruining your walks, or it could be something much more serious, like dog aggression or stranger aggression causing you anxiety every time you and your dog leave the house. Our training methods are non-physical…we don't believe in physical punishment. We use our vocal communication system to help you to eliminate the unwanted behaviour.
I would also be delighted to hear from you if you would like my help getting off to the right start with a new dog or a rescue dog that you know has some issues. I am also available to help with puppy training-our puppy training is gentle and fun and equips you with the knowledge and skills to have a happy, healthy puppy.
Whatever your dog's behaviour, age, type or size, please do give me a call and I will be delighted to help!
Excellent training even after just one lesson Barney is calm and relaxed with no barking.

I.B.

1st November 2019
Services provided by Gina
more...
Gina is a certified dog First Aider
how we can help you and your furry friend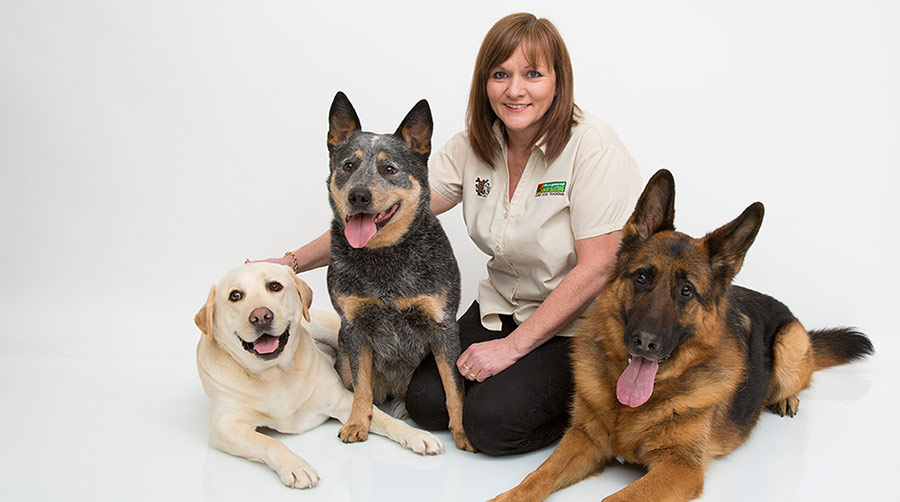 The Bark Busters communication methods help solve behaviour issues such as aggression towards people or other animals
Cure embarrassing habits like barking, jumping up on people, scratching & whining at doors or inappropriate toileting.
Create an obedient dog or puppy that will happily walk on the lead without tugging, sit or stay on command, and come immediately when called.
Set off-limit areas.
Reduce the stress of separation anxiety without the need for sedatives or drugs.
We teach you to communicate with your pet.
Do you find yourself shouting? Do you think your pet isn't listening to you? Maybe you're simply not speaking their language. The Bark Busters communication method is based on the way how our dogs communicate with each other and how they learn from older, more experienced members in the pack. This is what makes our training unique and effective.
Why do we train in your home?
Your pet lives with a family, in a home. This is where he spends most of his time and misbehaves most often, so this is where our programme is most effective. Our dogs learn by association. Bark Busters teaches him to listen in the home environment. If he does not listen at home, he will most probably not listen outside where there are far more distractions.
In your home we teach a one-on-one system without other distractions or the stress of being sent away from you to learn.
Of course, where you are experiencing problems outside the home such as pulling on the lead or dog aggression etc..., we will set up controlled situations in the park or wherever is most practical.
Your trainer is an independent business owner who operates their own business under a franchise agreement with Bark Busters. Gina Hinsley trading as Bark Busters, is a franchisee of BBDT (UK) Limited, the Master Franchise holder.