meet your specialist trainer Lynn Prentice
Puppy & Dog Training & Behaviour, Harlow - Essex
or call 0808 100 4071
Welcome to dog training Harlow, Essex. I'm Lynn Prentice, your local dog behaviour therapist and trainer for Bark Busters. I expect if you're reading this then you have decided that the time has come to get help with your not so perfect pooch, well I know the feeling...
Some years ago I came to the same conclusion myself as my beautiful boxer puppy was quickly turning into a grown up nightmare. He thought no-one should be allowed into his house, he would not come back when I called him and he would lunge at other dogs on the lead to name just a few of his problems.
Fortunately I was recommended to Bark Busters Home Dog Training by a friend and after the very first visit Ralf's behaviour began to significantly improve. The local therapist explained to me how I was giving Ralf all the wrong signals and explained the difference between human and canine communication. Armed with this knowledge, the techniques she had shown me, and her continued support, Ralf's behaviour transformed in a very short space of time.
Some months later I discovered that there was an opening for a Bark Busters therapist in the Harlow area, so I contacted them. Having seen how well I had worked with Ralf, I applied and was tutored through their extensive training programme. I have never looked back. I love my vocation and love facing the challenges of even what may seem to be the most difficult dogs. It's all about understanding and communicating, something I am confident I can teach to you.
During my years with Bark Busters I have helped owners and dogs with all types of behaviour problems barking, jumping up, recall, obedience, toilet training, separation anxiety, dog aggression, and stranger aggression. Both I and Bark Busters are committed to helping owners and preventing the worst for their dog. Just last month I helped two owners avoid having their beloved dogs put to sleep for aggression.
But whether it is something as serious as this or just making sure that your pet stays safe by always returning to you when called or even puppy management for new owners wanting to get it right from the start, I am here to help.
If you're looking for professional dog training near you, then you've found the right place. I will spend time in your home, with you and your dog, assessing why you are facing your current problems. Then we will form a sensible achievable training plan for you to follow and with the Bark Busters Guarantee you can be confident that I will be there to support and guide whenever you need me, and that I will return free of charge to help with any reoccurring or new issues.
With our help you can change your dog's behaviour as I did. Ralf is now a happy contented dog who volunteers as a Pets as Therapy dog and I am also a Pets as Therapy Dog Temperament Assessor.
From the moment Lynn arrived we knew we were in hands of a professional. She took time to learn about the background of the situation and clearly demonstrated the actions we needed to take and worked through the steps with us until we understood. The main issue was fear based aggression to strangers coming into the house and persistent barking when the doorbell rang. The dogs responded pretty quickly. By the end of the session we had a calm dog in his bed with a 'stranger' in the house for the first time. It was nothing complicated just needed to be shown and now we have to be consistent as a family. Really liked Lynn's no nonsense approach and can't thank her enough for giving us hope that this can be resolved.

S.T.

14th July 2019
Services provided by Lynn
more...
Lynn is a certified dog First Aider
how we can help you and your furry friend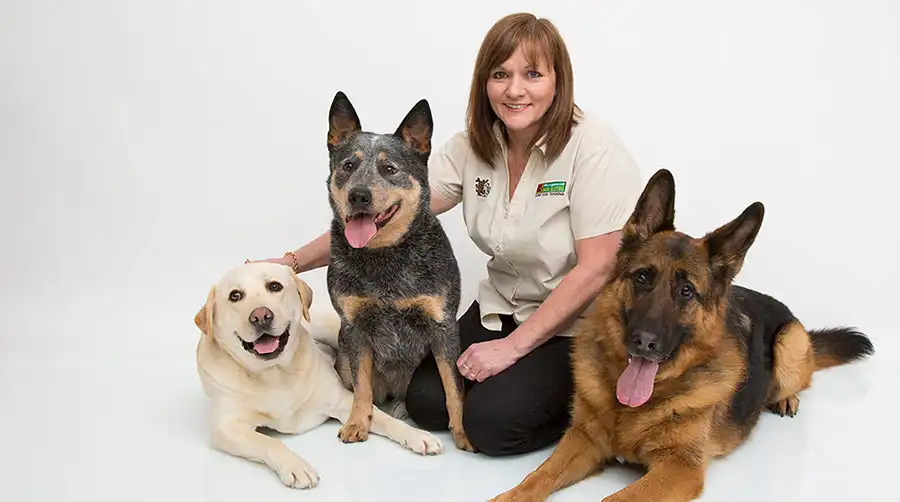 The Bark Busters communication methods help solve behaviour issues such as aggression towards people or other animals
Cure embarrassing habits like barking, jumping up on people, scratching & whining at doors or inappropriate toileting.
Create an obedient dog or puppy that will happily walk on the lead without tugging, sit or stay on command, and come immediately when called.
Set off-limit areas.
Reduce the stress of separation anxiety without the need for sedatives or drugs.
We teach you to communicate with your pet.
Do you find yourself shouting? Do you think your pet isn't listening to you? Maybe you're simply not speaking their language. The Bark Busters communication method is based on the way how our dogs communicate with each other and how they learn from older, more experienced members in the pack. This is what makes our training unique and effective.
Why do we train in your home?
Your pet lives with a family, in a home. This is where he spends most of his time and misbehaves most often, so this is where our programme is most effective. Our dogs learn by association. Bark Busters teaches him to listen in the home environment. If he does not listen at home, he will most probably not listen outside where there are far more distractions.
In your home we teach a one-on-one system without other distractions or the stress of being sent away from you to learn.
Of course, where you are experiencing problems outside the home such as pulling on the lead or dog aggression etc..., we will set up controlled situations in the park or wherever is most practical.
Your trainer is an independent business owner who operates their own business under a franchise agreement with Bark Busters. LPDT Limited trading as Bark Busters, is a franchisee of BBDT (UK) Limited, the Master Franchise holder.