Puppy and Dog Training Ipswich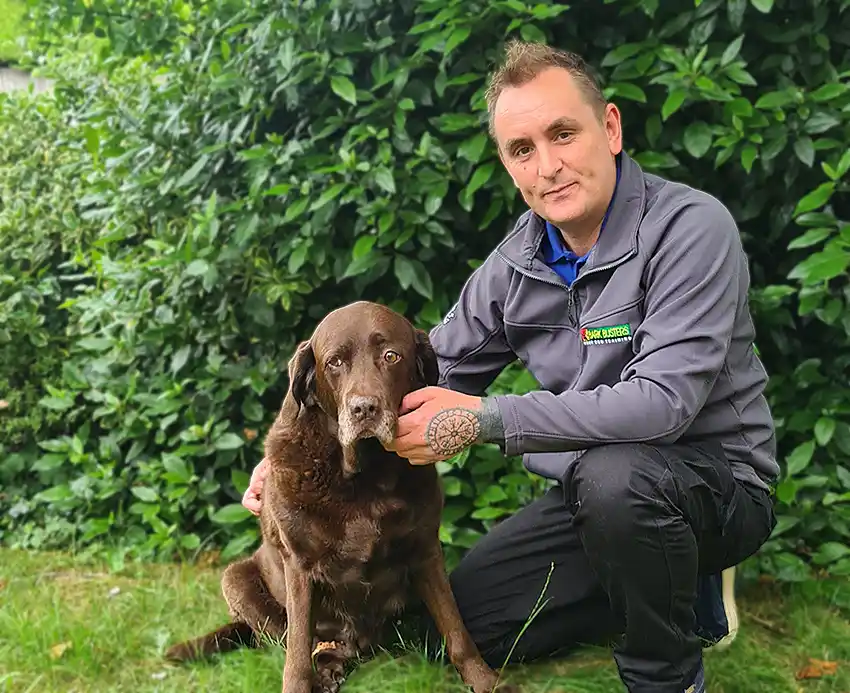 Welcome to dog training Ipswich, my name is Tim, and I am your local Bark Busters dog behaviour therapist and trainer. Dogs see the world in a very different way to us humans, so it's understandable that we sometimes find that the dog we hoped would be a great addition to the family, has become a confused unruly, noisy, destructive or seemingly an unpredictable creature in some way. It sometimes seems that our dogs are defiant or trying to punish us. No, they are just seeing the world in a canine way, so it's important for us humans to learn their language before we can help to change the unwanted behaviour. That's where Bark Busters can help.
If you are looking for professional dog training near you, in or around Ipswich, then you have found the right place. The Bark Buster training systems recognises symptoms such as anxiety, aggression, excess barking and lead pulling which are common issues for many dog owners, but the causes behind each dog reacting these ways, is very individual to each dog. Sometimes canine personality, breed, previous experiences or age will have an effect. That's why we take as full a history as possible and observe the interactions between different members of the family, so that we can assess the causes behind the behaviour and then choose the perfect training programme to demonstrate how and why they will help. Our techniques have allowed me to help many people improve their relationship with their dogs.
If you are not enjoying your furry member of the family all the time, there is a tendency for us humans to "manage" the problems rather than find the best way to improve or resolve them. Human and dog lives can be improved with the right methods using gentle, fun training techniques that replicate real life situations or problems that are currently impacting on your relaxed enjoyment with each other.
My work is hugely rewarding, and I get huge satisfaction coaching dog owners to improve their relationship with their dog. Our techniques have developed and adapted for over 3 decades, by the many Bark Buster therapists worldwide, using voice tone and body language that dogs naturally use to communicate with each other. It is great to see the dog owners watch their dog changing in front of their eyes, into focused and responsive members of the family, often in the first lesson. It's lovely working with experienced dog owners as well, and the anxious people bringing home a new puppy or rescue dog for the very first time to join the family. Showing them how to ensure their new family member has the very best help to settle in.
After the first lesson, I will leave you with an individual, personalised training plan for your dog and any specific issues. I will also support you free of charge for the period you have chosen to purchase too. Our unique support guarantee will give you peace of mind, knowing that if you have any concerns, you can seek ongoing help. Do check our reviews and testimonials for confirmation.
About me
I grew up in London, and over the years my family had a variety of black Labradors as family pets. Once my education finished, for many years, I travelled and earned my living overseas as a self-employed member of the tourist industry, but sadly my job prevented me from having a dog, lacking the time and attention that it would deserve. After moving back home, close to family, I settled in my own home and Hazel a chocolate Labrador puppy came into my life. She grew to be a large strong puller and destroyed so much of my home, I often despaired of being able to enjoy her fully! How I wish I'd known the Bark Busters methods in her early months. She is now an elderly lady and is happy to sleep, eat (she is a Labrador after all) and enjoy gentle exercise.
I've always had an affinity for all animals and have been a volunteer with the RSPCA, walking dogs, cleaning out pens and kennels, often sad at the number of animals that needed help. Another charity that I work with, helps owners who are struggling to keep their domestic pets due to illness or the cost of living, or other reasons. However, providing help, assistance, advice, vet care or behaviour training, many people can keep their beloved pet after all.
My own home houses a variety of rescue creatures so Hazel and I have various small furry and feathered friends that keep us busy. I am also studying for a degree in Animal Behaviour & Welfare, which is proving fascinating.
If you are having any problems, I can help you. Our motto is Any Dog, Any Age, Any Problem. Puppies, adult dogs or a needy rescue, I can tailor make a programme to suit you. So please do make contact to find out how I can help.

Tim accepts debit/credit cards
Areas Covered
Woodbridge, Stowmarket
Contact Your Local Trainer
My Service Ratings