London Puppy & Dog Training, Behaviour Therapists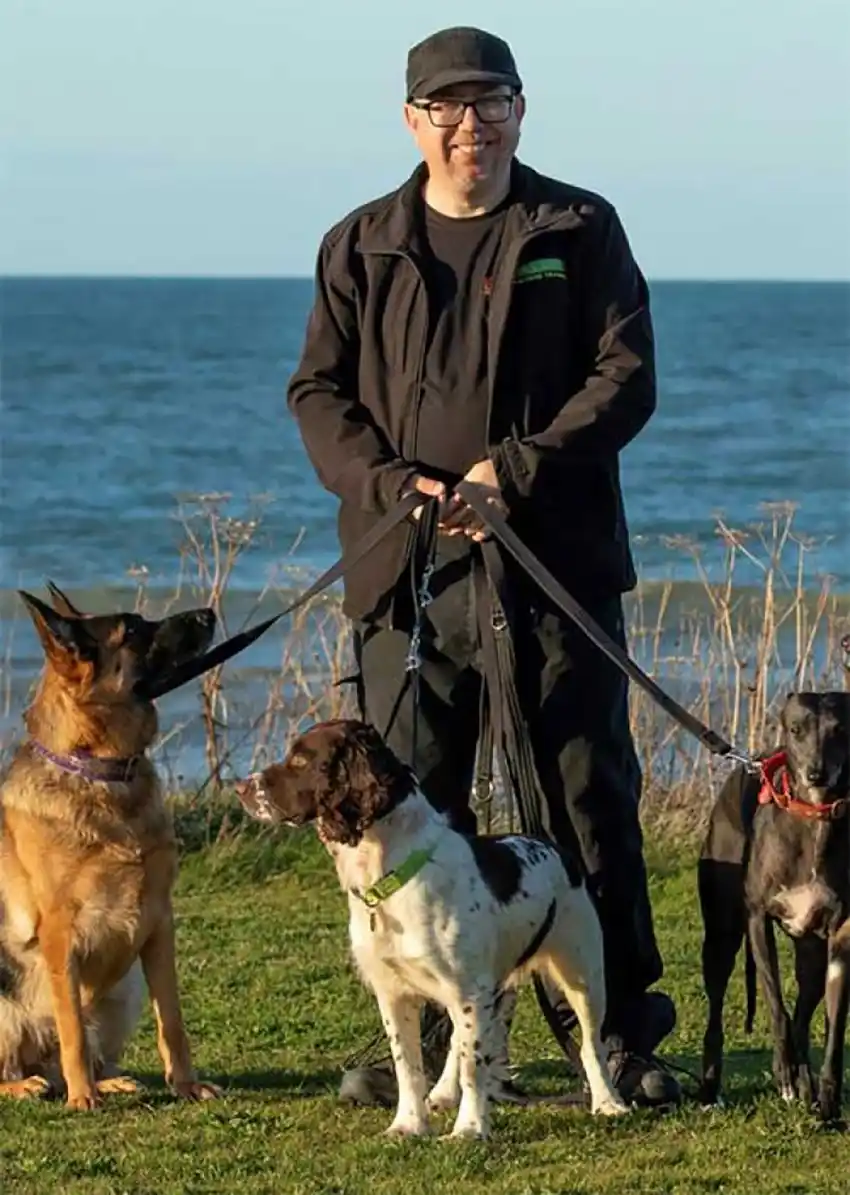 Welcome to Bark Busters dog training London, my name is Graham Milgrew and I am your local dog behaviour therapists and trainer. I specialise in one-to-one training in your home where I don't just provide a behavioural consultation with advice, I actually demonstrate how to train your dog. I have a genuine any breed, any age, any problem policy and see you and your dog in the environment where the problems are occurring. This includes in your home, when out walking on the road or by the river and off lead in the local park or common and even at your local cafe. I then provide concrete practical solutions with follow up visits and phone and email support for a whole year after your first visit.
If you're looking for effective dog training near you, then you've found the right place. I help with jumping, pulling on the lead and harness, recall (dogs that don't come back) mouthing and nipping, aggression to other dogs or humans (dogs that bark, growl and/or lunge), destructive behaviour including chewing and digging, hyperactivity (dog's that find it hard to calm down) toilet training for all ages, chasing (animals, cycles, cars and even children), barking, howling, separation anxiety (dogs who don't like being on their own), obsessive behaviours, attentiveness (dogs that don't listen) and general obedience.
For puppies I make sure you get off to the best start possible with the reassurance that you can contact me to answer all those little questions that always crop up with puppies together with follow up visits for further training.
I was introduced to the world of dog training and behaviour. Prior to this I had considered myself to be pretty good with dogs because most of the dogs that I encountered were 'pretty good'! In a nutshell, that's the problem – many of the dogs that I encounter in day to day life are fairly accommodating and just fit into our life. This is what we expect. So when we encounter a dog with behaviour problems there's a tendency to get confused and then frustrated with the dog. "Why won't it just do as it's told?" "Is it my fault?" You've probably asked yourself at least one of these questions at some point – I know that I once did!
Now I'm able to take the skills and techniques that I've learned and use them to help others to enjoy life with their dogs. But I don't just preach, I practice these skills in my own life with our own dogs. My Whippet, Smudge, suffered terribly from separation anxiety and I made very elaborate arrangements so he was never left on his own because he would howl pitifully and pee around the house when he was left behind. Now he waves us goodbye and settles down for a sleep when we leave. Whippets love to sleep...
We added our Greyhound Angus to our family last year, when we rescued him. Most Greyhounds are laid back couch potatoes but Angus wouldn't come when called, ran up and down the garden barking loudly and would bark and lunge at all large dogs while wanting to play with all small dogs. He hated to be disturbed when sleeping and would growl at us when disturbed. A year on and we have a beautiful dog who is a joy to live with. He is not perfect as big dogs still un-nerve him, (which seems strange as he is a large dog himself) but he looks to us now for guidance and to protect him rather than going into "attack first and ask questions later" mode.
Then there's Lottie, who has already been mentioned. Lottie made a living out of pestering me when I first met my wife. But, after being taught how to deal with this behaviour Lottie and I settled down together and have a really close relationship. In fact, it was remarked by a speaker at our wedding that my wife and I had exchanged dogs as well as exchanging vows!
As you can see, I have hands on experience of doing the job of training ourselves. I guess you could say that I truly practice what we preach! So if you want to get it right from the outset and give your puppy the best start in life, or you have doggy problems you want to resolve, then let me give you the tools and techniques, so you can have the pleasure of a calm and happy dog. Please call or email to find out more; I'd love to help.
I can also help you if you're looking for a trainer in Greater London

Graham accepts debit/credit cards
Areas Covered
Clerkenwell, Southwark, Barbican, Smithfield, Holborn, Broadgate, St. Pauls, City, Farringdon, Blackfriars, Barnsbury, Canonbury, Hoxton, Islington, Belgravia, Pimlico, St. James, Westminster, West End, Chelsea, West Brompton, Holland Park, Notting Hill, Central London, Knightsbridge, West Kensington, Olympia, St. Johns Wood, South Kensington, Kensington, Hyde Park, Paddington, Bayswater, Earls Court, Brompton, Maida Vale, St. Pancras, Bloomsbury, Soho, Finsbury, Bermondsey, Kings Cross, Regents Park, W1, W2, W8, W9, W10, W11, W12, W14, WC1, WC2, E1, EC1, EC2, EC3, EC4, N1, N5, NW3, NW8, NW11, SW1, SW3, SW5, SW6, SW7, SW10, Hampstead, Golders Green, Camden, Camden Town, Kentish Town, Primrose Hill, West Hampstead, Finchley, Green Park, London Bridge, SE1, Hammersmith & Fulham, Marylebone, Sloane Square, St. James Park, City Of London, Square Mile, Baker Street, Euston, Russell Square, Embankment, Mayfair, Covent Garden, Old Street, Shoreditch, Liverpool Street, Angel, Highbury, Victoria, Oxford Circus, Piccadilly, Charing Cross, Strand
Your trainer is an independent business owner who operates their own business under a franchise agreement with Bark Busters. Dog Training London South East Limited trading as Bark Busters, is a franchisee of BBDT (UK) Limited, the Master Franchise holder.
Contact Your Local Trainer
My Service Ratings