Dog Training Milton Keynes & Puppy Education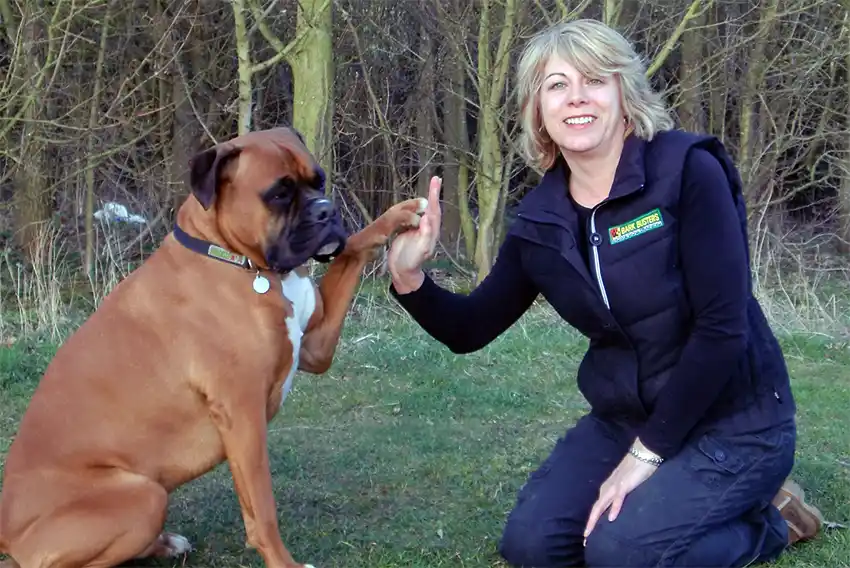 Welcome to dog training Milton Keynes, I am Lynn, your local Bark Busters dog behaviour therapist and trainer. If you've found your way to this page, then I guess you are looking for some help? Well I know how that feels. When I got my first little puppy, I had no idea what a commitment I was making. My gorgeous little boy, Ralph, grew and grew and grew and as he developed in size so did his personality; and what a personality. He started to chase sheep, with me chasing behind him, he pulled on his lead, when he wasn't busy biting it, which is no joke at 45 kilos! He also took a dislike to certain dogs in the park and was all to happy to show them who was the boss.
I contacted Bark Busters and they taught me their techniques, how to communicate with Ralph in a way he could understand and more importantly how to fix his behaviour problems. There was a huge improvement after our first lesson and we continued to work at it and remained consistent, it really was worthwhile. Ralf became a star pupil and went on to become a Pets as Therapy dog meeting lots of adults, children and other dogs.
I decided that I would like to help others achieve what we had, so I contacted Bark Busters to see if they had any opportunities in the Milton Keynes area. That was 10 years ago, and I have now helped over 3,000 owners and their dogs of all shapes and sizes, with a whole host of problems. I also train new puppy owners to give their precious new puppy a great start in life. I am now a Master Dog Behavioural Therapist in Bark Busters UK.
If you're looking for professional dog training near you, then you've found the right place. As well as my extensive training with Bark Busters I have also attended many different training courses and have a wide range of training methods at my disposal. I will visit your home, talk through all the problems you are having, show you the techniques needed to resolve any behaviour problems and create a personal plan for you to follow. You can be assured that you can call on me for further help and assistance, under the Support Guarantee, and I will return free of charge to help you along the way, for the term you have purchased.
If you are looking for professional dog training near you then you ahve found the right place. I have worked with a huge range of dog breeds and have experience dealing with aggression, separation anxiety, sibling rivalry recall, general leadwork, mouthing, puppy management and many more behaviour problems.
I work with both Therapy for Dogs and Hertfordshire Police, assessing dog temperaments and I also volunteer with Large Breed Dog Rescue and Boxer Rescue too.
I look forward to meeting you soon, but in the meantime, please feel free to read through my customer testimonials and reviews to see if I could be of help to you.
Areas Covered
Your trainer is an independent business owner who operates their own business under a franchise agreement with Bark Busters. LPDT Limited trading as Bark Busters, is a franchisee of BBDT (UK) Limited, the Master Franchise holder.
Contact Your Local Trainer
My Service Ratings