meet your specialist trainer Lynn Prentice
Milton Keynes Home Dog Training & Puppy Education
or call 0808 100 4071
Welcome to dog training Milton Keynes, I am Lynn, your local dog behaviour therapist and trainer. If you've found your way to this page, then I guess you are looking for some help? Well I know how that feels. When I got my first little puppy, I had no idea what a commitment I was making. My gorgeous little boy, Ralph, grew and grew and grew and as he developed in size so did his personality; and what a personality. He started to chase sheep, with me chasing behind him, he pulled on his lead, when he wasn't busy biting it, which is no joke at 45 kilos! He also took a dislike to certain dogs in the park and was all to happy to show them who was the boss.
I contacted Bark Busters and they taught me their techniques, how to communicate with Ralph in a way he could understand and more importantly how to fix his behaviour problems. There was a huge improvement after our first lesson and we continued to work at it and remained consistent, it really was worthwhile. Ralf became a star pupil and went on to become a Pets as Therapy dog meeting lots of adults, children and other dogs.
I decided that I would like to help others achieve what we had, so I contacted Bark Busters to see if they had any opportunities in the Milton Keynes area. That was 10 years ago, and I have now helped over 3,000 owners and their dogs of all shapes and sizes, with a whole host of problems. I also train new puppy owners to give their precious new puppy a great start in life. I am now a Master Dog Behavioural Therapist in Bark Busters UK.
If you're looking for professional dog training near you, then you've found the right place. As well as my extensive training with Bark Busters I have also attended many different training courses and have a wide range of training methods at my disposal. I will visit your home, talk through all the problems you are having, show you the techniques needed to resolve any behaviour problems and create a personal plan for you to follow. You can be assured that you can call on me for further help and assistance, under the Support Guarantee, and I will return free of charge to help you along the way, for the term you have purchased.
If you're looking for quality dog training near you, then you've found the right place. I have worked with a huge range of dog breeds and have experience dealing with aggression, separation anxiety, sibling rivalry recall, general leadwork, mouthing, puppy management and many more behaviour problems.
I work with both Therapy for Dogs and Hertfordshire Police, assessing dog temperaments and I also volunteer with Large Breed Dog Rescue and Boxer Rescue too.
I look forward to meeting you soon, but in the meantime, please feel free to read through my customer testimonials and reviews to see if I could be of help to you.
The training with Lynn was extremely informative for us , it enabled us to understand pretty quickly the signals we had had been misreading and how trained winter & bailey had the whole house - this alone has transformed the behaviour of our dogs almost instantly and we are able adjust our behaviour to get the result needed, the incessant barking has almost completely stopped and with the training and the new collars it is an absolute joy to walk Winter without fear of being dragged down the road - we still have a way to go but in all my years of having dogs this has been the single most valuable training session we have had - cannot recommend enough

M.B.

2nd May 2019
I can also help if you are looking for a dog trainer in Bedford or Bletchley or Leighton Buzzard
Services provided by Lynn
more...
Lynn is a certified dog First Aider
how we can help you and your furry friend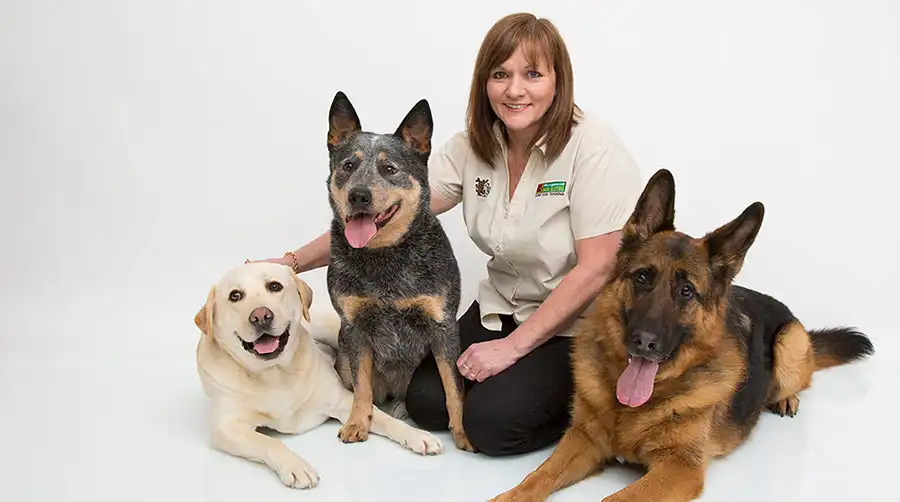 The Bark Busters communication methods help solve behaviour issues such as aggression towards people or other animals
Cure embarrassing habits like barking, jumping up on people, scratching & whining at doors or inappropriate toileting.
Create an obedient dog or puppy that will happily walk on the lead without tugging, sit or stay on command, and come immediately when called.
Set off-limit areas.
Reduce the stress of separation anxiety without the need for sedatives or drugs.
We teach you to communicate with your pet.
Do you find yourself shouting? Do you think your pet isn't listening to you? Maybe you're simply not speaking their language. The Bark Busters communication method is based on the way how our dogs communicate with each other and how they learn from older, more experienced members in the pack. This is what makes our training unique and effective.
Why do we train in your home?
Your pet lives with a family, in a home. This is where he spends most of his time and misbehaves most often, so this is where our programme is most effective. Our dogs learn by association. Bark Busters teaches him to listen in the home environment. If he does not listen at home, he will most probably not listen outside where there are far more distractions.
In your home we teach a one-on-one system without other distractions or the stress of being sent away from you to learn.
Of course, where you are experiencing problems outside the home such as pulling on the lead or dog aggression etc..., we will set up controlled situations in the park or wherever is most practical.
Your trainer is an independent business owner who operates their own business under a franchise agreement with Bark Busters. LPDT Limited trading as Bark Busters, is a franchisee of BBDT (UK) Limited, the Master Franchise holder.