Puppy and Dog Training Norwich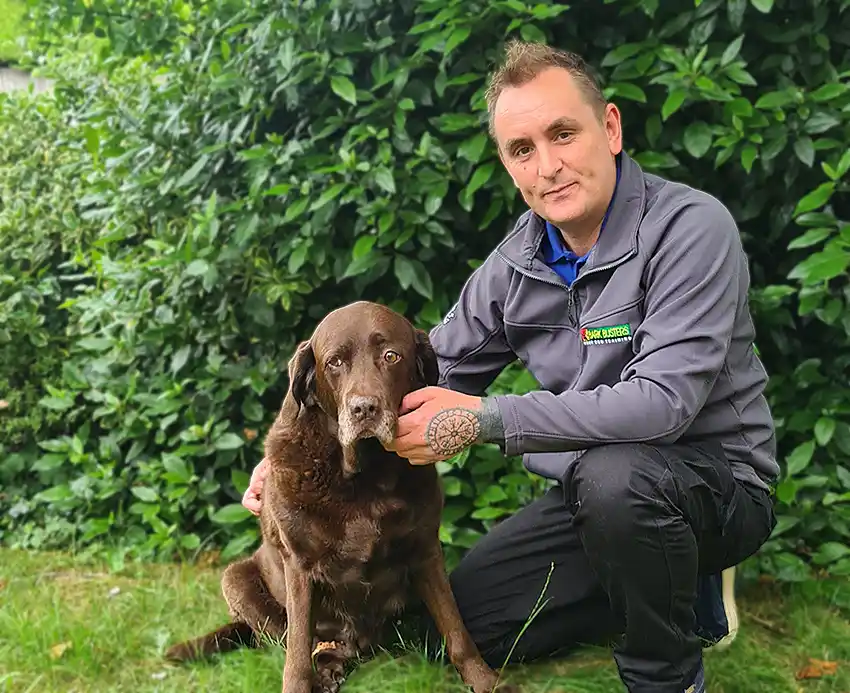 Welcome to dog training Norwich, I am Tim your local Bark Busters behavioural therapist and trainer. Dogs see the world in a very different way to us humans, so it's understandable that we sometimes find that the dog we hoped would be a great addition to the family, has become unruly, noisy, destructive or seemingly unpredictable in some way. It sometimes seems that our dogs are defiant or trying to punish us, but they are just seeing the world in a canine way, so it's important for us humans to learn their language. That's where Bark Busters can help!
The Bark Buster training is based on the way that dogs communicate with each other using voice and body language. I will coach you in the best way to communicate effectively with your dog in a way they will instinctively understand. I assess their interactions with the family and strangers inside and outside the home and explain why your dog is behaving in a way that you find upsetting.
After the first lesson, I will leave you with an individual, personalised training plan for your dog and specific issues, and I will continue to support you free of charge for the period you purchase. Our unique support guarantee will give you peace of mind, knowing that if you have any concerns, you can seek further help. Do check out our reviews and testimonials for confirmation.
If you are looking for professional dog training near you, in and around Norwich, then you have found the right place. If you are having issues such as Boisterousness, excessive barking, separation anxiety, aggression, toilet accidents, resource guarding, pulling on the lead, sibling rivalry, destruction, lack of recall and much more, or you would like to make sure your puppy has a good educational start in life, I can tailor make a programme to suit you. So please do make contact to find out how I can help.
About me
I've always wanted to work with dogs so let me explain my journey to Bark Busters. I've always loved all animals and have volunteered with the RSPCA, walking dogs, cleaning out pens and kennels, often upset at the number of animals that were being cared for. Another charity that I work with is helping owners with their domestic pets, furry and feathered, who are struggling to keep them, but with help and assistance, providing advice, vet care or behaviour training, many owners have been able to keep their beloved companions.
I grew up in London, with a variety of black Labradors owned by my parents. As an adult, I travelled and lived abroad running my own business in the tourist industry for many years, which I thoroughly enjoyed, meeting so many lovely people. However, my job prevented me from giving a dog the time and attention that it would deserve.
Moving back to the Cambridge area close to family, I settled in my own home and then Hazel arrived, a chocolate Labrador puppy. I so wish I'd known the Bark Busters methods back then. She pulled like a train and chewed everything she could get her teeth into. I often despaired of being able to enjoy her fully. She is now an elderly lady and is happy to sleep, eat (she is a Labrador after all) and enjoy gentle exercise.
I found Bark Busters and the techniques I've learned working within the Bark Busters family have allowed me to help many people to improve their relationship with their dogs. If you are not enjoying your furry member of the family all the time, there is a tendency for us humans to just put up with it or try to avoid the situations that cause the unwanted behaviour. However, human and dog lives can be improved with the right training using gentle, fun training techniques that replicate real life situations or the problems that are currently impacting on your relaxed enjoyment with each other.
My own home, as well as Hazel, is also a home for rescue Guinea pigs and some Quails, both I and my neighbours enjoying the eggs. I am also studying for a degree in Animal Management, which is proving most interesting.
I love my work, it is so rewarding using the fun training exercises developed and adapted for over 3 decades by the many Bark Buster therapists worldwide, and watching dog owners rebuild their relationships with their dogs. Often, they see their dog's behaviour changing in front of their eyes, into focused and responsive canines, which gives me huge satisfaction. I love working with experienced dog owners as well, as people bringing home a new puppy or rescue dog for the very first time to join the family and showing them how to ensure their new family member has the very best help.

Tim accepts debit/credit cards
Areas Covered
Attleborough, Cromer, Diss, East Dereham, Norwich, Watton, Wymondam
Contact Your Local Trainer
My Service Ratings