Nuneaton Dog Training & Behaviour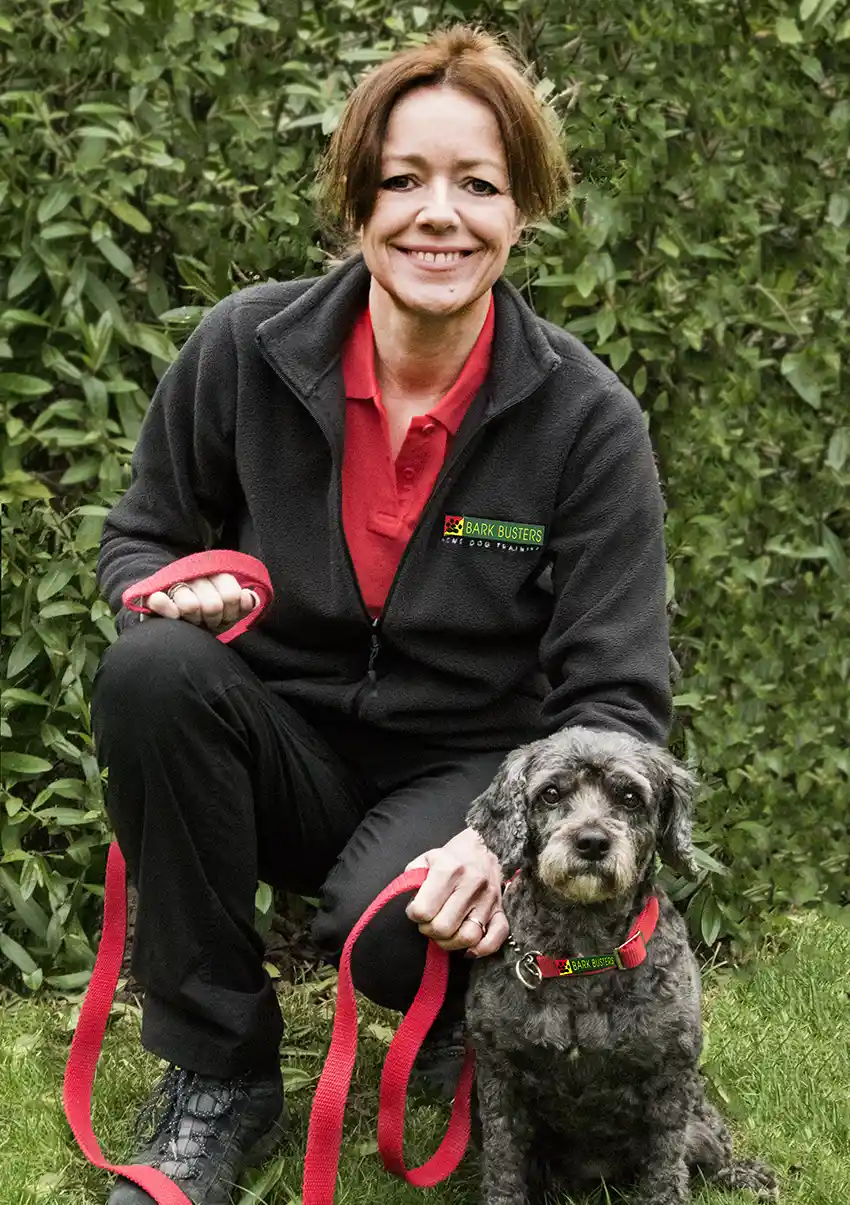 Welcome to Bark Busters Home Dog Training Nuneaton. My name is Emma and I'm your local dog behaviour therapist. When I was young, I was desperate to own a dog but living with my parents, the idea was quickly vetoed for various reasons, probably very sensible ones, but I didn't think so at the time! Once I had my own home, I got my first dog, a gorgeous Labrador. I enjoyed working her as a gun dog, and true to her breed, she thoroughly enjoyed her job. Since then I've had several dogs, Springer and Cocker Spaniels, and other Labradors all working breeds who were amazing dogs.
My career in the corporate world did not provide job satisfaction and I always wanted to work with dogs, so I studied and became a qualified dog groomer. I had always been fascinated by the psychology of dogs and have always researched and read everything I could lay my hands on. It really helped me when working with nervous and anxious dogs who needed their nails clipped or trimmed, and enabled me to be confident and calming with them. Many of my customers would talk to me about the various behaviour problems they were struggling with, and I was able to share my experiences and understanding with them. I was always delighted when customers reported back to me that the advice and tips I had given had helped them with their dog's challenging behaviour.
I had been looking for opportunities to work full-time in canine behaviour, to add to my knowledge and to have more direct contact with dog owners and their dogs. I explored various ways via correspondence or internet to gain experience and qualifications, but they didn't provide the type of support that I wanted. Then I found Bark Busters, and this ticked all the boxes. Their approach of kind, calm communication methods really appealed to me and joining an established, successful 30-year-old company, with great back office support too. It was an easy decision to make and I became a dog trainer in Nuneaton and surrounding areas. I've never regretted a moment of my time with Bark Busters and the family of friendly dog behaviour therapists I joined.
My current dog, Tammy, is a Cockperpoo who has the fun, busy attitude to life of a Cocker Spaniel with the cleverness of a Poodle - and a non-shedding coat too. The best of both worlds. She is now 7 years old and has been very different to my previous dogs, having had an item guarding issue, growling and threatening to bite over stolen items and food. Thankfully, through my training and the Bark Busters communication method, I was able to show Tammy that there was no threat, no need to guard and she's now so much happier and relaxed and an absolute joy to live with.
I'm here to help you with your general training needs or to resolve any of your dog's unwanted behaviour. I work with many different behaviour problems such as aggression, jumping up, separation anxiety, sibling rivalry, nuisance barking, pulling on the lead, recall and any other issue you may have. Of course, I also thoroughly enjoy puppy education lessons, as I have an excuse for a cuddle. I work on a one-to-one basis in your home with all the family members or anyone who is involved with your dog. I help you to understand the reasons why your dog may be showing the unwanted behaviour and show you my easy to follow, kind and calm communication techniques to start the process of changing the behaviour. Most people see a big change during the first lesson. With my Support Guarantee I provide return visits, ongoing help and support, at no additional charge, so you can enjoy your dog so much more.
Our lessons will be fun, packed full of activities and information, so that you feel you have plenty of training and games to keep the work on track. You will receive lots of information and follow-up training tips to help you keep things on track and to consolidate what you have learned. It's important to me that you and your dog enjoy the training and have fun with the games, and therefore get the best value possible from our training system.
The Bark Busters Support Guarantee
Our written Support Guarantee will give you peace of mind that I will return, free of charge, to support and guide you through the term that you have purchased. You can feel confident knowing that I am only a phone call or an email away from continuing to help you when you need it most.
Contact me
I'd love to help you find a way towards a better relationship with your dog so please do give me a call on 0808 100 4071 or simply click the red button above, to book your training, and I hope to meet you very soon.

Emma accepts debit/credit cards
Areas Covered
Your trainer is an independent business owner who operates their own business under a franchise agreement with Bark Busters. Emma Barrett trading as Bark Busters, is a franchisee of BBDT (UK) Limited, the Master Franchise holder.
Contact Your Local Trainer
My Service Ratings