meet your specialist trainers David and Anthony Swindells
Peterborough Dog Training & Puppy Behaviour Experts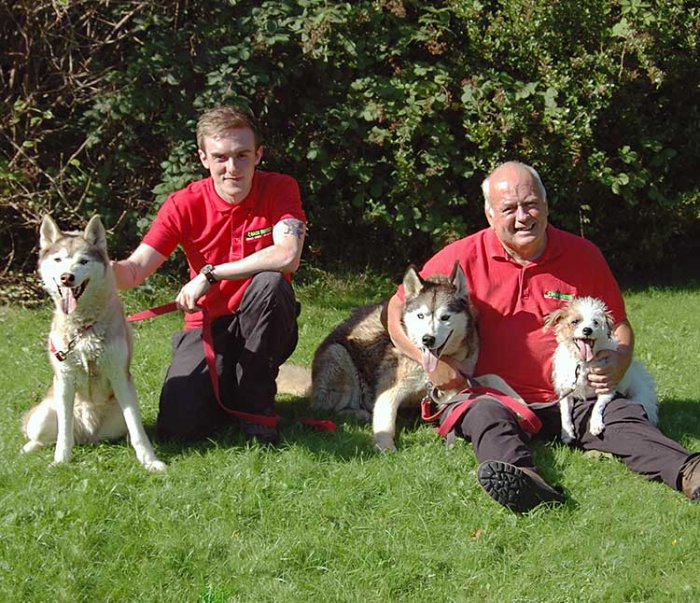 or call 0808 100 4071
We offer a variety of options to conduct lessons whilst maintaining social distancing. This includes home lessons, conducting lessons in your garden / open spaces and using video conferencing where applicable. We have introduced a new "Home Lesson Risk Assessment" to help to combat the spread of the virus.
Welcome to Bark Busters Home Dog Training Peterborough. We are David and Anthony Swindells, father and son team, who have been helping dog owners like you to overcome their dog behaviour problems. Having always loved dogs and owned many over the years we have managed to secure the best career we could have imagined! For over 10 years as Bark Busters behaviour therapists and trainers, between us, we have worked with thousands of dogs, puppies and their owners.
Our lessons are conducted in your own home at a time that's convenient for you. This is also where your dog or puppy spends most of their time and will feel more relaxed and less stressed. You will have the advantage of our unique Lifetime of Dog or 12 months Support Guarantee. This means that all future visits and support are completely free of charge.
Our training is fast acting and long lasting and we help with all different kinds of behaviour problems from pulling on the lead to severe aggression towards people and other animals. Our training leverages the same communication methods, voice tone and body language, that dogs instinctively use as part of the natural behaviour.
Puppy Training and Education
We work with lots of puppies and they're really fun to teach and train. An early start on educating your puppy is important to help with preventing behaviours like jumping, stealing, toileting accidents, chewing expensive leather shoes or the corners of lovely wooden table legs. All these are natural behaviours for puppies but can be sorted quickly, by showing and guiding into new fun behaviours.
If you would like your dog to walk nicely, stop stealing or barking, or if you're worried about aggression to people, dogs or animals or any other issue, please contact us and we'd be happy to chat and give you any further information you need. Any dog, any age and any behaviour problem, we can help.
Here's how it all started.
We have always been a dog owning family with lots of dogs over the years, big, small, ranging from many different breeds. Most of our dogs were from rescue centres with a variety of different behaviour problems. In the early years we found that we were being pulled from pillar to post, hanging on for dear life as our dog would lunged at other dogs and people. We started to see less of our friends and family when one of the dogs started to bark and show aggression to visitors. Recall was a problem with many of them and even the ones we could let off lead, we were never quite sure if they would run up to people and jump up! Other behaviours we encountered were stealing, separation anxiety (one of our dogs almost chewed through a door), barking from our little terrier, who was also determined to get the postman! One of our little dogs also suffered from Canine Obsessive Behaviour who was obsessive about chasing shadows and flickering lights.
If you have experienced any of these issues in the past or now with a current canine companion, you will understand how stressful and worrying they are to all the family, often causing rows and sometimes a very real consideration to rehome the difficult dog. I'm pleased to say although we did occasionally express this idea, we agreed as a family that we had committed to our dogs and found ways to manage them. We did try numerous methods suggested by different trainers, well-meaning dog owners, reading training books and watching TV programmes. However, none of the methods ever seemed to work for us and we just continued to struggle on.
During a search to help our dogs we found Bark Busters who were looking for dog behaviour therapists and trainers in Peterborough. We were intrigued, and after meeting with them and seeing the difference their approach made to our dog's behaviour, we decided to join. During our training courses it was like a light bulb moment of understanding as to why dogs seemingly misbehave as they do and what causes this behaviour. Their calm methods worked almost immediately on our dogs. We now love passing on this knowledge and training to other dog owners whose relief and pleasure at the site of their dog improving, is hugely rewarding for us.
Backed by the Bark Busters Dog Training Support Guarantee
I return free of charge until you're happy that the problem is resolved. Not only that, if your dog develops a different problem it's all covered on the guarantee too, at no additional cost.
Excellent and amazing. Will work hard with Sidney to make sure he carries on learning. I couldn't believe the difference in such a short space of time. Really looking forward to my next session with Anthony.

M.K.

17th October 2019
Services provided by David and Anthony
more...
how we can help you and your furry friend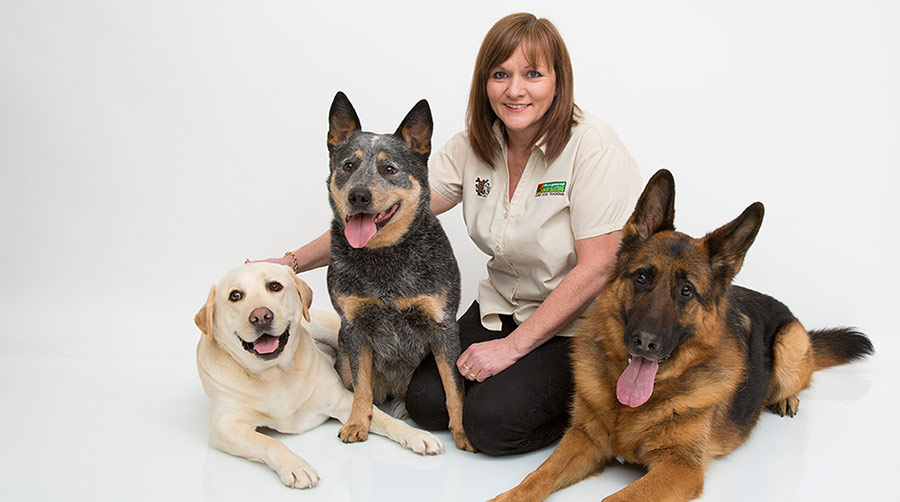 The Bark Busters communication methods help solve behaviour issues such as aggression towards people or other animals
Cure embarrassing habits like barking, jumping up on people, scratching & whining at doors or inappropriate toileting.
Create an obedient dog or puppy that will happily walk on the lead without tugging, sit or stay on command, and come immediately when called.
Set off-limit areas.
Reduce the stress of separation anxiety without the need for sedatives or drugs.
We teach you to communicate with your pet.
Do you find yourself shouting? Do you think your pet isn't listening to you? Maybe you're simply not speaking their language. The Bark Busters communication method is based on the way how our dogs communicate with each other and how they learn from older, more experienced members in the pack. This is what makes our training unique and effective.
Why do we train in your home?
Your pet lives with a family, in a home. This is where he spends most of his time and misbehaves most often, so this is where our programme is most effective. Our dogs learn by association. Bark Busters teaches him to listen in the home environment. If he does not listen at home, he will most probably not listen outside where there are far more distractions.
In your home we teach a one-on-one system without other distractions or the stress of being sent away from you to learn.
Of course, where you are experiencing problems outside the home such as pulling on the lead or dog aggression etc..., we will set up controlled situations in the park or wherever is most practical.