meet your specialist trainer Lynn Prentice
Home Dog Training & Behaviour Potters Bar
or call 0808 100 4071
Hello, I am Lynn Prentice, your local behaviour therapist of Bark Buster Home Dog Training in Potters Bar.
If you are visiting this page because your dog is showing some behaviour problems that you are struggling to resolve, or if your current training is not producing the results you would like, then you have come to the right place. Like many of my Bark Busters colleagues in the UK, it was my love for my own dogs and the need to better understand canine behaviour which led me to become one of the team.
Many years ago, Bark Busters was recommended to me as I was desperate for help with my young boxer, Ralf. He was guarding the house, showing aggression, his recall was non-existent, and he was constantly pulling on the lead and lunging at other dogs. Within the first lesson, I saw a marked improvement in Ralf's behaviour. This was down to how I was communicating. The therapist showed me how to stop giving him the wrong signals, and to learn to communicate with him in a way that he would understand. We sometimes forget that we speak a different language to our canine friends and this is what my approach focuses on. Armed with this new, calm and consistent means of communication, Ralf and I established a much better relationship. His behaviour transformed very quickly and he very quickly looked to me for guidance instead of making the wrong decisions.
I had learnt so much and was so impressed and how easily it was applied to my own problems that I very soon applied to become a Bark Busters trainer in the Potters Bar area. After qualifying with Bark Busters I have been working full time as a therapist ever since. It really is a vocation, and I relish the challenges that every day brings; from toileting, leadwork, and recall, through to barking or aggression issues. Often, what may appear to be the most difficult cases, are the ones that bring the most satisfying results because, suddenly, their owners are communicating with them in a way they understand, and they relax in the knowledge that their owner has become a capable leader.
Throughout my years as a Bark Busters behaviour trainer I have helped many dogs and their owners and have been instrumental in changing the lives of many pets who had previously been showing signs of extreme stress that their owners mistook for bad behaviour or aggression. My experience also helps me in the other charity work I do for Westie Rescue, for Boxer Welfare as a home assessor, and as a 'Pets as Therapy' dog temperament assessor.
Whatever issues you may be having with your dog, or if you simply want to get off to the right start with your puppy or adopting a rescue dog, I will visit you and together we will tailor a programme to suit your requirements and your lifestyle. I am committed to helping owners resolve their issues and bettering the relationship with their best friend. This commitment is backed up by the Bark Buster Support Guarantee which gives you peace of mind that I will return free of charge to help and support you as we work together to resolve any behaviour issues.
As for Ralf, he became such a happy, contented, and well-behaved dog that he volunteered as a 'Pets as Therapy' dog and worked with me for many years until his retirement.
Backed by the Bark Busters Support Guarantee
You only pay once and I return free of charge until you're happy that the problem is fixed. Not only that, if your dog develops a different problem it's all covered on the guarantee too, at no additional cost.
Lynn has been fantastic within one day there is already a dramatic improvement in all aspects. she has left me feeling positive and that there is light at the end of the tunnel.

M.P.

29th August 2018
I can also help if you are looking for a dog trainer in Enfield & Barnet
Services provided by Lynn
more...
Lynn is a certified dog First Aider
how we can help you and your furry friend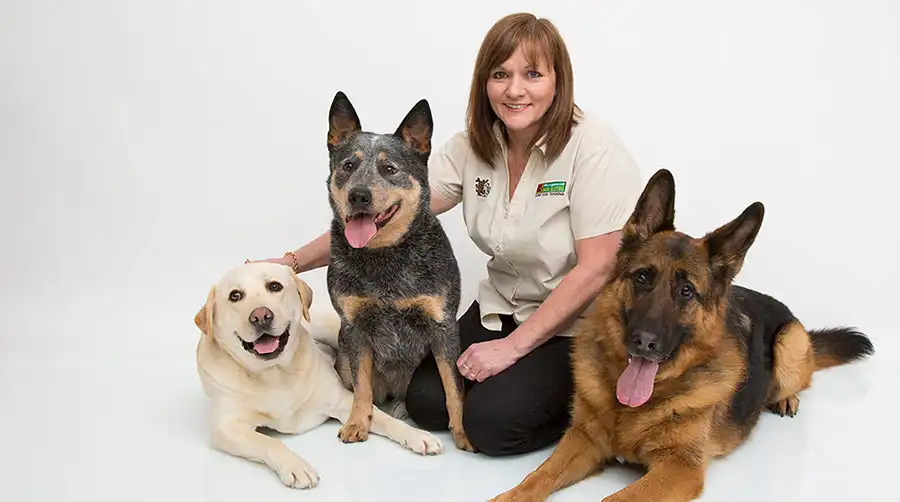 The Bark Busters communication methods help solve behaviour issues such as aggression towards people or other animals
Cure embarrassing habits like barking, jumping up on people, scratching & whining at doors or inappropriate toileting.
Create an obedient dog or puppy that will happily walk on the lead without tugging, sit or stay on command, and come immediately when called.
Set off-limit areas.
Reduce the stress of separation anxiety without the need for sedatives or drugs.
We teach you to communicate with your pet.
Do you find yourself shouting? Do you think your pet isn't listening to you? Maybe you're simply not speaking their language. The Bark Busters communication method is based on the way how our dogs communicate with each other and how they learn from older, more experienced members in the pack. This is what makes our training unique and effective.
Why do we train in your home?
Your pet lives with a family, in a home. This is where he spends most of his time and misbehaves most often, so this is where our programme is most effective. Our dogs learn by association. Bark Busters teaches him to listen in the home environment. If he does not listen at home, he will most probably not listen outside where there are far more distractions.
In your home we teach a one-on-one system without other distractions or the stress of being sent away from you to learn.
Of course, where you are experiencing problems outside the home such as pulling on the lead or dog aggression etc..., we will set up controlled situations in the park or wherever is most practical.
Your trainer is an independent business owner who operates their own business under a franchise agreement with Bark Busters. LPDT Limited trading as Bark Busters, is a franchisee of BBDT (UK) Limited, the Master Franchise holder.