Preston Dog Training & Behaviour Therapist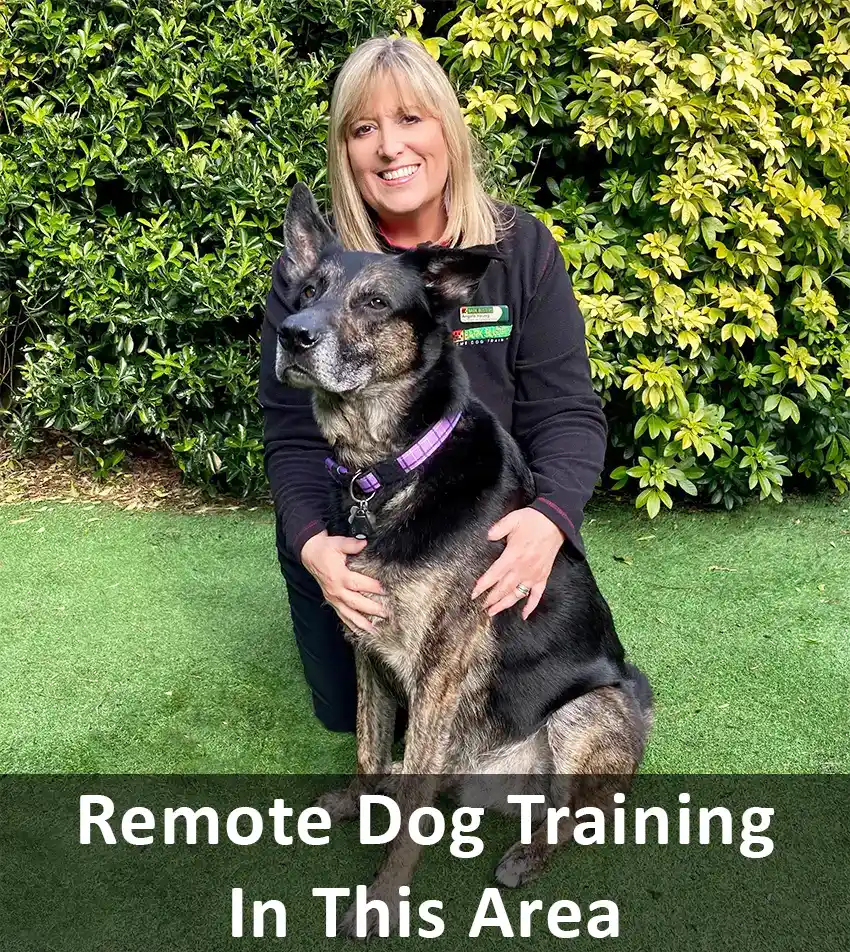 Welcome to dog training Preston, I'm Angela, your local dog behaviour therapist and trainer. I am also your therapist for puppy behaviour and education too. Is your dog behaving in a way that you don't want them to or you don't understand? Have you given your beautiful dog all the love, attention and affection in the world but you can't understand why they won't listen to you, won't do as you ask and won't stop barking or jumping up, or pulling on the lead? Are you finding it difficult to walk your dog because they seem to be on high alert and reactive to other dogs they see, so you find yourself dreading the daily walks and going out at quiet times to avoid other dogs? Is your barking and annoying the neighbours or chewing and destroying your house? Or do you have a new puppy and you need help teaching them to play nicely, stop nipping and go to the toilet in the right places? Do you want to start as you mean to go on by teaching your pup the right way from the very beginning so that you have a happy, well balanced dog without future issues, anxiety or bad behaviours? If you have answered yes to any of these questions, I'm here to help you!
If you are looking for professional dog training near you, then look no further. With Bark Busters you will get a one to one service, where I will come out to your home to assess your dog's behaviour and give you a training plan that really will work. It will be designed to address the problems your dog has, it's not a "one size fits all" approach. The Bark Busters training is backed by the Bark Busters Support Guarantee. This means that you have the peace of mind that I'm with you every step of the way and you can call on me to return for follow-up training at no additional cost.
My clients are amazed at how quickly their dog responds to the training and many say that their dog has changed for the better since I left the house even after my initial visit.


The Bark Busters training programme is based on effective communication with your dog. We help you to understand why your dog is behaving in such a way and we give you the knowledge and guidance to deal with it effectively by teaching you how to communicate with your dog in a way they will understand.
My clients often tell me that as soon as they start training their dogs the Bark Busters way, their relationship with their dog has improved significantly and both the owners and their dogs live happier, enriched lives together, in fact, they say they now have the life with their dog that they always wanted when they first brought home their furry friend.
Bark Busters' dog training methods are very "hands off", in that we depend on verbal and visible communication and we don't need to depend on physical force. Our training has been welcomed by hundreds of thousands of dog owners around the world. It is a kind and effective approach that helps dogs think and behave differently, to stop worrying about things they don't have to and become happier, more relaxed pets and concentrate on being a dog and having fun. Bark Busters has now successfully trained over "1 million" dogs around the world. We are the largest home dog training company in the world and we have a large network of trainers in many countries. We all work together to help and support each other to ensure that Bark Busters will resolve your dog's problems.
Many of our clients tell us that they have already tried many different training methods before and understandably they are not optimistic that our training will work. Some come to Bark Busters at the end of their tether, with heartache and on the brink of rehoming their dogs because they are finding life so difficult with them. It is such a pleasure to see them change their mind completely in just a short amount of time when we teach them how to unleash the angel in their dog and they see immediate results as soon as the training begins.
Whether you have had your dog for some time and behaviours have gradually developed over a time, or you have a new rescue dog that you don't know the full history of and you want them to settle and be happy in their new home, or if you have welcomed a new puppy into your home and you want to teach them to be relaxed, well behaved dogs from the start, I'm here to help you with training and behavioural needs. That could be fear and anxiety around other dogs or people, barking, pulling on the lead, recall issues, jumping up, aggression, hyperactivity, difficulties travelling in the car, noise phobias, toileting or nutrition advice, or you may need some early guidance with puppy training. Bark Busters training methods are kind, easy to follow, they make sense and are proven to be effective.
I joined Bark Busters as a Trainer and Behavioural Therapist because I love Bark Busters' ethos, ethics and kind training methods. For 38 years I have had dogs from puppies and have also adopted rescue dogs, so I have my own experience of how difficult it can be to train your dog regardless of how long you have lived together, especially so when rescue dogs have not had the best start in life previously and they come to you with anxiety or unwanted learned behaviours. I have a 4 year old German Shepherd cross, who is the biggest softie you could meet, but when we first adopted him from a rescue centre, he was nervous and fearfully reactive to some other dogs and very strong on the lead! We don't know too much about his background but it was clear that any training he had received was unfortunately inconsistent because through no fault of his, he had already been rehomed twice by the time he was 14 months old. With the Bark Busters training methods and our consistency, he is now a happy, relaxed, well behaved dog who is full of fun and such a pleasure to share our home with. At the end of each day when I return home to him after visiting homes where the dogs had behavioural issues when I first arrived, I realise and appreciate how lucky we are to have such a well behaved boy and my aim is to help all of my clients to achieve this with their dogs too.
I see the Bark Busters training working amazingly well time after time after time and I never lose my enthusiasm or dedication to our training method because it really does work quickly, in the kindest way and it helps to enrich the lives of our clients and their dogs. We all want our dogs to respect us and live a happy relaxed life. We want you to have a calm, well balanced, happy dog that has love, trust and respect and for you to have a strong mutual bond, knowing that you are doing your very best for your dog.
Please don't waste any more time wishing your dog was easier to handle or less anxious and not knowing what to do about it. Unfortunately we all come to realise that their lives are too short and we wish that we had resolved their issues earlier so that we and our dogs find happiness and harmony for as long as possible. If you are undecided whether Bark Busters is the right choice for you, please visit my client reviews and take a few moments to read their stories. You may recognise the behaviours that your dog has and you can see how Bark Busters has helped them.
I'm here to help you, to achieve very fast results. I look forward to meeting you and your best friend. Don't delay any longer, it's now time to stop worrying, Bark Busters is here to help you. Give me a call and I'll be on my way to see you!
I can also help you if you're looking for a trainer in Blackpool, Chorley, Ormskirk
Areas Covered
Fleetwood, Cleveleys, Poulton-le-Fylde, Lytham St Anne's, Kirkham, Freckleton, Warton, Garstang, Chipping, Longridge, Preston, Leyland, Hesketh Bank, Adlington, Tarleton, Great Eccleston, Bispham, Bamber Bridge, Penwortham, Euxton
Your trainer is an independent business owner who operates their own business under a franchise agreement with Bark Busters. Angela Young trading as Bark Busters, is a franchisee of BBDT (UK) Limited, the Master Franchise holder.
Contact Your Local Trainer
My Service Ratings