Preston Dog Training & Behaviour Therapist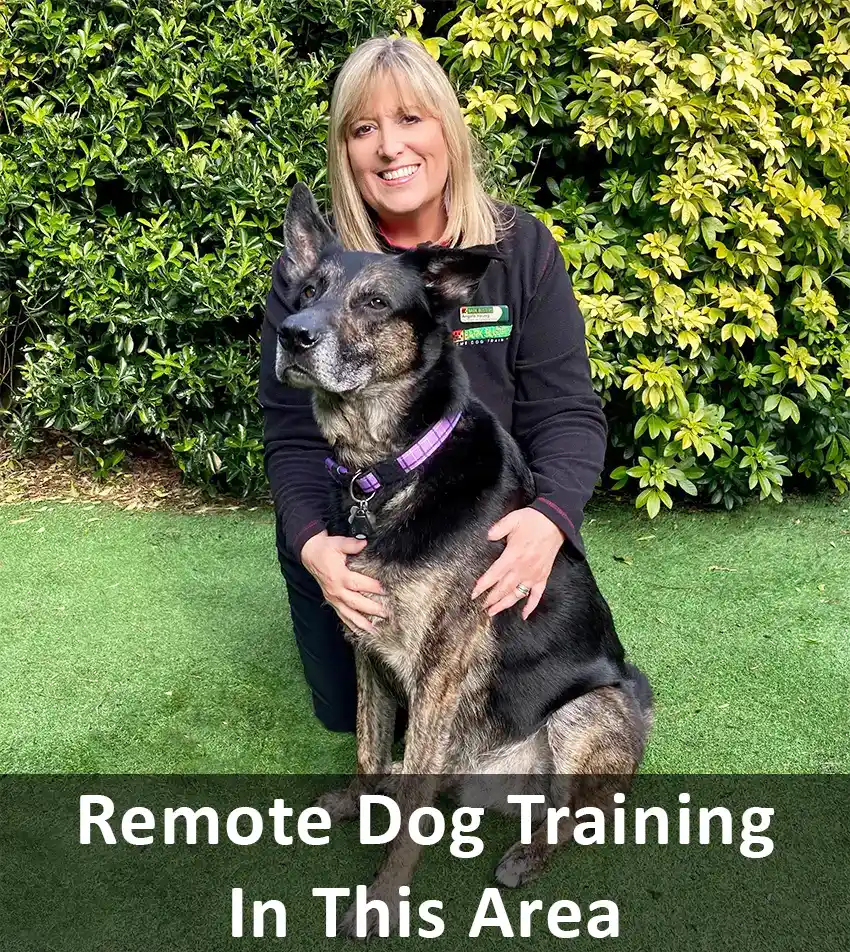 Virtual Video Training
Welcome to Bark Busters Home Dog Training Preston, I am Angela Young, your dog behaviour therapist and trainer. My training service is delivered virtually, via remote video access, where we can resolve your training needs in a relaxed and open way and where I can provide you with an individual comprehensive training and behaviour therapy plan straight to you in the privacy and comfort of your home.
For almost a decade I have been a full-time professional dog trainer and behaviour therapist, helping dogs and their owners to live in harmony and to understand each other. I also have over 40 years' experience of dog ownership and rehabilitating adopted rescue dogs. I have spent many years voluntarily supporting animal rescue centres to rehabilitate and help dogs in their care, to be ready to find loving new suitable homes.
Each training and behaviour plan that I provide is one to one and bespoke to you and your dog. My service is tailored to your dog's specific behaviour problems or your training needs. I listen to you carefully and take the time to understand your own situation, your dog's personality and your training needs and I will then explain why your dog is behaving in a certain way. I will give you kind and effective techniques to help you guide your dog to be calmer and happier, for you to have mutual trust and confidence in each other, and to improve and nurture your relationship with your dog.
My initial virtual lesson will last between two to three hours and the time will seem like it has flown by. It will be interesting, relaxed, and informal and packed full of information and advice about your dog's behaviour. I help you to show your dog a more positive way to think, to understand the world around them, and behave in a calm, respectful, and polite way.
I want you to be able to do all the fun things, or even just normal things with your dog, that you dreamed of doing when they first joined your family. Like going for a pleasant walk without being pulled along, or without your dog reacting in a panicky or negative way towards other dogs, or to be calm and relaxed when your guests arrive, or for you to be able to go out and leave your dog at home without them being stressed out and fretful. Those normal wishes are so important to us when our dog is not behaving in a way that allows us to just do those simple, everyday things that we all envisage when we bring our dogs home. My goal is to help you and your dog to live together happily, respecting each other as different species and for both of you to be confident and happy.
I am here to help you and I will never judge or criticise past unsuccessful attempts at training, or even mistakes that have been made. I understand how difficult it can be training your furry friend. I have an extensive amount of experience in helping dog owners with rescue dogs that may have come from a very disadvantaged past and have struggled to settle down and understand that their world is now safe, and they are loved. I have had rescue dogs myself and I understand how challenging and stressful it can be when you are trying to understand why they may be behaving in a certain way. I will always give you the best of my advice and knowledge to support you through the process of helping your dog to settle in and gain confidence.
If you are looking for professional dog training near you then you have found the right place. My clients are amazed at the breadth of knowledge and great advice I give to them and how effective the simple and easy to follow techniques have been on their dog's behaviour. They report that their dogs are much calmer, happier, and relaxed after following my personal training plan and I'm often told that this has saved their dog from being rehomed, and has made the household a much happier place, with a dog that is no longer a worrier, but is now enjoying being a happy relaxed dog.
Please take a look at my client reviews to see what others have said about their experience of my training programme.
Bark Busters dog training methods are positive, force free, kind, and respectful to your dog, and very "hands off". We work on effective communication, positive reinforcement, and we do not depend on physical force. Bark Busters is the largest home dog training company in the world and has trained over 1 million dogs around the world. Our approach is kind and effective and helps dogs think and behave differently, to stop worrying about things they don't have to, and become happier, more relaxed pets that learn to focus on being a happy dog and having fun.
Many of our clients tell us that they have already tried many different training methods before, and understandably they can be confused about which approach to follow. Some clients come to Bark Busters at the end of their tether with immense heartache and stress, being on the brink of rehoming their dogs because they are finding life so difficult with them. It is such a pleasure to see them change their mind completely in just a short amount of time when I teach them how to understand their dog better, and they see very fast results as soon as the training begins.
Whether you have had your dog for some time and the behaviours have gradually developed over a time, or you have a new rescue dog that you don't know the full history of, and you want them to settle and be happy in their new home, or if you have welcomed a new puppy into your home and you want to teach them to be relaxed, well behaved dogs from the start, I'm here to help you with training and behavioural needs.
** Please Note **
I am unable to offer my service if your dog has aggression to people, whether they be family members or strangers. This needs to be addressed in a very careful, sensitive, and specific way and will require face to face training.
My remote training prices
My remote lesson price is as little as £150.00 for the initial lesson which lasts between 2 - 3 hours, depending on the behaviour problems. Each follow-up lesson is priced at £75.00 and lasts around 1 to 1.5 hours. If you have 2 or more dogs that require training, each additional dog is charged at £30.00 per dog, per lesson.
A little about me
I joined Bark Busters as a trainer and behaviour therapist because I love the Bark Busters ethos, ethics, and kind training methods. For over 40 years I have had dogs from puppies and have also helped and adopted rescue dogs, so I have my own experience of how difficult it can be to train your dog regardless of how long you have lived together.
I have an 11-year-old German Shepherd cross, who is the biggest softie you could meet, but when we first adopted him from a rescue centre, he was extremely nervous and fearfully reactive to some other dogs and very strong on the lead. We don't know too much about his background, but it was clear that any training he had received was unfortunately inconsistent because through no fault of his own, he had already been rehomed twice by the time he was 14 months old. With my training methods and our patience, love, and consistency, he is now a happy, relaxed, well-behaved dog who is full of fun, and it is a pleasure to share our home with him. He's our oldest boy now and sadly has doggie dementia and Hip Dysplasia, and we know that he is approaching the end of his life. We are heartbroken at this, but we are so happy that we had the opportunity to adopt him and give him the best life possible.
We also have a 10-year-old Labrador cross who is amazing. We adopted him at 4 years of age from a very happy and loving previous home, but who's circumstances had sadly changed, and they wanted to do the best for their lovely boy by finding him a new loving home. We are so grateful that they chose us to be his new family, he fitted in perfectly and was immediately a much-loved member of our family. He is a happy, loving, funny, good little boy and we adore him. He is such a fantastic brother to our German Shepherd and their lives together have been enriched with having each other and we are blessed to have many happy memories to always cherish of our boys together.
Please don't waste any more time wishing your dog were easier to manage or less anxious and not knowing what to do about it. Unfortunately, we all come to realise that their lives are too short, just as I am at the moment with my elderly boys, and we wish that we had helped them with their issues earlier so that we and our dogs find happiness and harmony for as long as possible.
I'm here to help you, to achieve fast and effective results. I look forward to meeting you and your best friend. Don't delay any longer, it's now time to stop worrying, as I am here to help you. Give me a call and I'll be looking forward to seeing you and helping you.
I can also help you if you're looking for a trainer in Blackpool, Chorley, Ormskirk
Areas Covered
Fleetwood, Cleveleys, Poulton-le-Fylde, Lytham St Anne's, Kirkham, Freckleton, Warton, Garstang, Chipping, Longridge, Preston, Leyland, Hesketh Bank, Adlington, Tarleton, Great Eccleston, Bispham, Bamber Bridge, Penwortham, Euxton
Your trainer is an independent business owner who operates their own business under a franchise agreement with Bark Busters. Angela Young trading as Bark Busters, is a franchisee of BBDT (UK) Limited, the Master Franchise holder.
Contact Your Local Trainer
My Service Ratings