meet your specialist trainer Emma Barrett
Rugby Dog Training and Behaviour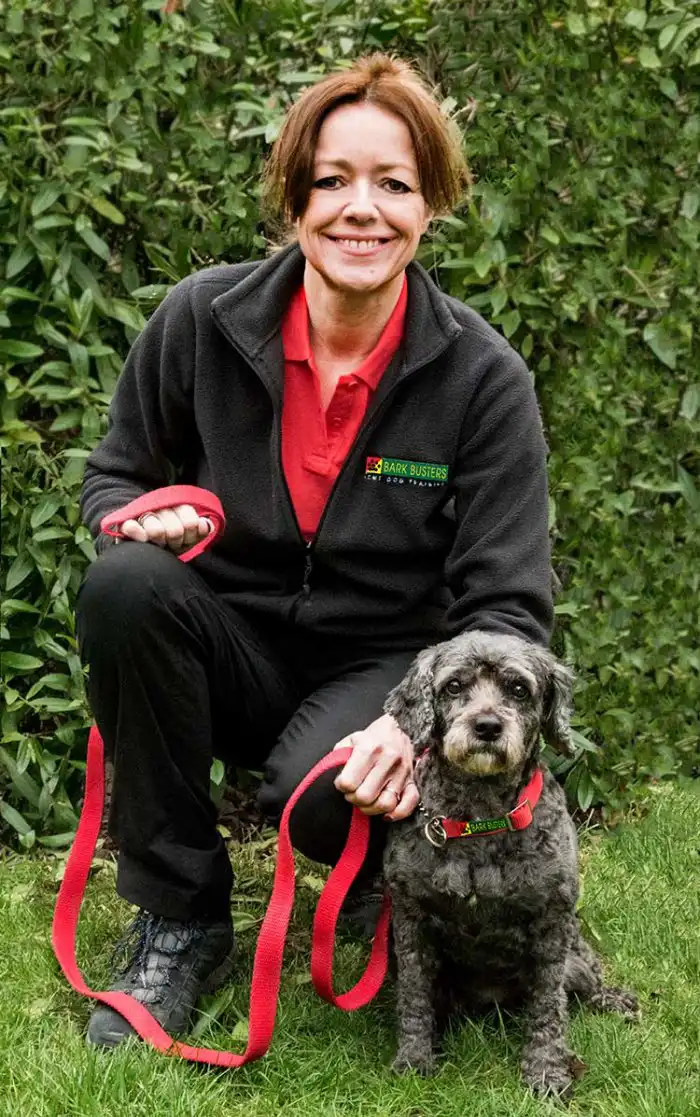 or call 0808 100 4071
Welcome to Bark Busters Home Dog Training Rugby. My name is Emma and I'm your local dog behaviour therapist and trainer. I'm here to help you resolve all your dog's unwanted behaviour, to help with your general training needs and puppy education.
My love of dogs began as a young child and keen to have a dog of my own. Sadly, this great idea didn't click with my parents. I now realise how impractical it would have been, due to commitments, but the desire to have one of my own never went away. My first dog was a lovely Labrador and over the years I have had the pleasure of sharing my life with, many working breeds such as Springer and Cocker Spaniels, and a great Labrador who I trained as a gun dog; she loved it. Looking back now, with my training experience, I realise how lucky I was with all my previous dogs as they were not too difficult to train to a level that I was happy with.
After a period working in the corporate world, I decided to expand my "dog" world and trained to be a dog groomer. I had always been fascinated by canine psychology and researched and read as much as possible. This knowledge really helped me, in my grooming work when dealing with nervous, anxious dogs who, through fear, might become aggressive. I enjoyed figuring out the triggers that made the dogs react and often helped owners who would tell me about various issues they were having with their dogs. With the knowledge I had put into practice and with the dogs I handled daily, I gave them some training tips and was delighted when they confirmed that they had helped their situation.
Gradually, my passion grew until I couldn't ignore it any longer and went on to train as a canine behaviour therapist, to help more people and their dogs. I looked at various options, using correspondence courses, internet help, but it wasn't until I found Bark Busters that I realised they provided all that I hoped. The approach is amazing, using kind, calm communication techniques and working in the way that dogs instinctively understand, through voice tone and body language. The excellent customer service, back office support and a friendly and helpful family of UK wide therapists and trainers, meant this was the career for me. So, I decided to become a dog behaviour therapist and trainer in the Rugby area myself. I've never looked back and never regretted making my decision to join the team.
My current dog, Tammy is a 7-year-old Cockerpoo, who was not as easy as my early dogs! She had an item guarding issue which I managed, but I was able to totally rehabilitate her once I'd learned the Bark Buster communication techniques.
I love my work, helping dog owners to enjoy and sometimes rebuild a damaged bond with their dogs. They often tell me they have fallen in love with them all over again! It's great working with people in their own homes, as the home is where the problems usually start, and group classes may not provide the environment needed for owners and their dogs to concentrate and rehabilitate. Whether it be nuisance barking, aggression, lunging at dogs or people, separation anxiety, sibling rivalry, boisterous jumping up, recall, pulling on the lead, or even obsessive-compulsive disorders, I'm here when you need me. Of course, helping first time or experienced owners with a new puppy is a favourite part of my rewarding, enjoyable work.
Our lessons will be full of fun activities for you and your dog and the information pack I leave with you will give you confidence that you can continue to practice daily which will help you to change the unwanted behaviours that are causing you concern. In addition, our Support Guarantee will give you peace of mind that I am on hand to return, at no additional charge, to continue to support and guide you through the term that you have purchased. You can feel confident knowing that I am only a phone call or an email away to continue to help you if you struggle.
Please get it touch, I'm looking forward to working with you.
Emma arrived on time and was very pleasant. She explained things clearly and gave good advice on how my dogs needs should be met. I understood the training exercises that i need to do and the reasons behind them. My dog responded very well.

P.A.

1st November 2018
I can also help if you are looking for a dog trainer in Coventry or Leamington Spa or Nuneaton or Stratford-upon-Avon
Services provided by Emma
more...
how we can help you and your furry friend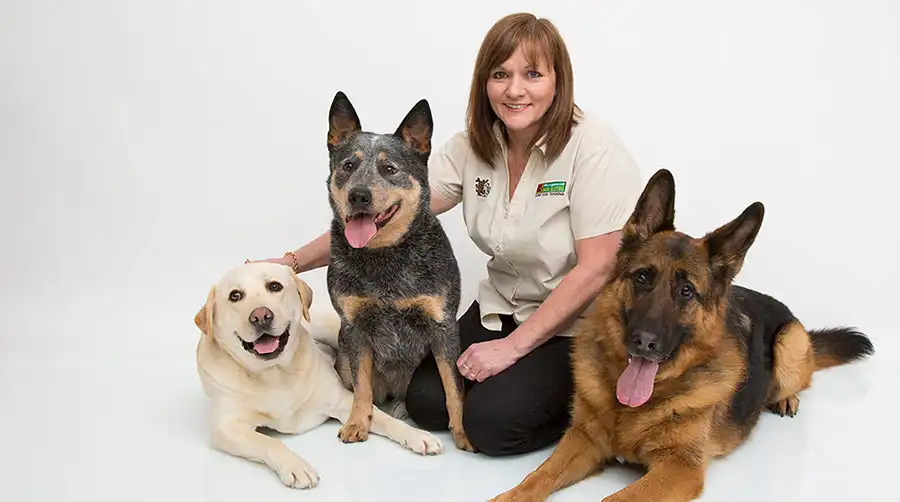 The Bark Busters communication methods help solve behaviour issues such as aggression towards people or other animals
Cure embarrassing habits like barking, jumping up on people, scratching & whining at doors or inappropriate toileting.
Create an obedient dog or puppy that will happily walk on the lead without tugging, sit or stay on command, and come immediately when called.
Set off-limit areas.
Reduce the stress of separation anxiety without the need for sedatives or drugs.
We teach you to communicate with your pet.
Do you find yourself shouting? Do you think your pet isn't listening to you? Maybe you're simply not speaking their language. The Bark Busters communication method is based on the way how our dogs communicate with each other and how they learn from older, more experienced members in the pack. This is what makes our training unique and effective.
Why do we train in your home?
Your pet lives with a family, in a home. This is where he spends most of his time and misbehaves most often, so this is where our programme is most effective. Our dogs learn by association. Bark Busters teaches him to listen in the home environment. If he does not listen at home, he will most probably not listen outside where there are far more distractions.
In your home we teach a one-on-one system without other distractions or the stress of being sent away from you to learn.
Of course, where you are experiencing problems outside the home such as pulling on the lead or dog aggression etc..., we will set up controlled situations in the park or wherever is most practical.
Your trainer is an independent business owner who operates their own business under a franchise agreement with Bark Busters. Emma Barrett trading as Bark Busters, is a franchisee of BBDT (UK) Limited, the Master Franchise holder.