Home Dog Training South London & Puppy Bevhaviour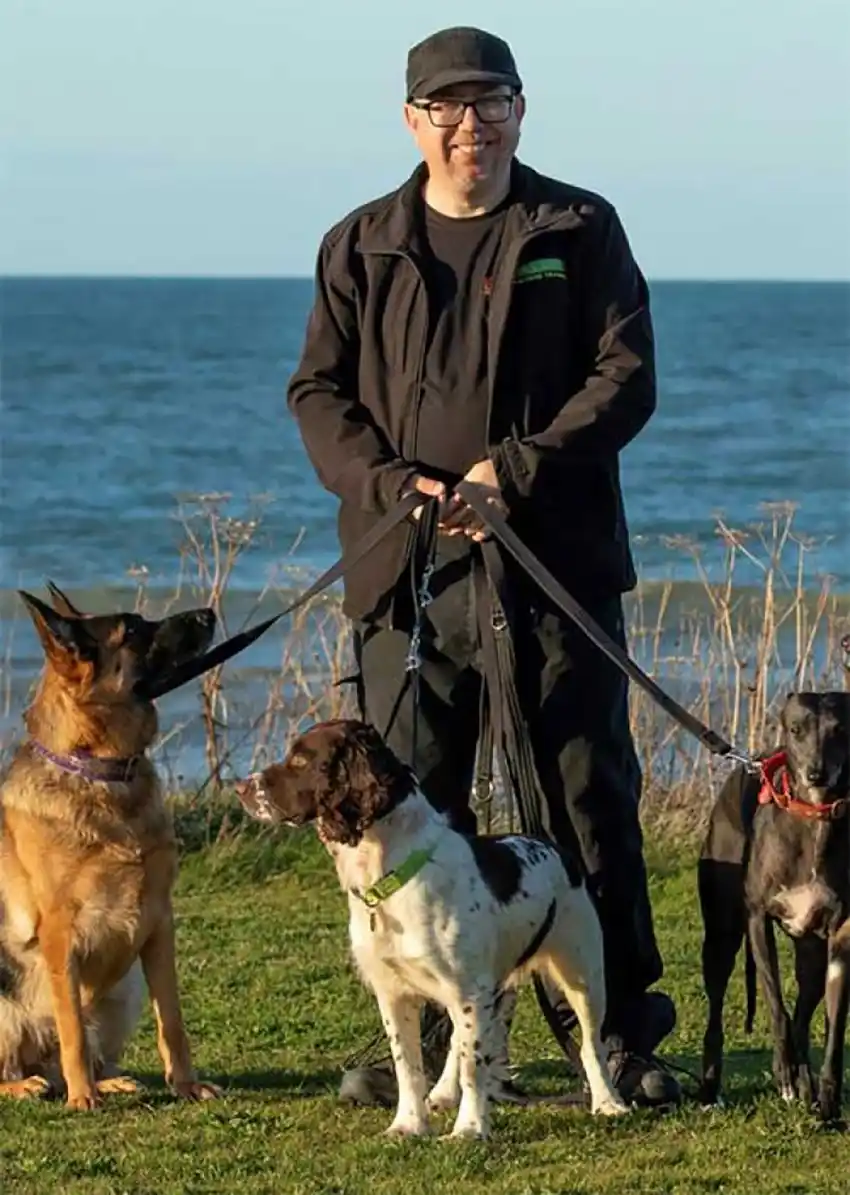 Welcome to home dog training South London, I am Graham Milgrew your local dog behaviour therapist and trainer for Bark Busters. I specialise in one-to-one training in your home, where I don't just provide a behaviour consultation with advice, I actually demonstrate how to train your dog. I have a genuine any breed, any age, any problem policy and see you and your dog in the environment where the problems are occurring. This includes in your home, when out walking and in the local park or on the common. I then provide practical solutions with follow up visits including phone and email support for a whole year after your first visit.
If you're looking for quality dog training near you, then you've found the right place. I help with all dog related problems including jumping, pulling on the lead, recall (dogs that don't come back), mouthing and nipping, aggression to other dogs or to humans (dogs that bark, growl and/or lunge), hyperactivity (dog's that struggle to calm down), destructive behaviour including chewing and digging, toilet training for all ages, chasing (animals, joggers, cycles, cars and even children), barking, whining, howling and separation anxiety (dogs who can't cope with being on their own), obsessive behaviours, attentiveness (dogs that don't want to listen!!) and general obedience. I will not be judgemental or critical or tell you off in any way about your dog's behaviour. What I want to do is move forward, together, so that you and your dog can be happy.
For puppies I make sure you get off to the very best start possible with the reassurance that you can contact me to answer all those little questions that always crop up with puppies together with follow up visits for further training.

I was introduced to the world of dog behaviour training. Prior to this introduction, I had considered myself to be pretty good with dogs because most of the dogs that I encountered were 'pretty good'!
In a nutshell, that's the problem – many of the dogs that I encounter in day to day life are fairly accommodating and just fit into our life. This is what we expect. So when we encounter a dog with behaviour problems there's a tendency to get confused and then frustrated with the dog. "Why won't it just do as it's told?" "Is it my fault?" - If we're not careful we can behave inappropriately towards the dog and this only makes the situation worse.
We can also just "manage" problems rather than tackle them. My Whippet, Smudge, suffered terribly from separation anxiety and I made very elaborate arrangements so he was never left on his own because he would howl pitifully and wee everywhere when he was. I then met my wife and found that finally there was a way to truly help him.
We have a small Lurcher (Whippet/Terrier cross) girl called Lottie. She had been a working dog killing rats and rabbits until she had a serious accident when she was 7 and was then too slow to do her job but she would still chase squirrels and cats with absolute determination. Nothing would stop her when she was in "prey" mode. She didn't like dogs and would sometimes charge at dogs to drive them away. If they barked at her she would bark and bark and keep barking until they were a spot in the distance. When I met her she was still a very high energy dog and needed a lot of channelling in the right direction. She is now losing her sight so gets disorientated and did run at great speed in the wrong direction and as she is going deaf we can't call her. After a few scary incidents we have trained her to stay close and walks are no longer stressful.
I got our Greyhound Angus last year. Most Greyhounds are laid back couch potatoes but Angus wouldn't come when called, ran up and down the garden barking so loudly the windows seemed to shake and was aggressive with all larger dogs. He had been stuck in a rescue for nearly six months as nobody wanted him so my wife persuaded me that he would be the perfect for us and a year on we have a beautiful dog who is a joy to live with. He is not perfect as big dogs still scare him terribly, (which seems strange as he is a huge dog himself) but he looks to us now for guidance and to protect him rather than going into "attack first and ask questions later" mode.
As you can see, I have hands on experience of doing the job of training myself. I guess you could say that I truly practice what we preach! So if you want to get it right from the outset and give your puppy the best start in life, or you have doggy problems you want to resolve, then let me give you the tools and techniques so you can have the pleasure of a calm and happy dog. Please call or email to find out more; I'd love to help.

Graham accepts debit/credit cards
Areas Covered
Clapham, Brixton, Dulwich, Streatham, Crystal Palace, South Norwood, West Dulwich, Balham, Tooting Bec, Tooting, Stockwell, Battersea, Camberwell, Norbury, Lambeth, Oval, Vauxhall, Clapham Park, Clapham South, Clapham North, Clapham Junction, Clapham Common, Kennington, West Norwood, South Lambeth, Walworth, Lavender Hill, Battersea Rise, Brixton Hill, Tulse Hill, Streatham Hill, Streatham Common, Herne Hill, Hyde Farm, East Balham, SW2, SW4, SW8, SW9, SW11, SW12, SW16, SW17, SE5, SE11, SE19, SE21, SE24, SE25, SE27, London, SW London, South West London, South London, Battersea Park, Denmark Hill
Your trainer is an independent business owner who operates their own business under a franchise agreement with Bark Busters. Dog Training London South East Limited trading as Bark Busters, is a franchisee of BBDT (UK) Limited, the Master Franchise holder.
Contact Your Local Trainer
My Service Ratings