meet your specialist trainer Isla Clarke
Home Dog Training and Behaviour Stafford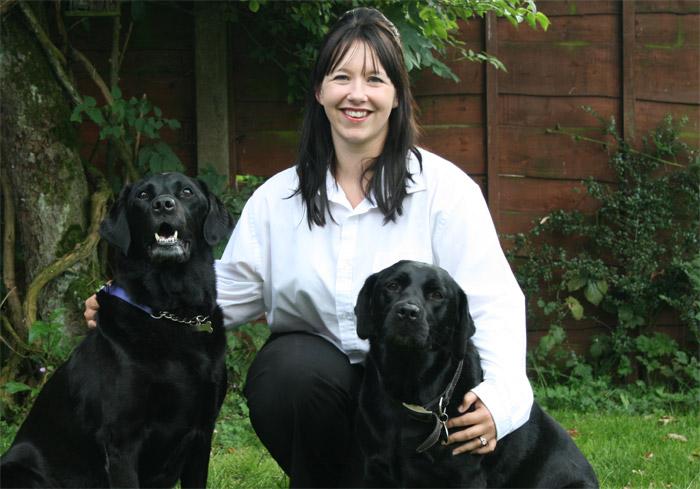 or call 0808 100 4071
Hello my name is Isla Clarke, and I am your local therapist of Bark Busters Home Dog Training Stafford. If you are experiencing behaviour from your dog that doesn't make for a happy relationship, then please give me a call and I will be happy to help you.
I have been a Bark Busters therapist for over 10 years and trained hundreds of dogs, and their owners, helping to restore a happy relationship between dog and owner. I love my work that enables me to meet and work with dogs every day. But I also love seeing the delight on the owners' faces when they realise that their dog is not beyond help! Very often, their dog is perfectly trainable and willing to learn, but it is we, the humans, who confuse them in all sorts of different ways so that they no longer understand what is expected of them. I speak from personal experience as many years ago my own dog was very 'naughty'. It wasn't until I trained with Bark Busters that I realised that my communication was all wrong, and totally inconsistent. Basically, my Labrador didn't understand me and so just ignored me! Once I how you how to consistently communicate with your dog in a way that they will understand, things will soon be back on track.
I deal with many dogs that have had no success with other training programmes. Our system is non-physical, and very gentle. Yet it is effective, simply because we teach you how dogs communicate, and show you how to use this system of communication to appeal to your dog's brain power (and they have much more than you might think)!
So, whether your problem is barking, pulling on the lead, poor recall, aggression, separation anxiety, or anything else that ruins your relationship, you can be sure that I will show you how to start to change these behaviours. I visit the homes of dog owners in and around Stafford. During my lessons you will be able to tell me all about the issues you are having and together we will develop a training plan. Whilst I am with you, I will make sure that you have lots of time to practise the techniques I show you. You are learning too, so practice is important. At the end of the lesson, I will leave you with a programme to practice for 10 to 15 minutes each day. The results you achieve and how quickly you achieve them will be dependent upon your commitment to the training programme, and if you purchase our Support Guarantee I will be available to return and help you whenever you need further support.
Bark Busters offer a written support guarantee that, once you have paid for your first lesson, I will return to you free of charge for the duration of that guarantee. I will support and guide you, and assist you when you require further help.
I can also help with puppy training from toilet training, mouthing, chewing, socialization skills, through to lead work and recall. Puppy lessons are very gentle and fun, taking into account the puppy's need for stimulation, but also rest.
I can also help if you are looking for a dog trainer in Stoke on Trent & Staffordshire or Crewe, Nantwich, Congleton
Services provided by Isla
more...
Isla is a certified dog First Aider
how we can help you and your furry friend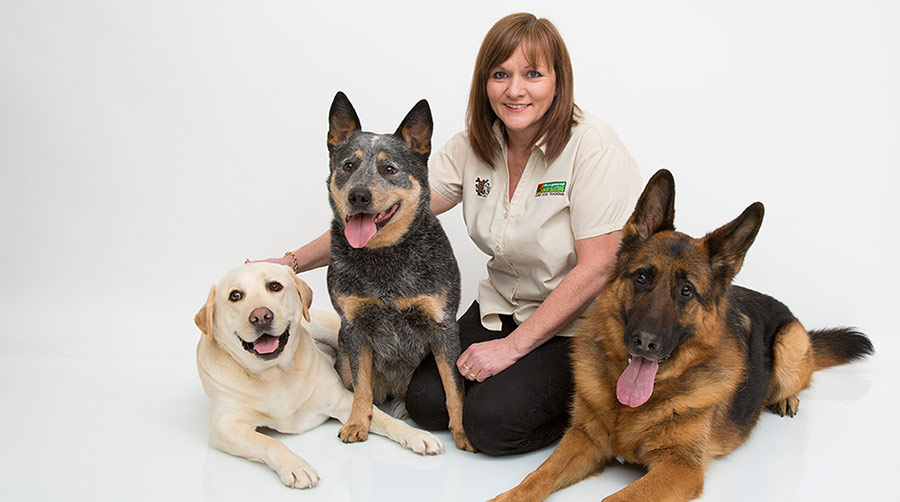 The Bark Busters communication methods help solve behaviour issues such as aggression towards people or other animals
Cure embarrassing habits like barking, jumping up on people, scratching & whining at doors or inappropriate toileting.
Create an obedient dog or puppy that will happily walk on the lead without tugging, sit or stay on command, and come immediately when called.
Set off-limit areas.
Reduce the stress of separation anxiety without the need for sedatives or drugs.
We teach you to communicate with your pet.
Do you find yourself shouting? Do you think your pet isn't listening to you? Maybe you're simply not speaking their language. The Bark Busters communication method is based on the way how our dogs communicate with each other and how they learn from older, more experienced members in the pack. This is what makes our training unique and effective.
Why do we train in your home?
Your pet lives with a family, in a home. This is where he spends most of his time and misbehaves most often, so this is where our programme is most effective. Our dogs learn by association. Bark Busters teaches him to listen in the home environment. If he does not listen at home, he will most probably not listen outside where there are far more distractions.
In your home we teach a one-on-one system without other distractions or the stress of being sent away from you to learn.
Of course, where you are experiencing problems outside the home such as pulling on the lead or dog aggression etc..., we will set up controlled situations in the park or wherever is most practical.