meet your specialist trainer Gina Hinsley
Swindon Dog Training & Puppy Behaviour Therapist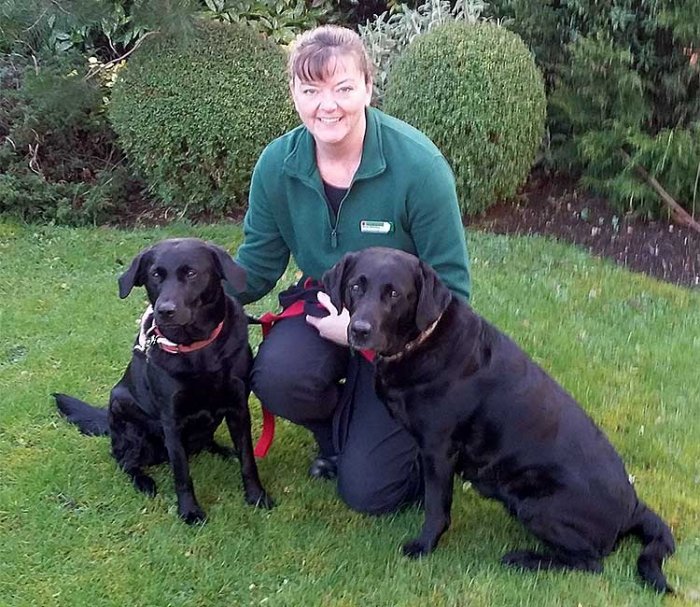 or call 0808 100 4071
Welcom to home dog training Swindon and my name is Gina Hinsley, your local dog behaviour therapist for Bark Busters. If you are as passionate about your dog as I am, you will understand what I mean when I say that we all want the best life we can have with our furry friends, but often don't know how to achieve this. There is so much advice and debate around how to train that you can be left feeling overwhelmed and inadequate in your attempts to put some sort of training regime into place.
If you are struggling with aspects of your pet's behaviour and can't seem to get any control, then I can help you. If you think your dog doesn't listen to you it is probably you that is not communicating consistently and in a way that he can interpret. If you would like a better relationship with your dog based on trust, leadership and communication, then give me a call. I'll teach you how to train your dog using our fast, effective and simple to follow training method.
If you're looking for professional dog training near you, then you've found the right place. You will very quickly be able to use our system of training and communication. You will be equipped with the skills you need to continue by the end of our first lesson together. You will have the confidence to stick to the training, and practise consistently to build a lasting bond.. I will guide and advise you as we all work together to address any behaviour issues.
Whether your problem is simply pulling on the lead, or something more challenging like aggression, separation anxiety, or poor recall, our communication-based methods can help you. Our training is based on the principle that we need to communicate in a way they understand. We will work at a pace to suit you and your dog, and I will ensure that you are both happy every step of the way. After our first session, I will leave you with your personal training plan to follow. Our Support Guarantee gives you peace of mind knowing that I am here to support you and to help you with any problems; returning free of charge for the duration of your guarantee.
Being able to help owners achieve a happier life gives me great job satisfaction and proves to me that I was right when I took the opportunity of working as a Bark Busters therapist. Watching tears of frustration turn into beaming smiles is priceless.
I can also help you with puppy training. Our puppy training is based on learning through play; it also gives you all you need to know to have a happy, healthy puppy, and will get you off to a great start.
We were really impressed at Gina's attention to detail and knowledge of dogs. Also the method of training feels much better than going to dog training classes which we have done with the 5 dogs we have had through our lifetime. Elsa's response was very quick and appears to be improving with the training methods that Gina gave us. We are looking forward to the next stage of the package in a month or two's time.

R.J.

12th February 2020
Services provided by Gina
more...
Gina is a certified dog First Aider
how we can help you and your furry friend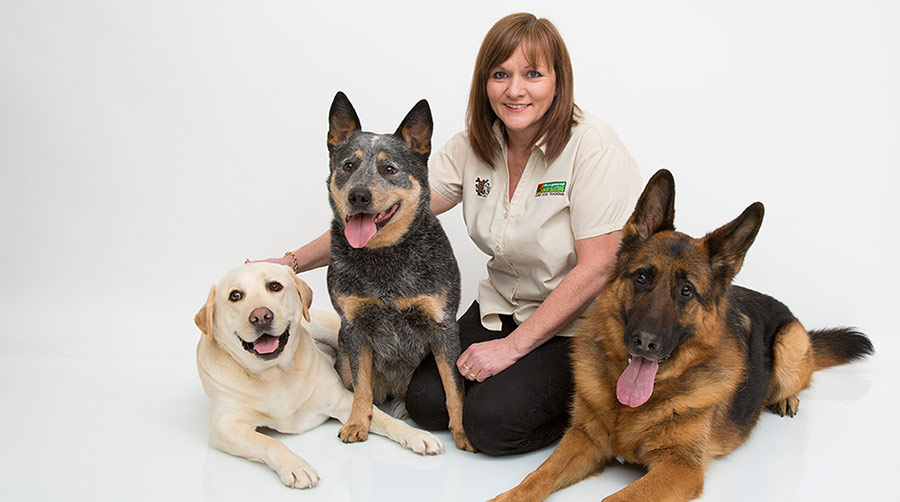 The Bark Busters communication methods help solve behaviour issues such as aggression towards people or other animals
Cure embarrassing habits like barking, jumping up on people, scratching & whining at doors or inappropriate toileting.
Create an obedient dog or puppy that will happily walk on the lead without tugging, sit or stay on command, and come immediately when called.
Set off-limit areas.
Reduce the stress of separation anxiety without the need for sedatives or drugs.
We teach you to communicate with your pet.
Do you find yourself shouting? Do you think your pet isn't listening to you? Maybe you're simply not speaking their language. The Bark Busters communication method is based on the way how our dogs communicate with each other and how they learn from older, more experienced members in the pack. This is what makes our training unique and effective.
Why do we train in your home?
Your pet lives with a family, in a home. This is where he spends most of his time and misbehaves most often, so this is where our programme is most effective. Our dogs learn by association. Bark Busters teaches him to listen in the home environment. If he does not listen at home, he will most probably not listen outside where there are far more distractions.
In your home we teach a one-on-one system without other distractions or the stress of being sent away from you to learn.
Of course, where you are experiencing problems outside the home such as pulling on the lead or dog aggression etc..., we will set up controlled situations in the park or wherever is most practical.