meet your specialist trainer Lee Hardy
Dog & Puppy Training Shrewsbury & Telford, Shropshire
or call 0808 100 4071
Updated 5th January 2021 - I offer a variety of options to conduct lessons whilst maintaining social distancing. This includes home lessons where appropriate, conducting lessons in your garden / open spaces and using video conferencing. We have introduced a "Home Lesson Risk Assessment" to help to combat the spread of the virus.
Welcome to dog training Shrewsbury & Telford, Shropshire. I'm Lee Hardy, your local dog behaviour therapist and trainer.
No doubt you are looking for help with your dog's behaviour having possibly tried everything from basic dog training and obedience classes to watching the various dog training gurus on TV. If you feel that your lovable rogue is in control of you, rather than the other way around, you are not alone, and I can help you. I've been successfully training dogs and their owners for 20 years. I have trained over 4,000 owners and their dogs on a one to one basis during that time.
I was once in the position that you are in now. My black Labrador, Rannan, was my first dog, and she turned my life upside down, leaving me desperate for help. Rannan had serious behaviour problems. Extreme aggression to other dogs was the main issue. People suggested that the only option was to have her put to sleep, but I couldn't believe that this was the only option for such an otherwise fantastic dog. Bark Busters was recommended to me and so I called them for help.
Using Bark Busters' system of training, voice tone and body language, meant that I learnt how to communicate with my Rannan in a kind, clear and consistent way. She quickly learnt that I was capable of keeping us both safe, and that she could now relax and enjoy her life without worrying about guarding me and the family. She learnt to trust that I was worthy of leadership, love and respect, and began to listen to me rather than making her own, often disastrous decisions! Rannan's behaviour was very quickly under control and she enjoyed a much happier and relaxed life from that day forward, as did the rest of the family!
I was so bowled over by the Bark Busters training system, its logic and simplicity, that I decided to train as a Bark Busters behaviour therapist myself so that I could help others in my situation to overcome their dogs' behaviour issues. I have never regretted that decision. I get great satisfaction from my work, especially when I see the smile on owners' faces when they see that they can achieve results quickly and realise that there is still hope.
From households with single dogs or multiple dogs (I have trained 12 dogs in one household) to those with rescue dogs or puppies, I have helped ensure that dogs are happy and well-behaved because their owners understand them and know how to communicate with them. I've also helped at rescue centres working particularly with dogs at the RSPCA to help ensure that rescue dogs are ready to be rehomed and then live in harmony with their new owners so that they can stay in their new homes.
We get a dog for many reasons and want them to be a member of the family. However, dogs can interpret our behaviour as weakness and start to take control of us. This doesn't mean they are naughty – they are simply unconvinced by our leadership and so will take on the role, making decisions for themselves. This is where I bring my expertise and experience to help get you and your dog understanding one another again. The training programme is easy to follow, kind and non-physical. In most cases, we see results very quickly as you start to provide the leadership and communication that your dog instinct craves.
Whether its pulling on the lead, boisterous behaviour, barking or howling, separation anxiety, destruction, aggression, toileting, sibling rivalry, separation anxiety, or any other issue with dog training or behaviour, I can confidently say that I will be able to help you, and show you a way forward. I can also help you get off to a good start with your new puppy, covering all the basics of puppy training. Feel free to contact me to see how I can help you.
If you would like to see what other dog owners say about me, please feel free to read my testimonials from my happy clients.
I look forward to meeting you and your dog very soon.
Lee was an excellent trainer, really listened to us to understand what areas of support we needed and what our challenges were with our 2 dogs. In only one session he has helped us to significantly improve the behaviour of our dogs and more importantly our understanding of how to communicate with them We would highly recommend , looking forward to the next session

R.S.

11th February 2020
Services provided by Lee
more...
how we can help you and your furry friend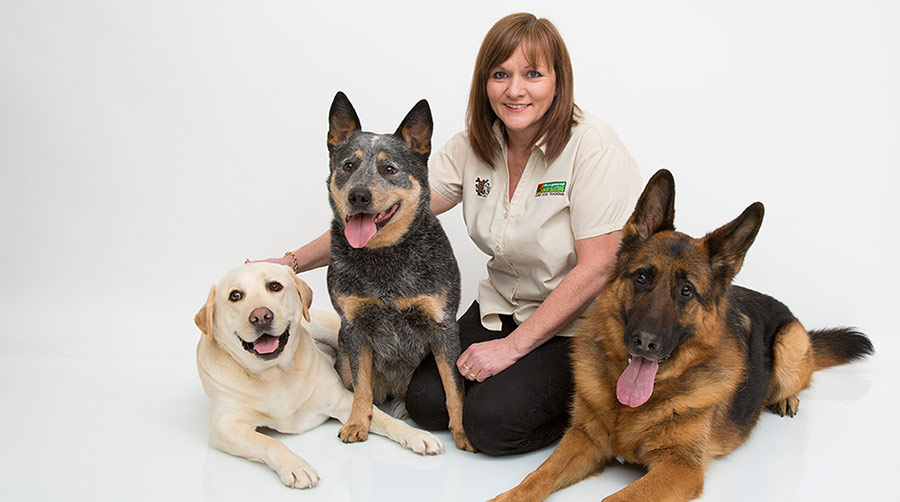 The Bark Busters communication methods help solve behaviour issues such as aggression towards people or other animals
Cure embarrassing habits like barking, jumping up on people, scratching & whining at doors or inappropriate toileting.
Create an obedient dog or puppy that will happily walk on the lead without tugging, sit or stay on command, and come immediately when called.
Set off-limit areas.
Reduce the stress of separation anxiety without the need for sedatives or drugs.
We teach you to communicate with your pet.
Do you find yourself shouting? Do you think your pet isn't listening to you? Maybe you're simply not speaking their language. The Bark Busters communication method is based on the way how our dogs communicate with each other and how they learn from older, more experienced members in the pack. This is what makes our training unique and effective.
Why do we train in your home?
Your pet lives with a family, in a home. This is where he spends most of his time and misbehaves most often, so this is where our programme is most effective. Our dogs learn by association. Bark Busters teaches him to listen in the home environment. If he does not listen at home, he will most probably not listen outside where there are far more distractions.
In your home we teach a one-on-one system without other distractions or the stress of being sent away from you to learn.
Of course, where you are experiencing problems outside the home such as pulling on the lead or dog aggression etc..., we will set up controlled situations in the park or wherever is most practical.
Your trainer is an independent business owner who operates their own business under a franchise agreement with Bark Busters. BBD Home Training Limited trading as Bark Busters, is a franchisee of BBDT (UK) Limited, the Master Franchise holder.