Wirral Puppy & Dog Training Behaviour Therapist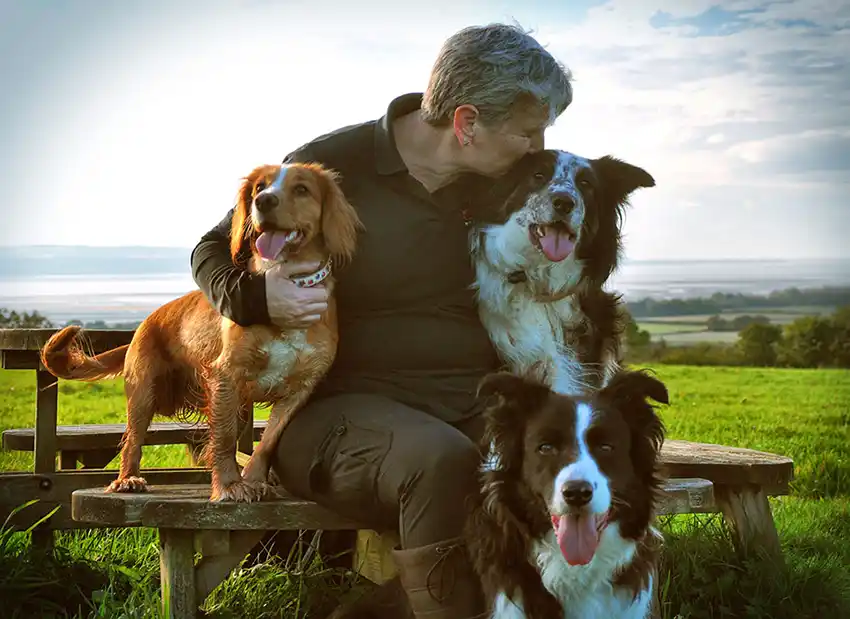 Welcome to dog training Wirral, I' am Sharon Chapman your local Bark Busters dog behaviour therapist and trainer. I've been working with Bark Busters for over 10 years, and I've helped thousands of dog owners like you to resolve all manner of dog behaviour problems. I grew up around dogs and have been involved with them all my life. My first puppy was an 8-week-old Collie cross called "Pepsi" who was found as a stray and abandoned. Pepsi was challenging and she barked continuously. I joined a local dog training club to teach general obedience, but it didn't really give her the stimulation she needed. Her obedience did improve but the barking didn't change.
I decided to join an agility club where she did really well, so well that we started to enter competitions. I lost Pepsi many years ago and to the very end we really didn't get her barking under control. I think this is what lead me to find out more about dog behaviour. I struggled to understand why she was good with her obedience and agility but never stopped barking. Now, having studied dog behaviour it's clear to see the "why" behind the unwanted behaviour.
After such a good result in the agility ring, I started to get more involved with agility and eventually went on to become an agility instructor. I reared my next dog, "Red", from a puppy and he went on to enjoy his agility, but from an early age he suffered badly from aggression, which I now know was down to his fearful nature. Red had to retire from agility due to a heart condition that he developed later in life. Sadly, I lost Red a couple of years ago, but I will never forget him, and he taught me so much.
I'm pictured here with my current dogs Wizard (Border Collie) and Secret (working Cocker Spaniel) and also my older dog Rafa who we have sadly lost.
Rafa was a lovely friendly dog to people, and dogs alike. He competed with me in agility, and he won few things, but we didn't always agree on the course. He also competed in flyball too, which he really enjoyed. In our spare time we used to volunteer as a therapy dog, and due to his brilliant temperament, he passed an assessment as being suitable to visit many places. Our last placement was a local school as part of the Read2dogs scheme and all the kids loved him, as did the teachers. I'm really proud of him for all his achievements.
Wizard is my more experienced dog. He is slightly more reserved than Rafa, but once he gets to know you, he will be your friend for life. We still compete at agility, and he has been quite successful, but as he is now advancing in years, I have reduced the amount of work he does, and he will soon be retiring.
Secret is my youngest dog, and she has taught me a lot, as she is very work driven, but in a very different way to the Collies. She has settled into our household well, and recently started competing at agility and initial results are very promising.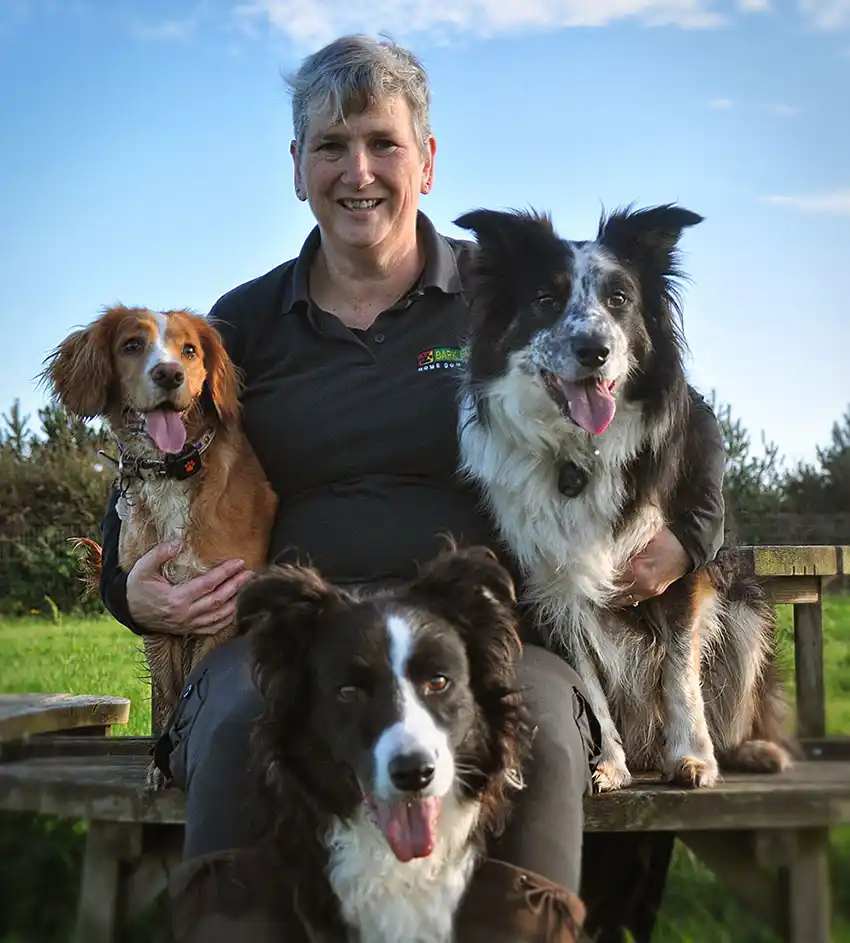 I have previously instructed agility and really enjoyed helping other dog owners, and their dogs, to enjoy the rewards that come from the human / canine bond within the sport. Unfortunately, I don't get to instruct on a regular basis, as much as I used to.
I have also completed the PDTI Level 3 Practical Instructing Course and hold an "Applied Instructing Skills" award. I understand that both dogs and people learn at different paces and in different ways, so my training is always tailored to you and your dog.
I've learned so much over the years, and through my time with Bark Busters, about how important it is to communicate to your dog in a way they understand. Finding the answer to the problem behaviour comes from finding out why the unwanted behaviour happens in the first place. I really love meeting all the people and passing on all the information they need to solve their dog's behaviour problems.
If you're looking for professional dog training near you, then you've come to the right place. Let me show you how you can take back the control and experience the joy of owning a well-behaved and happy dog. My training is conducted on a one-to-one basis in your home. This means your dog will learn more quickly as they are more relaxed in their own environment, and without the distractions. From our very first lesson, you will have time to describe to me the problems you are experiencing, and I will help you get started on your training programme, so that you and your dog understand one another better and begin to eliminate your dog's problem behaviours.
I deal with all kinds of problems from barking, pulling, jumping, mouthing, aggression, separation anxiety, sibling rivalry and much more. My non-physical, gentle, and kind methods use the same communication that dogs follow naturally and focuses on body language and voice control.
Let me help you to bring the best out of your dog.
Backed by the Bark Busters Dog Training Support Guarantee
I return free of charge for the term you purchase until you're happy that the behviour problem is resolved. Not only that, if your dog develops a different problem it's all covered on the support guarantee too, at no additional cost.

Sharon accepts debit/credit cards

Sharon is first aider trained
Areas Covered
Wallasey, Birkenhead, Hoylake, Heswall, Bebington, Ellesmere Port, Neston, New Brighton, Bromborough, Prenton, Oxton, Wirral
Your trainer is an independent business owner who operates their own business under a franchise agreement with Bark Busters. Sharon Chapman trading as Bark Busters, is a franchisee of BBDT (UK) Limited, the Master Franchise holder.
Contact Your Local Trainer
My Service Ratings