Worthing Dog Training & Puppy Education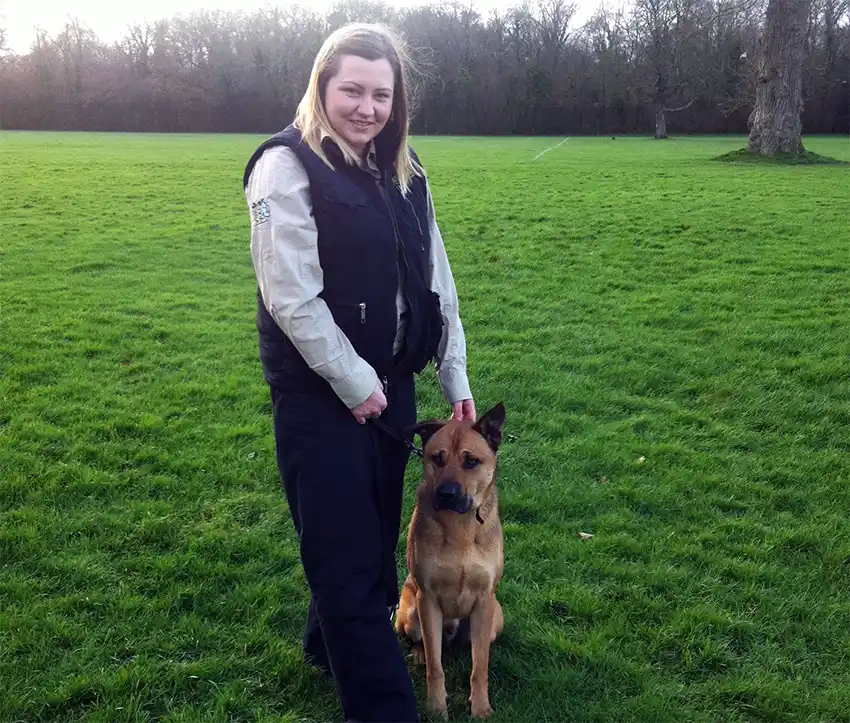 Welcome to dog training worthing, my name is Shauna Hoey your local Bark Busters dog behaviour therapist and trainer. My parents always had dogs when I was young, mostly Jack Russell Terriers, so my love of dogs started young! I realised at an early age that I'd love to work with animals and as a teenager I got my own horse. I had various jobs after school but decided to follow a career with horses and went to college, paying my way to become qualified.
To pay off my fees I temporarily took a job in the corporate world and finding a bit of a hole in my life I found myself an owner of Oscar a Shar Pei, German Shepherd, Rottweiler mix. He was a wonderful dog until one day he was attacked by another dog, turning him into a nervous wreck, and our lives turned upside down. He became so reactive to other dogs, lunging and trying to attack any dog he saw, it became a nightmare to take him for walks. I began to dread our exercise and walks and would put it off until I hoped there would be no dogs around. Walking him late at night or very early in the morning to avoid people and dogs but finding that it was the time that everyone with difficult dogs was out too! Not only did he want to attack dogs, but people too and one day crashed through a glass door to try to get to the post man!
I searched for professional dog training near me, as I realised that all the things I'd read and tried were not working and I needed professional help, so I searched the internet and found Bark Busters. The therapist in Worthing at that time, came out to me and she was amazing. She helped me to understand Oscar from a dog's point of view. How to show him that he didn't need to guard me and that I would be the one to keep him safe, he could trust my decisions and not feel he had to make his own about dogs or people. By the third lesson he was a different dog and back to his personality before he was attacked. I was able to walk him on a loose lead, at my side around the local area amongst dogs and with my new understanding I help to control his fears and anxieties.
That was the start of my decision to become a Bark Busters behaviour therapist and trainer in Worthing. I applied, was accepted and thoroughly enjoyed my training. I began to help people to understand how to communicate with their dogs, build a new relationship and enjoy their dogs to the full once more.
Several years on and Oscar now has a little sister. Jasmine, a Jack Russell, belonged to a family friend, but was not coping with life. She was terrified of everything, so I was asked to foster her for a while to help her. She came to me, at 18 months old, shivering and shaking, but with the Bark Busters communication techniques I was able to get her settled and although initially scared of Oscar, she taught him to play. Her owner decided that she would have a better quality of life, so she stayed with me. The two of them complement each other and I love watching them interact, their body language says it all.
I really love my job, I still have my horse and love the fact that I am around animals all the time. Using the Bark Busters dog training methods, I show dog owners how to achieve results. We usually a big change to their dog's behaviour from the very first lesson. I show you how to communicate effectively with your dogs in a way that they instinctively understand, by using calm, kind body language and voice. I show you that finding the "cause" of the unwanted behaviour, whether it's pulling on lead, aggression, boisterousness, nuisance barking, separation anxiety or simply "bad manners", is the key to setting up the tailor-made training programme for the best results.
In addition, I love working with puppies, helping them and their owners to enjoy the training and to help them to become the best dog they can be.
Amongst my other rewarding work are my visits to schools helping teachers with their own puppies and training them to teach their dogs to become therapy dogs in the classroom. They will lie quietly whilst children read to them, improving the child's confidence and just by their own calmness, help to calm the children both in mainstream and special classes.
Also, I'm involved with a charity organisation carrying out assessments of volunteers hoping that they and their own dog can become visitors to hospices, nursing homes etc., giving enjoyment to others who love to stroke and cuddle dogs.
Contact me to see how I can help with your dog's behaviour issues and together we can rebuild your relationship with your dog to be a fun and rewarding one.
Areas Covered
Your trainer is an independent business owner who operates their own business under a franchise agreement with Bark Busters. Dog Training Brighton Limited trading as Bark Busters, is a franchisee of BBDT (UK) Limited, the Master Franchise holder.
Contact Your Local Trainer
My Service Ratings