Exmouth Dog Training & Behaviour, Puppy Education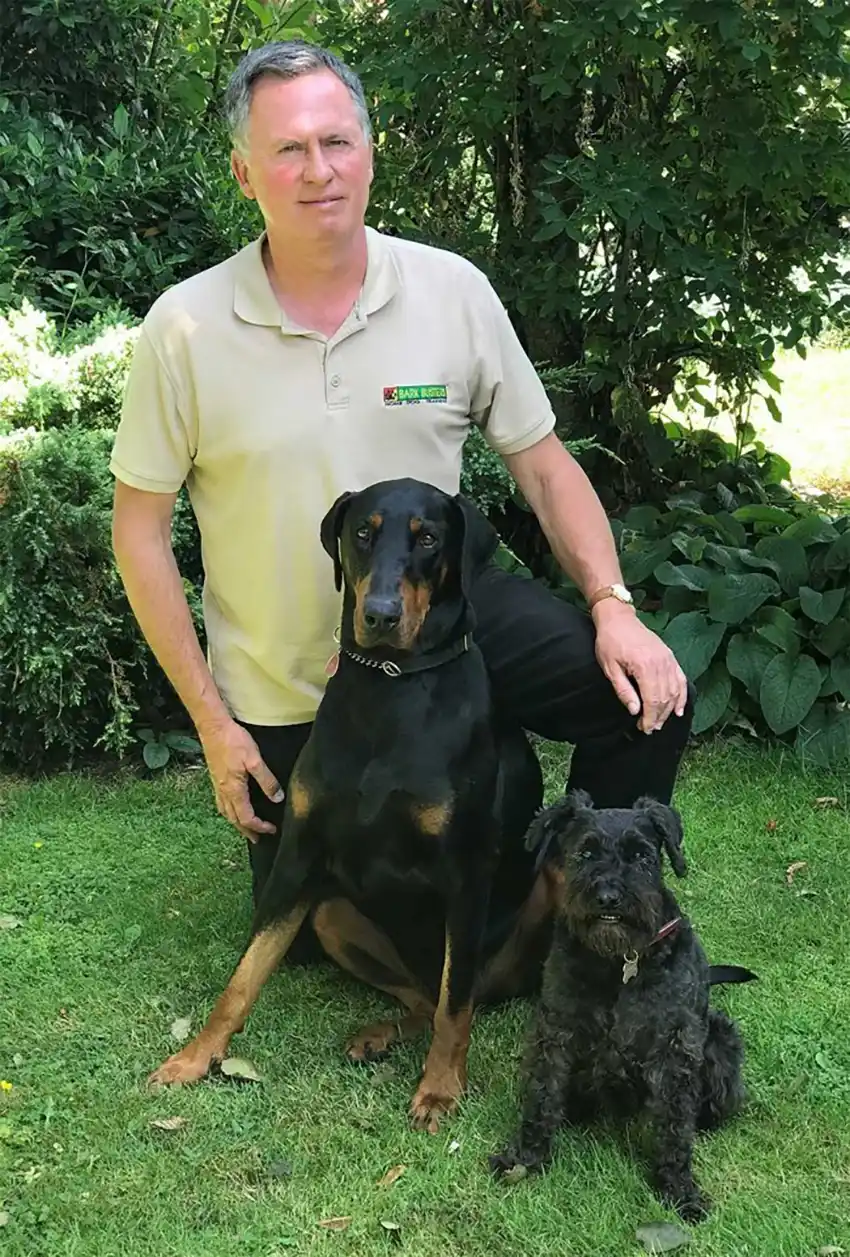 Hello, and welcome to Bark Busters Home Dog Training Exmouth and surrounding areas. I'm Kevin McDonnell and I'm delighted to be the local home dog trainer and behavioural therapist in this beautiful part of the UK.
Like you, I'm a dog lover and owner. I currently have two dogs in my life – Bruno, a Doberman, and Russell who is a Miniature Schnauzer. The fact that I love and understand dogs and that I enjoy meeting people and helping them improve their relationship and communication with their dogs, means that this job is one that brings me great pleasure. I was working in a corporate environment in Canada when I came across Bark Busters. I quickly realised that this fast, effective, kind and simple system of dog training was one that could change the lives of dogs and their owners for the better. I also decided that it would change my life! I took redundancy from my job, and started my new life as a Bark Busters Home Dog Training therapist. That was in Canada, 9 years ago. I have never regretted the decision to retrain as a dog behaviour therapist with Bark Busters, and was delighted to have the opportunity to relocate back to the UK over 10 years ago, where I help other dog owners like you in the Exmouth area.
If you're looking for fast and effective dog training near you, then you've come to the right place. With over 15 years of dog training experience, and over 2,000 dogs trained, I am confident that I will be able to help you to resolve your dog's behaviour problems, whatever they may be. Some of the common issues I deal with are barking, recall, pulling / leadwork, jumping up, aggression, separation anxiety, sibling rivalry and more... There aren't many problems that I have not encountered during my career. Most problems stem simply from a lack of communication between dog and owner.
Dogs use systems of communication, association and observation that we humans often don't try to understand. Dogs are not people…they don't think, understand, or reason like people. My system of training is based entirely on canine communication, including voice tone and body language. The system is simple to understand, easy to use, hands off and above all, kind. Once you understand the reasoning behind my methods, you will soon be communicating with your dog in a clear and consistent way, and many of the behaviour problems can be brought under control. You will not need harmful collars or sprays. Much of our time together will be spent training you. Your dog will understand instinctively once you start to speak his language and become calm and consistent.
Our lesson will take place in your home at a time to suit you. There will be lots of opportunity for you to ask questions and to practise the techniques I show you. You can expect me to be with you for around 3 hours. Although that may sound like a long time, I can promise that it will pass quickly for both you and your dog as you enjoy becoming more confident and relaxed and see for yourselves the results you achieve in a very short time. After the session, you will be left with written notes and lots of information to help you remain consistent as you proceed with your training. My guarantee gives you peace of mind knowing that I am only a phone call away should you ever need to chat through any difficulties.
If you are interested in letting me help you with your dog, but aren't 100% positive yet, there's no need to worry as we will have a free, no-obligation telephone consultation to discuss your specific needs before you decide whether I am the right trainer for you. You can also read my training reviews from other dog owners in the Exmouth area, and feel safe in the knowledge that the Bark Busters system of training and communication has helped over 1 million dogs and can also help you.
I look forward to speaking to you soon.
Areas Covered
Your trainer is an independent business owner who operates their own business under a franchise agreement with Bark Busters. Dog Day (Devon) Limited trading as Bark Busters, is a franchisee of BBDT (UK) Limited, the Master Franchise holder.
Contact Your Local Trainer
My Service Ratings