meet your specialist trainer Kevin McDonnell
Dog Training & Behaviour in Exmouth and surrounding areas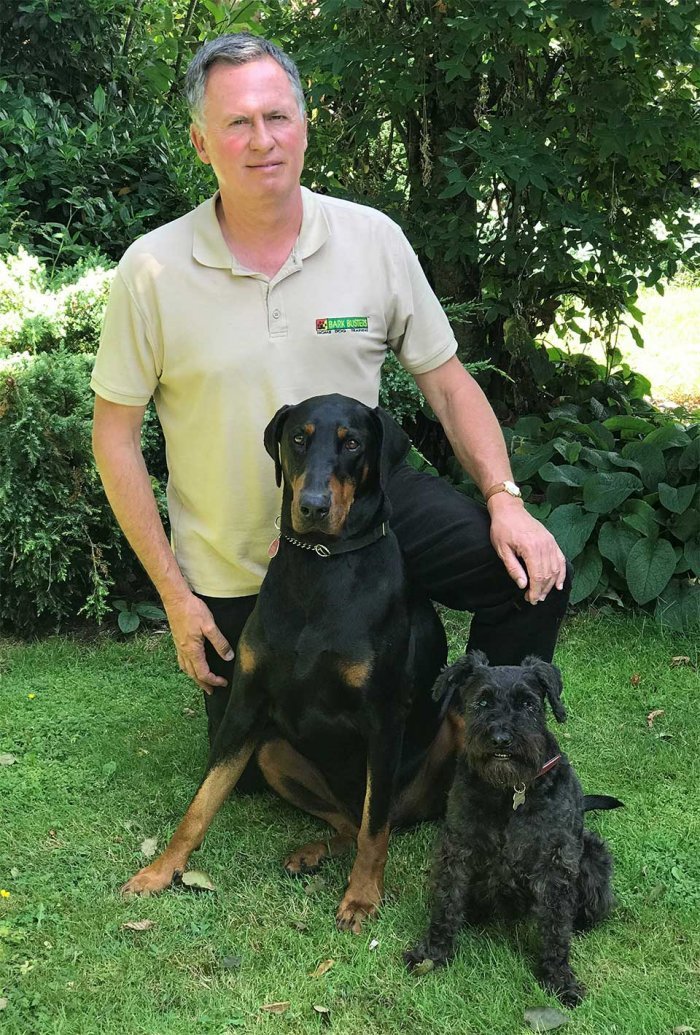 or call 0808 100 4071
Hello, and welcome to Bark Busters Home Dog Training Exmouth and surrounding areas. I'm Kevin McDonnell and I'm delighted to be the local home dog trainer and behavioural therapist in this beautiful part of the UK.
Like you, I'm a dog lover and owner. I currently have two dogs in my life – Bruno, a Doberman, and Russell who is a Miniature Schnauzer. The fact that I love and understand dogs and that I enjoy meeting people and helping them improve their relationship and communication with their dogs, means that this job is one that brings me great pleasure. I was working in a corporate environment in Canada when I came across Bark Busters. I quickly realised that this fast, effective, kind and simple system of dog training was one that could change the lives of dogs and their owners for the better. I also decided that it would change my life! I took redundancy from my job, and started my new life as a Bark Busters Home Dog Training therapist. That was in Canada, 9 years ago. I have never regretted the decision to retrain as a dog behaviour therapist with Bark Busters, and was delighted to have the opportunity to relocate back to the UK 4 years ago, where I help other dog owners like you in the Exmouth area.
With 9 years of dog training experience, I am confident that I will be able to help you to resolve your dog's behaviour problems, whatever they may be. Some of the common issues I deal with are barking, recall, pulling / leadwork, jumping up, aggression, separation anxiety, sibling rivalry and more... There aren't many problems that I have not encountered during my career. Most problems stem simply from a lack of communication between dog and owner.
Dogs use systems of communication, association and observation that we humans often don't try to understand. Dogs are not people…they don't think, understand, or reason like people. My system of training is based entirely on canine communication, including voice tone and body language. The system is simple to understand, easy to use, hands off and above all, kind. Once you understand the reasoning behind my methods, you will soon be communicating with your dog in a clear and consistent way, and many of the behaviour problems can be brought under control. You will not need harmful collars or sprays. Much of our time together will be spent training you. Your dog will understand instinctively once you start to speak his language and become calm and consistent.
Our lesson will take place in your home at a time to suit you. There will be lots of opportunity for you to ask questions and to practise the techniques I show you. You can expect me to be with you for around 3 hours. Although that may sound like a long time, I can promise that it will pass quickly for both you and your dog as you enjoy becoming more confident and relaxed and see for yourselves the results you achieve in a very short time. After the session, you will be left with written notes and lots of information to help you remain consistent as you proceed with your training. My guarantee gives you peace of mind knowing that I am only a phone call away should you ever need to chat through any difficulties.
If you are interested in letting me help you with your dog, but aren't 100% positive yet, there's no need to worry as we will have a free, no-obligation telephone consultation to discuss your specific needs before you decide whether I am the right trainer for you. You can also read my training reviews from other dog owners in the Exmouth area, and feel safe in the knowledge that the Bark Busters system of training and communication has helped over 1 million dogs and can also help you.
I look forward to speaking to you soon.
When I booked this I was a little sceptical if it would work and just a money grabbing exercise. Nora started showing a lot of issues of snapping at bella's face, being over powering towards not just Bella but towards us also. Going to bark busters was our only hope before looking at rehoming Nora which I didn't want to do if it could be helped as it was looking more and more likely she would need to be the only dog. Kevin from Barkbusters I have to say was amazing. He quickly identified the issues on listening to our problems and explained what Nora would be doing before we even did based on a small amount we shared with him. There felt like there was no rush, Kevin was very friendly and put us at ease from the outset. We are nearly a week on following Kevin's visit and both dogs are responding well to the training to the point the house feels different and more relaxed, we're not worried they will break out into a fight, able to feed them together now, listen to our commands and respond straight away. I can't thank Kevin for his help and highly recommend Barkbusters to anyone who is having any issues to the point you are at the end of your tether and near breaking point. It has really worked and we now have happy dogs and a very happy household.

D.L.

5th May 2019
I can also help if you are looking for a dog trainer in Exeter or Newton Abbot or Torqay
Services provided by Kevin
more...
how we can help you and your furry friend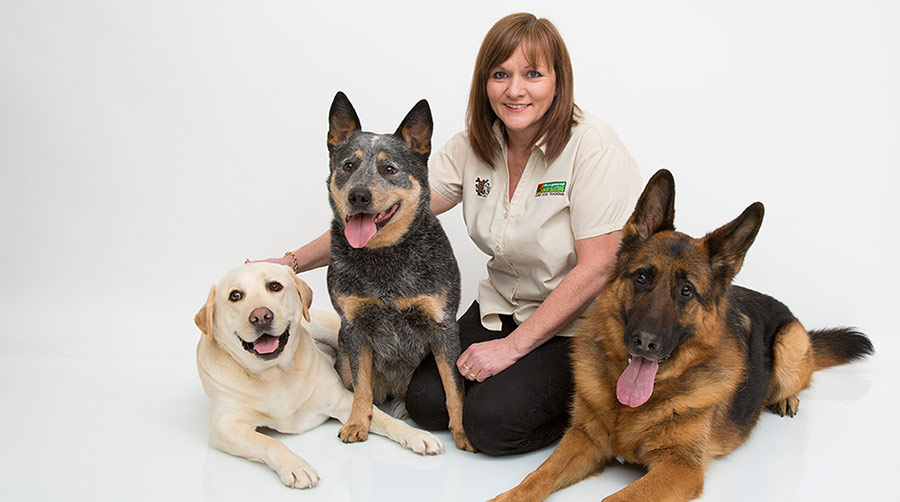 The Bark Busters communication methods help solve behaviour issues such as aggression towards people or other animals
Cure embarrassing habits like barking, jumping up on people, scratching & whining at doors or inappropriate toileting.
Create an obedient dog or puppy that will happily walk on the lead without tugging, sit or stay on command, and come immediately when called.
Set off-limit areas.
Reduce the stress of separation anxiety without the need for sedatives or drugs.
We teach you to communicate with your pet.
Do you find yourself shouting? Do you think your pet isn't listening to you? Maybe you're simply not speaking their language. The Bark Busters communication method is based on the way how our dogs communicate with each other and how they learn from older, more experienced members in the pack. This is what makes our training unique and effective.
Why do we train in your home?
Your pet lives with a family, in a home. This is where he spends most of his time and misbehaves most often, so this is where our programme is most effective. Our dogs learn by association. Bark Busters teaches him to listen in the home environment. If he does not listen at home, he will most probably not listen outside where there are far more distractions.
In your home we teach a one-on-one system without other distractions or the stress of being sent away from you to learn.
Of course, where you are experiencing problems outside the home such as pulling on the lead or dog aggression etc..., we will set up controlled situations in the park or wherever is most practical.