meet your specialist trainer Manda Denny
Leeds Dog & Puppy Training & Behaviour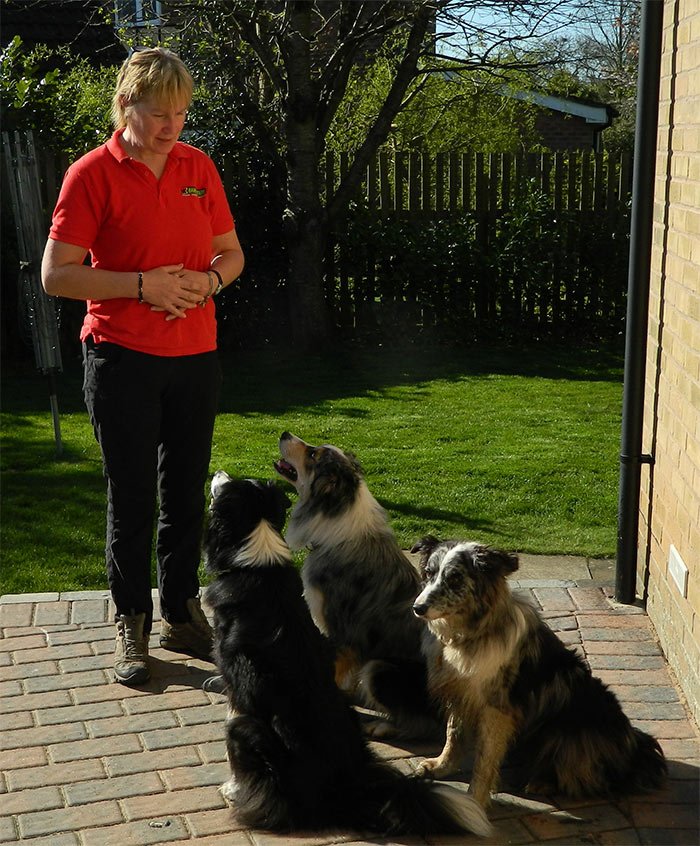 or call 0808 100 4071
I offer a variety of options to conduct lessons whilst maintaining social distancing. This includes home lessons, conducting lessons in your garden / open spaces and using video conferencing where applicable. We have introduced a new "Home Lesson Risk Assessment" to help to combat the spread of the virus.
Fast and effective home dog training Leeds. Manda Denny is a qualified PPDTI (Adv) and Grand Master Trainer Behaviour Therapist.
Hi, I'm Manda Denny and I'm your local dog and puppy behaviour therapist. I'm happily owned and loved by 4 border collies. I'm a long-time dog trainer, qualifying to an Advanced level with The Dog Training Instructors Course (DTIC) and also the Pet Dog Training Institute (PDTI). I now also train people to become pet dog instructors as well as people to train their own dogs. I've run regular programmes for years, as well as masterclasses and furthered my career and joined Bark Busters back in 2006 to help dog owners like you in the Leeds area.
If you're looking for fast and effective dog training near you, then you've come to the right place. The route to good dog training and behaviour is creating a learning opportunity. Make it easy for your dog to learn and you will make it easy on yourself. Dogs, like people, do not handle stress. Barking, boisterousness and destructive behaviour, for example, is often a symptom of our dogs failing to understand what we expect or desire of them. Like us, they deserve to have an easy life.
In order to gain that easy life we have first to understand what is going on in our dog's head. I can help you with that so you are able to communicate with each other. Your training program will be just that… YOUR training programme, tailored to you and your dog. At Bark Busters we have long understood that cannot fit all so we look at everything that is going on in your dog's life.
My methods are positive, rewarding, humane and totally hands-off, until it's time to give your dog a fuss to reward the good behaviours. This approach is why I have been engaged to run classes for re-homed rescue dogs and why I have run sessions for rescue staff and vets in the understanding and handling of stressed dogs in their care. I don't just deal with dogs that pull, or who jump up or bark. I take a holistic approach to your situation with your dog which allows me to see success with more complex challenges such as Separation Anxiety and Aggression.
The system of training that I will teach you is simple to follow and easyt to understand and enables dog owners to get their relationship with their dog back on track. There is no need to shout or use physical force to get them to listen to you; you simply need to learn how to communicate with them so that they understand what you need of them. This is what I will show you from our very first lesson and what I will support you with for the duration of your Bark Busters Support Guarantee. My greatest job satisfaction comes from seeing a dog and owner learn to communicate again, watching your dog visibly relax and enjoy the training challenges and praise that he/she receives.
Calling in a professional to help you with behaviour problems and training needs, is nothing to be ashamed of and there's nothing to fear. My years of experience means that, whatever you are struggling with, you won't be the first person who I have helped with that issue, and you won't be the last. I love to help owners love their dog again, and it really is my pleasure to share my knowledge with you. Our training takes place in your home rather than in a class, so I can give you and your dog my undivided attention, listen to all of your concerns and develop a one-to-one personalised training programme.
I can help you train out unwanted behaviours, allowing you to train in new, desirable ones. I myself enjoy participating in a number of dog sports, and the skills you will work on with me really can allow you to go on to even very high drive activities if you want to. Just ask me and I'll show you how.
You only pay once and I return free of charge until you're happy that the problem is resolved. Not only that, if your dog develops a different problem it's all covered on the guarantee too, at no additional cost.
Manda was brilliant. I couldn't believe how well the dogs responded to her.

D.R.

15th December 2019
Services provided by Manda
more...
how we can help you and your furry friend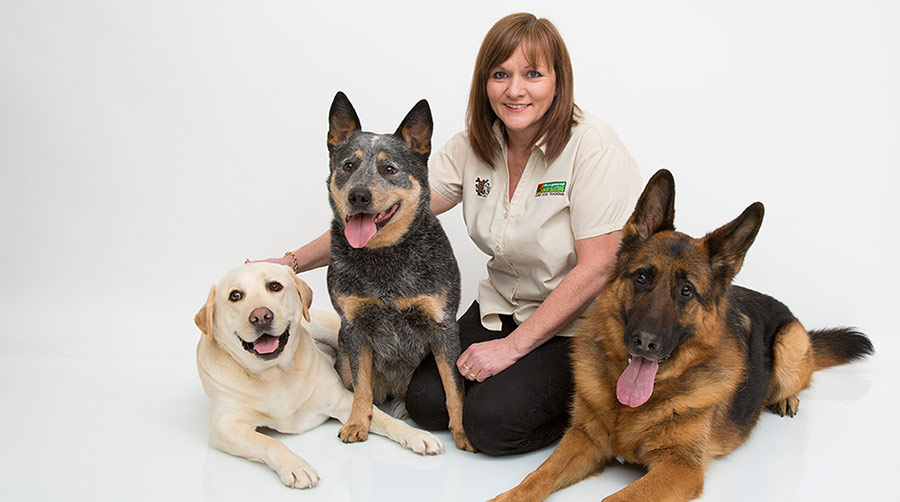 The Bark Busters communication methods help solve behaviour issues such as aggression towards people or other animals
Cure embarrassing habits like barking, jumping up on people, scratching & whining at doors or inappropriate toileting.
Create an obedient dog or puppy that will happily walk on the lead without tugging, sit or stay on command, and come immediately when called.
Set off-limit areas.
Reduce the stress of separation anxiety without the need for sedatives or drugs.
We teach you to communicate with your pet.
Do you find yourself shouting? Do you think your pet isn't listening to you? Maybe you're simply not speaking their language. The Bark Busters communication method is based on the way how our dogs communicate with each other and how they learn from older, more experienced members in the pack. This is what makes our training unique and effective.
Why do we train in your home?
Your pet lives with a family, in a home. This is where he spends most of his time and misbehaves most often, so this is where our programme is most effective. Our dogs learn by association. Bark Busters teaches him to listen in the home environment. If he does not listen at home, he will most probably not listen outside where there are far more distractions.
In your home we teach a one-on-one system without other distractions or the stress of being sent away from you to learn.
Of course, where you are experiencing problems outside the home such as pulling on the lead or dog aggression etc..., we will set up controlled situations in the park or wherever is most practical.