Puppy & Dog Training Newcastle Behaviour Therapist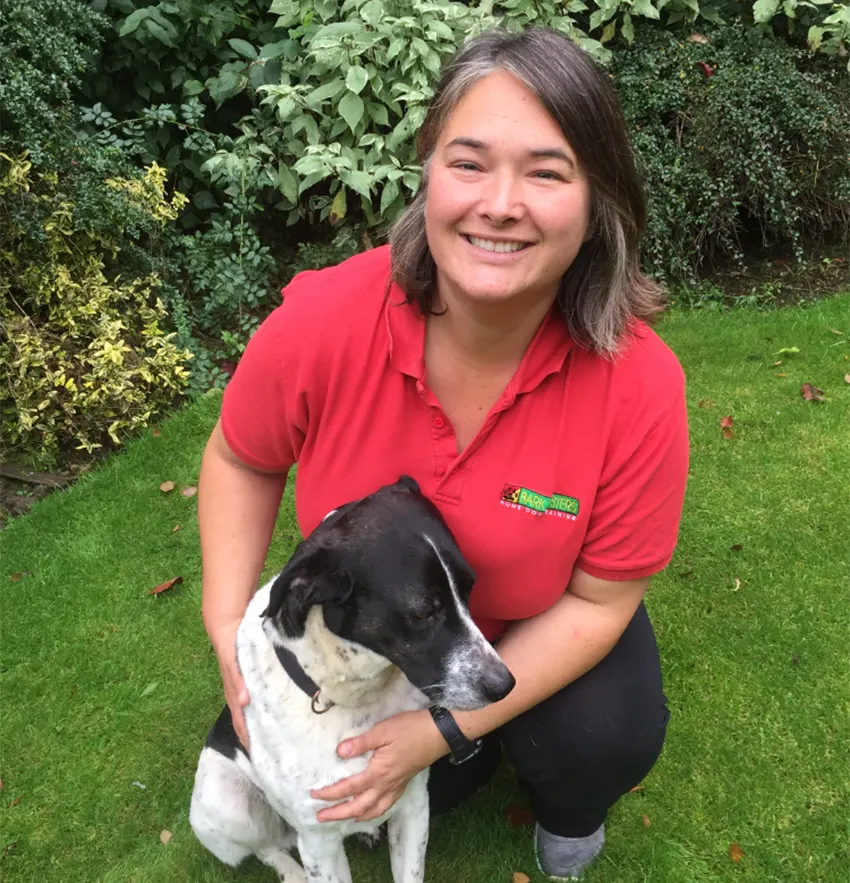 Welcome to dog training Newcastle, my name is Liz Johnson and I am your local behaviour therapist and trainer. I've been with Bark Busters for over 15 years and have fixed many types of problems using our easy to follow dog training system. In fact the first dog I trained was my own! I got Sam as a nine-month rescue dog and he had a whole load of problems. He pulled like a runaway train on his lead, spluttering, coughing and gasping for air. He lunged and threw himself at other dogs, ending up on his back legs and foaming at the mouth if I tried to pull him away. I couldn't trust him off lead around people, especially teenage boys or anyone with a reflective jacket, baseball cap, walking stick, wheel chair, carrier bag, woolly hat, rucksack etc (you get the picture... the list was endless of things he didn't like). He would circle and bark at any person he didn't like the look of and would not come back when I called him. He would disappear after rabbits and deer and be gone for hours on end. He chased cars and was hit THREE times and still didn't learn to keep out of the way. He was nearly shot once for chasing sheep, almost caused a major accident by frightening a passing horse rider and nearly put my mum in the hospital by pulling her over into a wall and almost knocking her out! Walks were not much fun! In the house he was a bit better. He wasn't destructive and didn't have separation anxiety but he would constantly pester me for attention, follow me around the house, even into the bathroom, scratch on the door to be let in or open the door himself if I wasn't quick enough and he barked - a lot!
He barked at the next door neighbours every single time they went into their back garden, he barked at people walking down the lane past our back garden. He barked if he saw someone through the window walking past our house and went berserk if they had a dog with them. He went crazy at the front door, jumped wildly all over friends he knew but suspiciously circled and growled at anyone he didn't know. I could never have him around children and any other animals as he'd go for them and he kept me awake all night by jumping on and off my bed and asking to be let out to go to the toilet every couple of hours. He was a delinquent dog and I was at my wits end! Before I got Sam I had heard about Bark Busters through my work as a journalist and had worked on some stories about them. Getting Sam was the catalyst that pushed me to make the change to become a Bark Buster. The training was rigorous and intensive but I loved it! Learning about dogs and their behaviour and their relationship with people kept me enthralled and being able to practise with my own dog and see immediate changes was so exciting. I learnt that most of his behavioural problems were because of the way I behaved with him so by changing the way I behaved brought big changes in the way he behaved. I had to work really hard with him but I got the results I wanted and now really enjoy going out with him. In fact he is now so good that he often accompanies me to work. I use him to help other dog-aggressive dogs to learn to behave properly and he calmly walks beside me and ignores other dogs barking at him.
The other dog I use a lot with work is a German Shepherd called Axle. He was another rescue dog that needed a new home due to his problem behaviour but after he stayed with me for a few weeks I knew I couldn't let him go! He now lives with my parents as a companion to their older dog but I have unlimited access to him and as he is so calm and gentle I use him around aggressive dogs.
I also own a Staffordshire Bull Terrier called Missy. She is the most laid back dog you are ever going to meet. In fact she appears to think she is more of a draught excluder than a dog! I got her as a puppy after I had been working with Bark Busters for a few years and applied the Bark Busters training to her from the beginning. It makes such a difference to start things off the right way! Unlike many of the hyper-active out of control staffies that I get called out to work with Missy is so calm and quiet and is an absolute joy to own. I have learnt so much about dogs and people through my time with Bark Busters and enjoy passing on as much of my knowledge as I can to my clients. It is so rewarding to see people at their wits end take control of their situation and improve the bond they have between themselves and their dogs - and start to enjoy having them as a pet again! Bark Busters has been around since 1989 and is constantly updating their knowledge and looking at every aspect of a dog's life that might affect their behaviour. Our aim is for you to enjoy your life with your pet and for your pet to enjoy its life with you. Time spent with your dog or taking it for walks should be a pleasure, not a chore you try to avoid. I teach you, the owner how to control and fix your dogs problems. Because my training is one-to-one and I spend 2-3 hours with you on my first visit plus free follow up training visits I have a high success rate. I can deal with all sorts of problems - from jumping up and pulling on the lead to aggression with dogs or people, separation anxiety and barking. Our methods are gentle, using body language and voice control. We do not 'bribe' with treats and we do not use any physical force. Let me help you to help your dog become the best it can be!
Areas Covered
Newcastle, Gateshead, Wallsend, North Sheilds, South Sheilds, Tynemouth, Whitley Bay, Wallsend, Shiremoor, Benton, Longbenton, Whickham, Felling, Gosforth, Killingworth, Wide Open, Walker, Cramlington, Blyth, Ashington, Morpeth, Corbridge, Hexham, Prudhoe, Ponteland, Bedlington, Rothbury
Your trainer is an independent business owner who operates their own business under a franchise agreement with Bark Busters. Liz Johnson trading as Bark Busters, is a franchisee of BBDT (UK) Limited, the Master Franchise holder.
Contact Your Local Trainer
My Service Ratings