meet your specialist trainer Tina Edwards
Sevenoaks Dog Training and Behavioural Therapist, Kent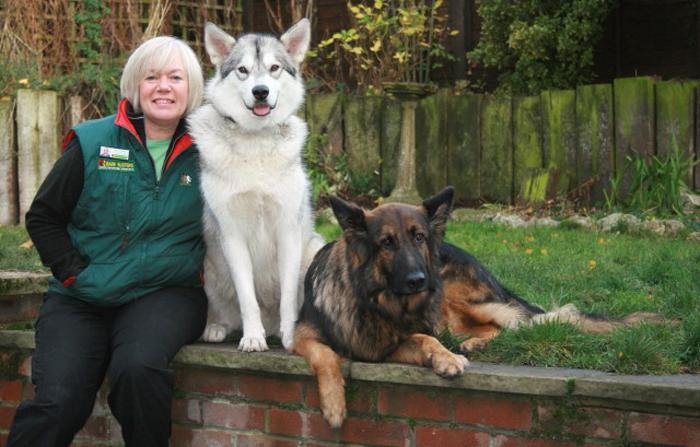 or call 0808 100 4071
I'm Tina Edwards, behaviour expert for Bark Busters Home Dog Training Sevenoaks.
Once upon a time there was a frustrated corporate director with no quality of life. Then……sorry, no fairy god mother, but I found Bark Busters Home Dog Training Sevenoaks and following completion of my training, my life changed to one full of quality, enjoyment and satisfaction.
For many years I had the daily slog commuting to London, with ever increasing time pressures and traffic delays. I worked in the insurance industry for over 30 years and decided to give myself the opportunity to work with animals; a long term ambition. I found Bark Busters Sevenoaks through a friend who was searching for help with her "teenage hooligan" dog and thought that their methods of helping dogs and owners just made perfect sense.
Having always loved dogs from my first reading of White Fang by Jack London, as a 12 year old, I developed a keen interest in their interaction both with humans and others of their own species. My first dog was a puppy Border Collie cross, a real character; unfortunately I didn't have the knowledge that I now have and thinking back I could have done a lot more to ensure that he was a better adjusted and calm member of my family. He did live until he was 17 years old though, so not all was bad! Since then I have only been without a dogs in my life for 6 months; all subsequent companions have been rescues, one arriving on a cold New Year's day from across the road! My neighbour who rescues animals could not cope with her. My current dogs are a Malamute cross Husky and a Romanian rescue both adopted from dog owners. They are gorgeous and have been challenging, both had serious issues that I have helped them to overcome and I enjoy seeing their personalities and way they interact and love life, every day.
Life can sometimes be pretty hectic rehabilitating dogs. Training my young dog takes patience and commitment, but is so rewarding. Chewing, stealing, guarding stolen items, often have a "mad half hour" usually when it's time for your favourite TV programme! Teaching a dog where he's supposed to toilet, not tear his bed to pieces not to steal off counters, to come back when called when it's so much more fun to play with other dogs, has been interesting, but being consistent and calm gives the results.
Not only have I experienced many forms of behaviour problems with customer's dogs, but over the years, helping my own rescue dogs through their own problems from aggression to leadwork and recall is very rewarding. Kind, patient, calm methods are the answer to behavioural problems and that's just what the Bark Busters Home Dog Training system provides. Dogs of any age or breed can be helped, so give me a call or email me to find out more about how I can help you with your dog.
Any problem, any breed, any age; with help, you too can enjoy a happy relaxed relationship with your dog, so do give me a call.
Tina was fabulous not only with training Zeus but myself too, such simple techniques and understanding the language required to communicate with my puppy has changed our whole relationship. I was feeling overwhelmed, unsure whether I would be capable of caring for Zeus and yet with Tina's help I feel confident that Zeus is going to be an asset to our family

S.S.

2nd January 2019
I can also help if you are looking for a dog trainer in Tunbridge Wells
Services provided by Tina
more...
Tina is a certified dog First Aider
how we can help you and your furry friend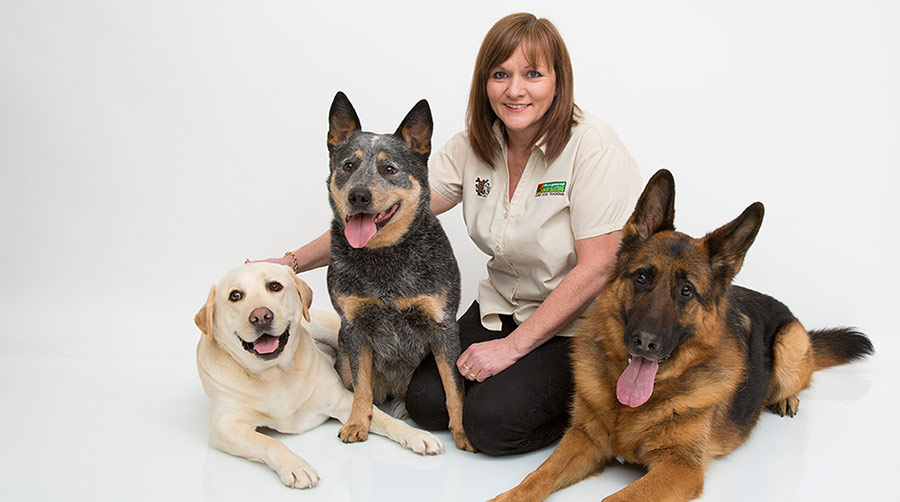 The Bark Busters communication methods help solve behaviour issues such as aggression towards people or other animals
Cure embarrassing habits like barking, jumping up on people, scratching & whining at doors or inappropriate toileting.
Create an obedient dog or puppy that will happily walk on the lead without tugging, sit or stay on command, and come immediately when called.
Set off-limit areas.
Reduce the stress of separation anxiety without the need for sedatives or drugs.
We teach you to communicate with your pet.
Do you find yourself shouting? Do you think your pet isn't listening to you? Maybe you're simply not speaking their language. The Bark Busters communication method is based on the way how our dogs communicate with each other and how they learn from older, more experienced members in the pack. This is what makes our training unique and effective.
Why do we train in your home?
Your pet lives with a family, in a home. This is where he spends most of his time and misbehaves most often, so this is where our programme is most effective. Our dogs learn by association. Bark Busters teaches him to listen in the home environment. If he does not listen at home, he will most probably not listen outside where there are far more distractions.
In your home we teach a one-on-one system without other distractions or the stress of being sent away from you to learn.
Of course, where you are experiencing problems outside the home such as pulling on the lead or dog aggression etc..., we will set up controlled situations in the park or wherever is most practical.