meet your specialist trainer Liz Johnson
Home Dog Training & Behaviour Therapist in Sunderland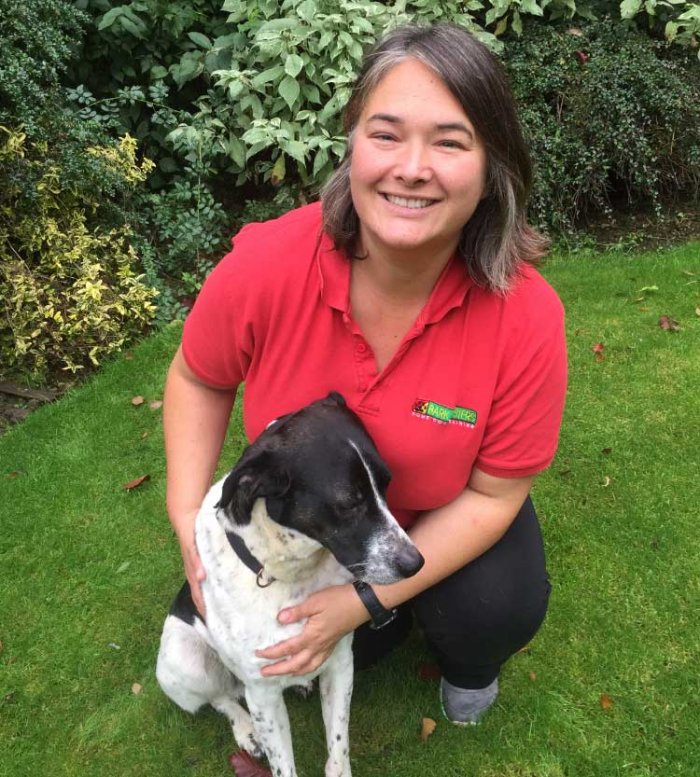 or call 0808 100 4071
Hello, I'm Liz Johnson your local behaviour therapist for Bark Busters Home Dog Training Sunderland.
I've been the Bark Busters Home Dog Training therapist in this area for over 10 years. I am confident that I can help you with whatever dog behaviour problems you are having by teaching and guiding you on how to use our simple to follow dog training system.
Experience has taught me the value of understanding the needs of both the client and their dog. This means that every training session is tailored to your specific needs, your time constraints, and the personality of your dog. As the training takes place in your home, your dog will be less stressed, more relaxed and behave naturally, as will you. This means that you will both find it easier to learn without pressure or judgement.
The Bark Busters training methods make it possible to resolve dog behaviour issues; It creates relaxed and contented dogs living with empowered owners! That's what makes my job so rewarding and why I love being part of the Bark Busters team.
A little about Liz Johnson
My career as a dog trainer came from unusual beginnings. I was working as a freelance journalist in London when I came across a story about Bark Busters successfully changing the life of a nervous Rottweiler that had been too scared to leave the house. By training the dog and the owners together, he learnt to trust his owners and was soon walking happily to the park every day. This story led me to research further into the Bark Busters training methods, and their success stories. What I didn't know then was that this research would change the direction of my life by inspiring me to train to become a Bark Busters Home Dog Training therapist myself in the North East and Sunderland areas.
Not only did I love the ethos of the training system, I was able to gain first-hand experience of its effectiveness. I was able to put the techniques into practice with my own dog who I had recently rescued, and who was causing a nuisance in the neighbourhood with his constant barking, and his dog and stranger aggression. I saw how quickly he responded to my newly-acquired knowledge of how to be a kind, consistent and reliable leader, and he was soon far more relaxed knowing that he did not need to worry about other dogs, strangers, or people walking past the house. I was absolutely delighted, as were my neighbours!
It's because of the rewards that come from knowing how to communicate with dogs in a gentle force-free way that I love passing on as much knowledge as possible to my clients. My job satisfaction comes from seeing the changes in the dog/owner relationship, and from seeing my clients' new-found respect and love for their dog.
All dog problems covered
Whatever dog behaviour issues you might be struggling with, I'm confident I can help. From separation anxiety, pulling on the lead, walking, recall, barking, sibling rivalry, dog aggression, stranger aggression, to constant jumping up or, indeed, any other form of unwanted behaviour from your dog, I'm positive that I will be able to help you just like I have done with hundreds of clients before.
My job is to show and guide you through the training process without judgement, and to support you every step of the way. At the end of our first lesson, you will receive from me a set of written guidelines, notes and training instruction as well as printed material that consolidate your understanding of what you have learnt during the lesson. After that, my support guarantee means that I will be available to help and support you throughout the duration of the term that you have purchased.
Bark Busters has been around for over 28 years, and we are constantly updating our knowledge base. Our holistic approach means that we look at every aspect of a dog's life that might impact their behaviour.
If you'd like to improve your relationship with your furry friend, make walks more enjoyable, and feel confident in your dog's behaviour, give me a call, I'd love to meet you and your dog.
Liz was very professional and fully explained the training procedure which both dogs responded to immediately. It is now almost a week since the first session and we can see a huge difference in both dogs who now can lie beside each other rather than chasing and biting.

P.L.

28th January 2020
Services provided by Liz
more...
how we can help you and your furry friend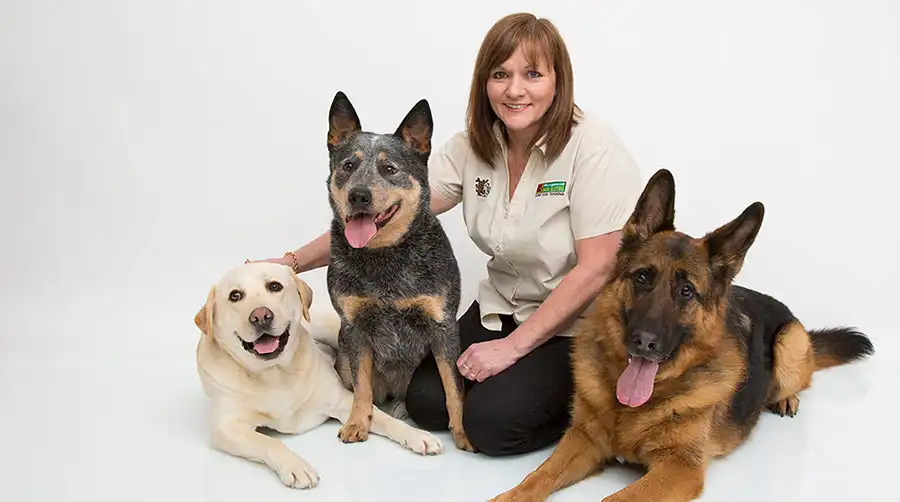 The Bark Busters communication methods help solve behaviour issues such as aggression towards people or other animals
Cure embarrassing habits like barking, jumping up on people, scratching & whining at doors or inappropriate toileting.
Create an obedient dog or puppy that will happily walk on the lead without tugging, sit or stay on command, and come immediately when called.
Set off-limit areas.
Reduce the stress of separation anxiety without the need for sedatives or drugs.
We teach you to communicate with your pet.
Do you find yourself shouting? Do you think your pet isn't listening to you? Maybe you're simply not speaking their language. The Bark Busters communication method is based on the way how our dogs communicate with each other and how they learn from older, more experienced members in the pack. This is what makes our training unique and effective.
Why do we train in your home?
Your pet lives with a family, in a home. This is where he spends most of his time and misbehaves most often, so this is where our programme is most effective. Our dogs learn by association. Bark Busters teaches him to listen in the home environment. If he does not listen at home, he will most probably not listen outside where there are far more distractions.
In your home we teach a one-on-one system without other distractions or the stress of being sent away from you to learn.
Of course, where you are experiencing problems outside the home such as pulling on the lead or dog aggression etc..., we will set up controlled situations in the park or wherever is most practical.
Your trainer is an independent business owner who operates their own business under a franchise agreement with Bark Busters. Liz Johnson trading as Bark Busters, is a franchisee of BBDT (UK) Limited, the Master Franchise holder.