Cannock Dog & Puppy Training & Behaviour Therapist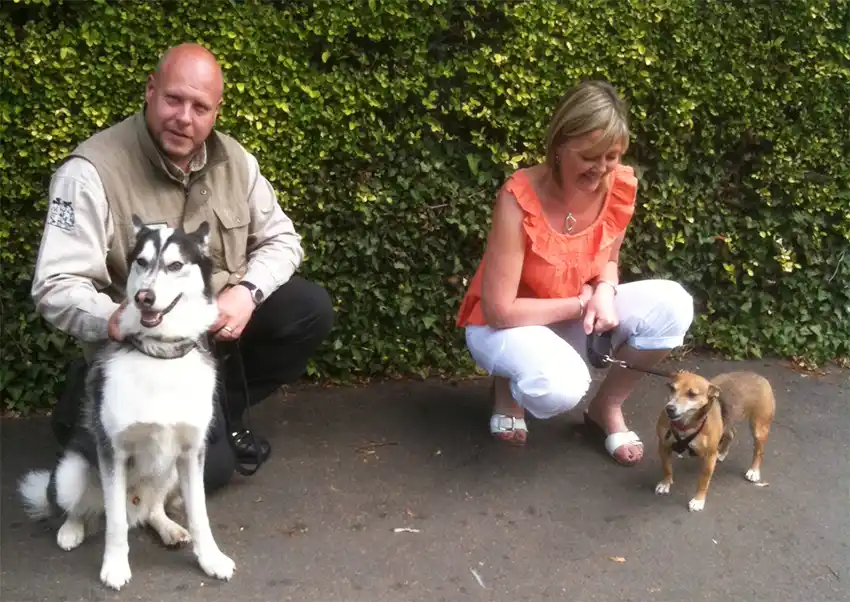 Hello, I'm Lee Hardy of Bark Busters Home Dog Training Cannock and I'm here to help with your dog behaviour problems, general training and puppy education.
A dog trainer, who would have thought that would end up being my career when I rescued Rannan, an 18-month old female black Labrador, from the RSPCA in August 1998. There she was in the kennel with a male Collie cross called Houdini, both quite relaxed with each other and very calm for dogs in kennels. The staff loved her and said she was quite responsive to commands so probably wouldn't require much training. Home check done, papers signed and home she came. She was very friendly, loved people and dogs, especially my friend's Collie who taught her to swim. You would think I fell on my feet in getting such a wonderful dog. Her walking to heel was excellent and her recall was brilliant. Her general obedience, for a dog that was in a rescue, was second to none and it looked as if all the training with her during her time at the RSPCA had been remembered.
However, the first behaviour problem with Rannan appeared 6 months after getting her home. Her recall started to become hit and miss and during this time she started to show signs of aggression. First, she started with dog aggression, she would run off and seek out dogs to bully, charging at them head on knocking them to the ground or rolling them. As her bullying behaviour became more aggressive, I had to keep her on the lead around other dogs. Soon after stranger aggression followed. One day in a quiet park, I let her off lead and what followed was a very serious incident where she knocked over a lady and stood over her barking. I was horrified and realised I needed urgent help if I was to save Rannan from a one-way trip to the vet.
I searched high and low for a dog trainer near me that could help. Most were saying she could not be helped as she was too aggressive, especially now she had started to show food aggression to me around her bowl. I was starting to feel lost until I come across Bark Busters. The calm communication methods, using voice tone and body language, along with the various daily exercises I was given, worked miracles and my relationship with Rannan changed almost instantly. She stopped making her own decisions and focused on me instead. It enabled me to get my Rannan back.
Fast, Effective & Long Lasting Results
Proven Training That Works
All Problems Addressed
Any Dog, Any Age, Including Puppies

It has been said that you never learn anything from an easy dog and that was certainly true with Rannan! I was over the moon and it was while I was working with her that someone suggested I'd make a good dog trainer. That comment 20 years ago changed my life and in the year 2000 I joined Bark Busters.
As dog trainers and behaviour therapists, it's up to us to teach you how to control and retrain your dog with consistent, calm, kind, easy to follow methods so that you can enjoy having a dog to be proud of, on and off lead.
To date I have now helped over 4,000 dogs and their owners. Assessing the root cause of the issues, which then leads to the tailor-made training programme. Showing and teaching the family the Bark Busters methods of communication, which dogs instinctively understand and not leaving until the family have successfully carried out the exercises demonstrated, thereby giving them the confidence that they can continue with the daily work to change their dog into a well-balanced responsive member of the family. Of course, our Support Guarantee is in place to ensure that you never have to worry if things go wrong.
I have worked with many different breeds, from the largest Mastiffs to the smallest Chihuahuas. I work will all behaviour problems from severe aggression to general puppy training. It is very rewarding helping dog owners like you with a huge variety of issues from giving puppies a great start in life to helping with recall, pulling, jumping up, aggression, separation anxiety, nuisance barking and much more.
If you are a first time dog owner or an experienced one, but you and your dog are not happily enjoying each other's company, call me, regardless of your dog's age, breed or behaviour, to hear about how I work, and the Bark Busters' unique Lifetime Support Guarantee that will ensure you always have someone to turn to for help should you need it.

Lee accepts debit/credit cards

Lee is first aider trained
Areas Covered
Your trainer is an independent business owner who operates their own business under a franchise agreement with Bark Busters. BBD Home Training Limited trading as Bark Busters, is a franchisee of BBDT (UK) Limited, the Master Franchise holder.
Contact Your Local Trainer
My Service Ratings
My Media Gallery