Puppy & Dog Training Birmingham Central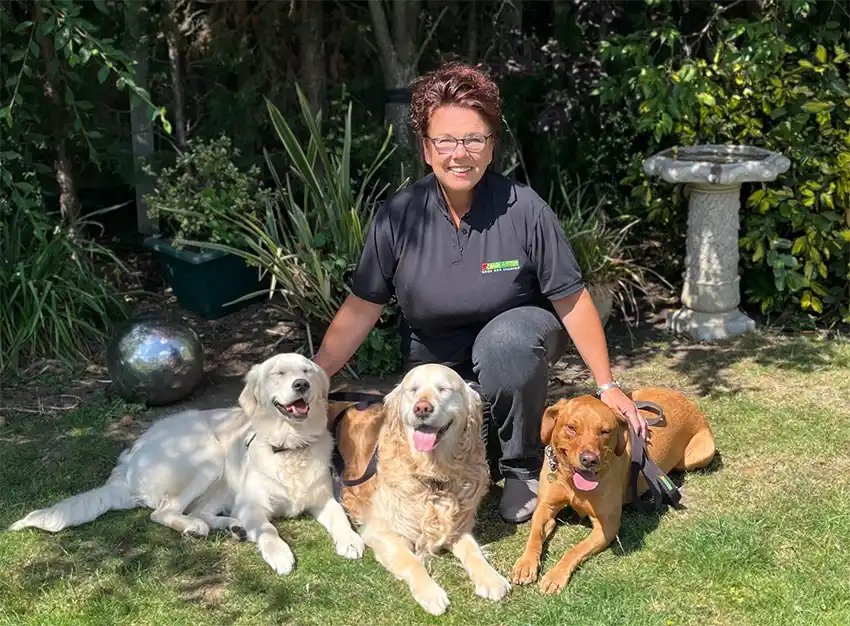 Welcome to dog training Birmingham, my name is Kirsty Dudfield and I am your local Bark Busters dog behaviour therapist and trainer. I'm here to help you with your general training needs or to resolve all your dog's behaviour problems. My training is one-to-one and conducted in your home where you and your dog are less stressed, most relaxed, and where you can take the time to focus on your dog without distractions. I come to you at a time that suits you and we work together to resolve those unwanted behaviours that are causing you problems and putting strain on your relationship with your dog.
About me
My career with animals first started out with horses, which was a passion of mine since owning my first pony at four years of age. After leaving school I moved away from home to continue my professional training and competing with my horses. My training including gaining relevant equine qualifications in teaching, which helped me set up my first business at the age of 21. Being self-employed at such an early stage taught me quickly about the importance of a good work ethic and excellent customer service. I have trained in many different countries around the world and my focus and enjoyment was always training and helping people to build a better relationship and understanding of their horse.
Horse yards and dogs have always gone hand in hand. As a family we always had dogs around us, so as soon as it was suitable, I got my first dog who was a long-haired German Shepard called Elka. She was my soul mate and best friend, coming to work with me all day and every day until she passed away at 13 years of age. This was when my passion for training and my understanding of dog behaviour came into play. You may wonder how training horses and dogs is similar. It is about understanding your pet and what they are trying to tell you. They cannot use words to communicate so being able to communicate in a way that they can understand is key. Reading their body language, being calm and patient, showing great leadership and learning how to communicate with them in a kind and consistent manner, is hugely important. Dog owners who are frustrated with their dog's behaviour often try to do the right thing, but confusion can set in with their dog, or their timing could be off, which impacts their dog's ability to understand what is wanted of them.
After getting married and starting a family it wasn't possible to continue with my equine business, so I chose to deploy my skills and passion from equine to canine. One of my clients worked with guide dogs and suggested that I should work with guide dogs too. As I had a lot of experience in teaching animals, I decided to go down the path of being a brood bitch holder for Guide Dogs for the Blind. I received a beautiful Golden Retriever called Chloe, and over the years we went on to welp 35 puppies together, with each litter living with us as part of the family for the first part of their lives. Most of her puppies went on to become guide dogs too, and some went on to be medical detection dogs. Chloe has now retired from the guide dogs and will live the rest of her life as a loved member of our family. We also have a new addition to our family. Her name is Willow and she is a 16-week-old Golden Retriever who is currently testing out all of the Bark Busters puppy training techniques to the max.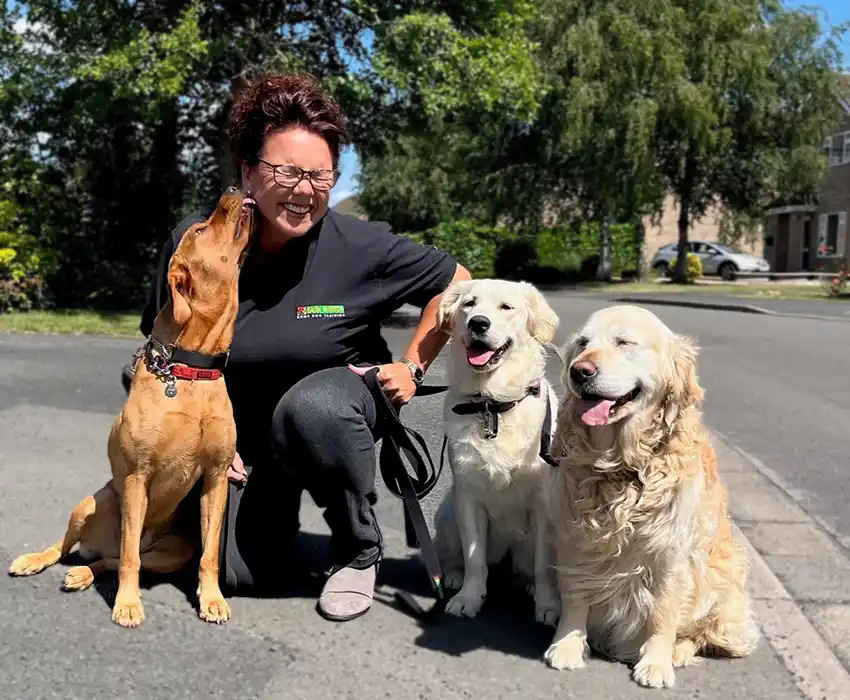 My training system
If you are looking for professional dog training near you in Birmingham Central including Smethwick and Castle Bromwich areas, then you have found the right place. My system is straight forward, easy to use and understand, by both you and your dog. There are no physical harsh methods and I believe hands are for praise and reward. We will work together to ensure that your dog is listening to your voice tones, watching your body language and understands what you want from him/her. I can help you with all problems such as aggression to other dogs, aggression to people, sibling rivalry, separation anxiety, excessive barking, destructive behaviour, toileting, boisterousness, pulling on the lead, recall and much more… I also offer puppy training so that you can get off to the right start with your puppy.
My lessons will be packed full of activities and information so that you feel you have lots to continue to work with. You will receive lots of written information and follow-up training tips to help you absorb and consolidate what you have learnt. I want to ensure you get the best value possible from my training system.
Our written Support Guarantee will also give you peace of mind that I will return, free of charge, to support and guide you through the term that you have purchased. You can feel confident knowing that I am only a phone call or an email away from continuing to help you if you struggle.
Contact me
I'd love to help you find a way towards a better relationship with your dog or puppy so please do give me a call on 0808 100 4071 or simply click the green button, to book your training, and I hope to meet you very soon.

Kirsty accepts debit/credit cards

Kirsty is first aider trained
Areas Covered
Handsworth, Birmingham, Winson Green, Aston, Bearwood, Brown's Green, Saltley, Ward End, Shard End, Bordesley, Yardley, Small Heath, Ladywood, Harborne, Edgbaston, Moseley, Balsall Heath, Water Orton, Coleshill, Kingshurst, Glebe Farm, Castle Bromwich, Vauxhall, Smethwick, Chad Valley, Whitacre Heath
Your trainer is an independent business owner who operates their own business under a franchise agreement with Bark Busters. Kirsty Dudfield trading as Bark Busters, is a franchisee of BBDT (UK) Limited, the Master Franchise holder.
Contact Your Local Trainer
My Service Ratings