meet your specialist trainer Gina Williams
Home dog & puppy training Cardiff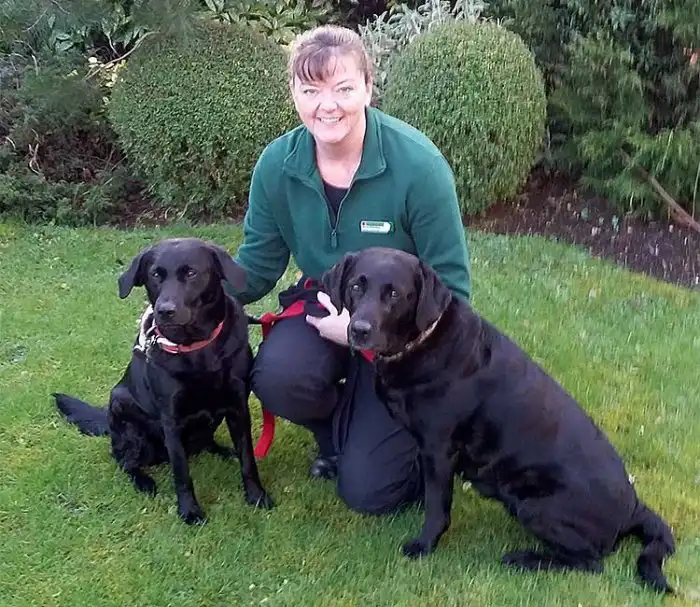 or call 0808 100 4071
Welcome to dog training Cardiff, my name is Gina Williams, your local dog behaviour therapist and trainer. If you are reading this, you are probably as passionate about your dogs as I am. However, you are possibly struggling with aspects of his/her behaviour that you can't seem to control. Knowing that I can help you gives me great job satisfaction and proves to me that I was right when I took the opportunity to fulfil my ambition of working with people and their dogs as a Bark Buster Home Dog Training therapist.
If you are looking for dog training near you, then you've come to the right place. I can help you whatever problem(s) you are having with your dog's behaviour. Very often we think our dog is not listening to us when, in fact, our dog is listening but the information we are giving is confusing. Our training programme is based on the principle that we need to communicate with dogs in a way they understand. We keep it simple and straightforward, clearing the way for you to have a better relationship with your best friend.
You will very quickly master our system and communication and this will give you the confidence to practise consistently each day and build a lasting bond with your dog. Before becoming a Bark Busters therapist, I worked for many years in the corporate world. This means that I possess the skills needed to coach people and to build the confidence and skills of the clients I work with. Through my advice and guidance, you will be able to retrain your dog and address the issues that are may be spoiling your relationship. Whether your problem is simply mastering lead work, or as challenging as dog/human aggression, or separation anxiety, our communication-based training methods will help you to achieve your goals.
My dog & puppy training customer reviews


I speak from personal experience, having owned many dogs throughout my life, all of whom were challenging in various ways. Like you, I always wanted to do the best for my dogs, but sometimes I wasn't sure how to go about it. There is so much confusing and conflicting advice out there that I wasn't sure where best to turn. Once I was introduced to the Bark Busters method of dog training I realised that I had been making simple problems complicated, and that this easy, fast and effective approach was all that was needed to make the changes I needed.
I can also help you if you are thinking of getting a puppy or a rescue dog and would like to start as you mean to go on. Your training plan will be tailored to your needs and those of your dog. You will be prepared for potential future issues and know how to deal with them. Our puppy training is based on learning through play; it also gives you all you need to know about owning a happy, healthy puppy.
Every programme starts in your home and is designed to suit you and your dog. I will help you to identify the way forward, and to show you how to implement the training, allowing you lots of opportunity to practise and perfect your techniques. I will also be able to show you how your dog is beginning to respond to you differently, now that you are learning to communicate with him. I will leave you with a training plan to work through.
I see the Bark Busters training working amazingly well time after time after time and I never lose my enthusiasm or dedication to our training method because it really does work quickly, in the kindest way and it helps to enrich the lives of our clients and their dogs. We all want our dogs to respect us and live a happy relaxed life. We want you to have a calm, well balanced, happy dog that has love, trust and respect and for you to have a strong mutual bond, knowing that you are doing your very best for your dog.
Please don't waste any more time wishing your dog was easier to handle or less anxious and not knowing what to do about it. Unfortunately we all come to realise that their lives are too short and we wish that we had resolved their issues earlier so that we and our dogs find happiness and harmony for as long as possible. If you are undecided whether Bark Busters is the right choice for you, please visit my client reviews and take a few moments to read their stories. You may recognise the behaviours that your dog has and you can see how Bark Busters has helped them.
I'm here to help you, to achieve very fast results. I look forward to meeting you and your best friend. Don't delay any longer, it's now time to stop worrying, Bark Busters is here to help you. Give me a call and I'll be on my way to see you!
You only pay once and I return free of charge until you're happy that the problem is fixed. Not only that, if your dog develops a different problem it's all covered on the guarantee too, at no additional cost.
I can also help if you are looking for a dog trainer in Bridgend
We were extremely impressed with Gina's knowledge and professionalism. From the moment she walked in, we knew we had done the right thing in calling her. She explained how dogs get stressed, and how this impacts on their behaviour. We had been using treats for everything, and were concerned about stopping. But Mac went cold turkey, and it worked immediately. Indeed we can see now that treating constantly for everything, actually increases stress levels, as the dog is permanently on edge. Gina explained how extremely simple body language and voice control, would soon overcome many problems, such that Mac was lying asleep between us all within about forty minutes of the session starting, and he is usually pacing around or just on alert. He is extremely chilled, around the house, and on walks on the lead. His aggression to us, and me in particular has all but vanished. His jumping up is much better. Not 100%, but almost. Pulling is almost gone, just starting off at road crossings, pulling to a lamp post (!) need work. We were told this first sessions learning would take 4-6 weeks to bear fruit, but after less than a week, it's looking good. There's still room for improvement, as it's early days, but work in progress, as they say. His recall needs extra tuition, and that's why we are eagerly awaiting lesson two. We can thoroughly recommend Gina, and would do so happily if asked.M.H.

6th December 2020
Services provided by Gina
more...
Gina is a certified dog First Aider
how we can help you and your furry friend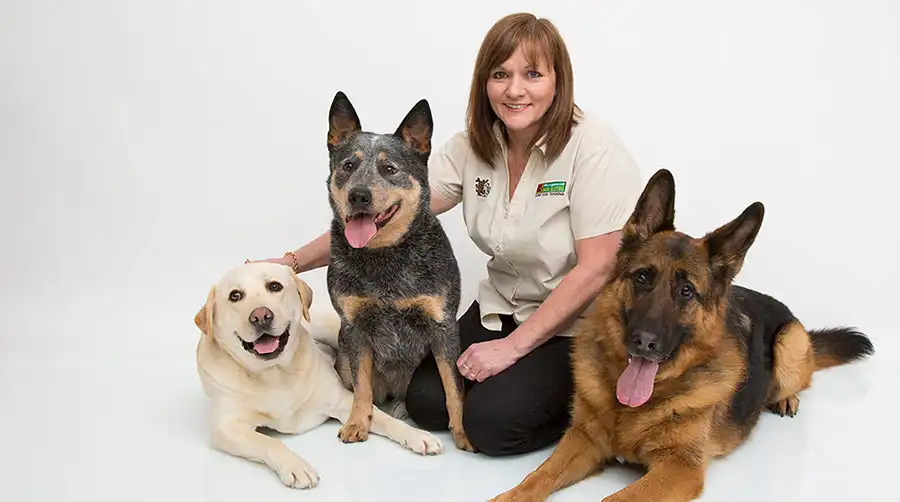 The Bark Busters communication methods help solve behaviour issues such as aggression towards people or other animals
Cure embarrassing habits like barking, jumping up on people, scratching & whining at doors or inappropriate toileting.
Create an obedient dog or puppy that will happily walk on the lead without tugging, sit or stay on command, and come immediately when called.
Set off-limit areas.
Reduce the stress of separation anxiety without the need for sedatives or drugs.
We teach you to communicate with your pet.
Do you find yourself shouting? Do you think your pet isn't listening to you? Maybe you're simply not speaking their language. The Bark Busters communication method is based on the way how our dogs communicate with each other and how they learn from older, more experienced members in the pack. This is what makes our training unique and effective.
Why do we train in your home?
Your pet lives with a family, in a home. This is where he spends most of his time and misbehaves most often, so this is where our programme is most effective. Our dogs learn by association. Bark Busters teaches him to listen in the home environment. If he does not listen at home, he will most probably not listen outside where there are far more distractions.
In your home we teach a one-on-one system without other distractions or the stress of being sent away from you to learn.
Of course, where you are experiencing problems outside the home such as pulling on the lead or dog aggression etc..., we will set up controlled situations in the park or wherever is most practical.
Your trainer is an independent business owner who operates their own business under a franchise agreement with Bark Busters. Gina Williams trading as Bark Busters, is a franchisee of BBDT (UK) Limited, the Master Franchise holder.