Puppy & Dog Training Chester and Wrexham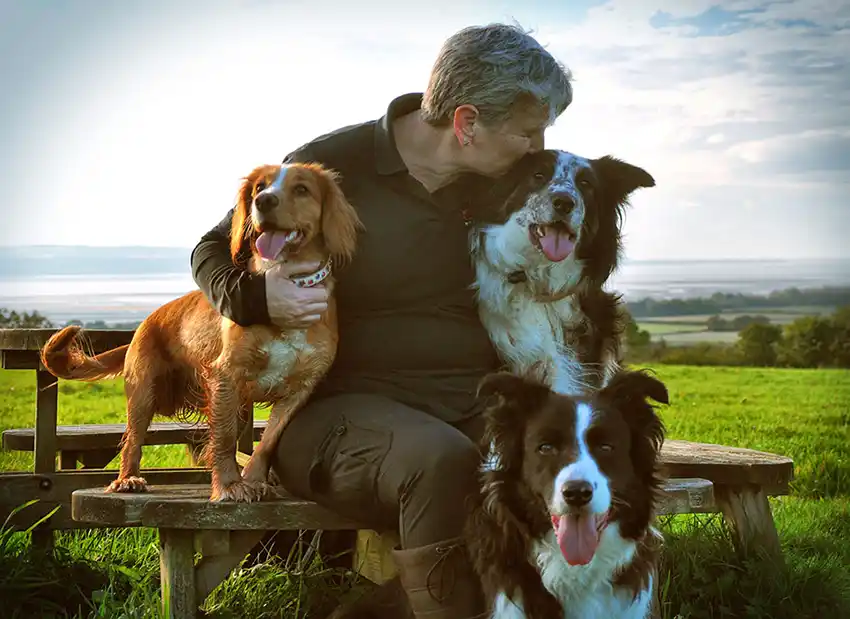 Welcome to dog training Chester and Wrexham, I am Sharon Chapman your local Bark Busters dog behaviour therapist and trainer. I've been working with Bark Busters for over 10 years, and I've helped thousands of dog owners like you to resolve all manner of behaviour problems. I know how frustrating people can find their dog's behaviour, especially when there seems to be no reason for it, or struggle to resolve it.
I know from experience that one of the most important steps on the road to having a happy dog and a happy family is to communicate consistently with your dog in a way they understand. Finding the answer to the problem behaviour comes from understanding your dog and discovering the reasons for the behaviour.
If you are looking for professional dog training near you, then you have found the right place. My dog training is conducted on a one-to-one basis in your home. This means your dog will be less stressed or distracted and more relaxed in their familiar surroundings, and they will be able to learn quicker. From our very first lesson, you will have time to describe to me the problems you are having, and I will help you get started on your training programme so that you and your dog understand one another better and begin to eliminate your dog's problem behaviours
I deal with all kinds of problems from barking, pulling on the lead, jumping up, mouthing, aggression, separation anxiety, sibling rivalry and much more. My non-physical, gentle, and kind approach uses the same communication systems that dogs follow naturally, body language and voice tone. I really love meeting people and passing on the information they need to understand and solve their dog's unwanted behaviour problems.
As a dog owner myself, I understand that dog training requires consistency and commitment, and the thought of taking on a dog trainer can be a daunting one. Our lessons will be informal and fun whilst also giving you practical guidance on how to bring the best out of your dog.
I have been involved with dogs all my life and have owned Border collies, and more recently we have added a working Cocker Spaniel to our family. Their temperaments are completely different, which is something that confirms to me the importance of understanding your dogs.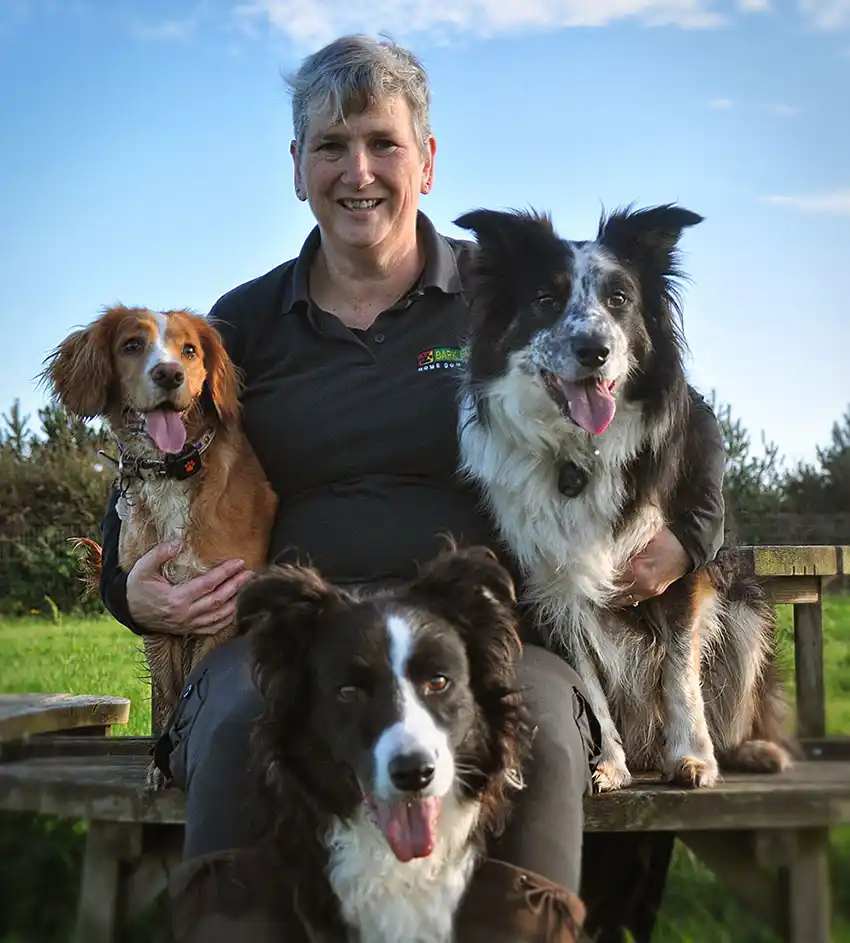 My Border Collies have done a variety of sports and competitions, such as obedience, agility and flyball, and one was also a registered therapy dog. I continue to assess dogs in and around the Chester, Wrexham and North Wales area, for 'Therapy Dogs Nationwide', so that people who might be struggling due to ill health, can enjoy the rewards that come from the human/canine bond. I also regularly volunteer at Friends of Birkenhead Kennels, where I help to socialise and rehabilitate dogs so that they can find new homes.
I have completed the PDTI Level 3 Practical Instructing Course and hold an "Applied Instructing Skills" award too. I understand that both dogs and people learn at different paces, and in different ways, so my training is always tailored to you and your dog.
You can also relax in the knowledge that my Bark Busters Support Guarantee means that I will return, free of charge, to support you, for the either one year or the life of your dog, depending on the service you purchase. I will also leave you with clear written training plan, instruction, and information to help you when you practice the training.
I'd love to meet you and help you to bring the best out of your dog.
If you'd like to know more, you can visit my Facebook Page:
https://www.facebook.com/BarkBustersWirralChesterAndNorthWales.
Here you'll find lots of useful advice and information for dog owners like you too.
I can also help you if you're looking for a trainer in North Wales

Sharon accepts debit/credit cards

Sharon is first aider trained
Areas Covered
Chester, Rhyl, Prestatyn, Wrexham, Llandudno, Colwyn Bay, Conwy, Caernarfon, Ruthin, Llangollen, Flint, Bala, Anglesey, Denbigh, St. Asaph, Mold, Queensferry, Bangor, Holyhead, Holywell, Snowdonia
Your trainer is an independent business owner who operates their own business under a franchise agreement with Bark Busters. Sharon Chapman trading as Bark Busters, is a franchisee of BBDT (UK) Limited, the Master Franchise holder.
Contact Your Local Trainer
My Service Ratings