meet your specialist trainer Sharon Chapman
Chester Puppy & Dog Training Behaviour Therapist • Wrexham • North Wales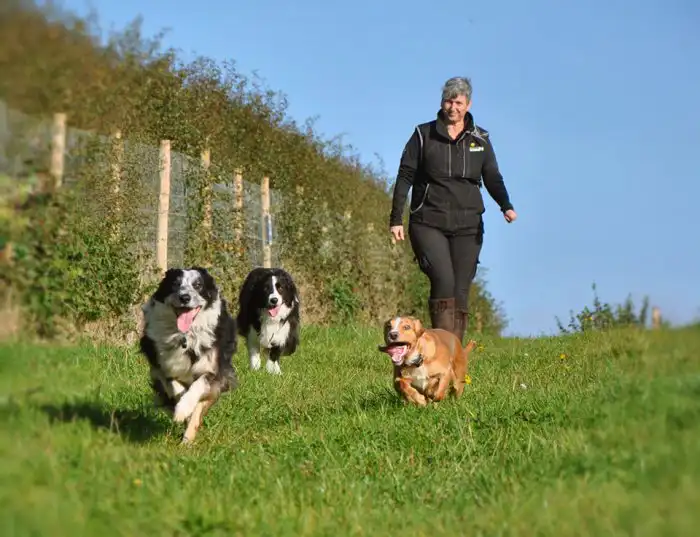 or call 0808 100 4071
Sharon Chapman dog training Chester is your local behaviour therapist for Bark Busters and also operates in Wrexham and North Wales. I've been working as a Bark Busters dog trainer and behaviour therapist in your area for over 10 years. I've met lots of dogs and their owners during this time and I know how frustrating people can find their dogs' behaviour when they don't understand the reasons for it, or how to resolve it.
If you're looking for quality dog training near you, then you've come to the right place. I know from experience that one of the most important steps on the road to having a happy dog and a happy family is to communicate consistently with your dog in a way they understand. Also, finding the answer to the problem behaviour comes from understanding your dog and discovering the reasons for the behaviour.
My dog training is conducted on a one to one basis in your home. This means your dog will be less stressed or distracted, more relaxed in his familiar surroundings and able to learn quicker. From our very first lesson, you will have time to describe to me the problems you are having, and I will help you get started on your training programme so that you and your dog understand one another better and begin to eliminate your dog's problem behaviours
I deal with all kinds of problems from barking, pulling on the lead, jumping up, and mouthing to aggression, separation anxiety, sibling rivalry and much more. My non-physical, gentle and kind approach uses the same communication systems that dogs follow naturally; body language and voice tone. I really love meeting people and passing on the information they need to fix their dog's problems.
As a dog owner myself, I understand that dog training requires consistency and commitment, and the thought of taking on a dog trainer can be a daunting one. Our lessons will be informal and fun whilst also giving you practical guidance on how to bring the best out of your dog.
I have been involved with dogs all my life and currently own two beautiful border collies, "Rafa" and "Wizard". Their temperaments are completely different; something that confirms to me the importance of understanding your dog.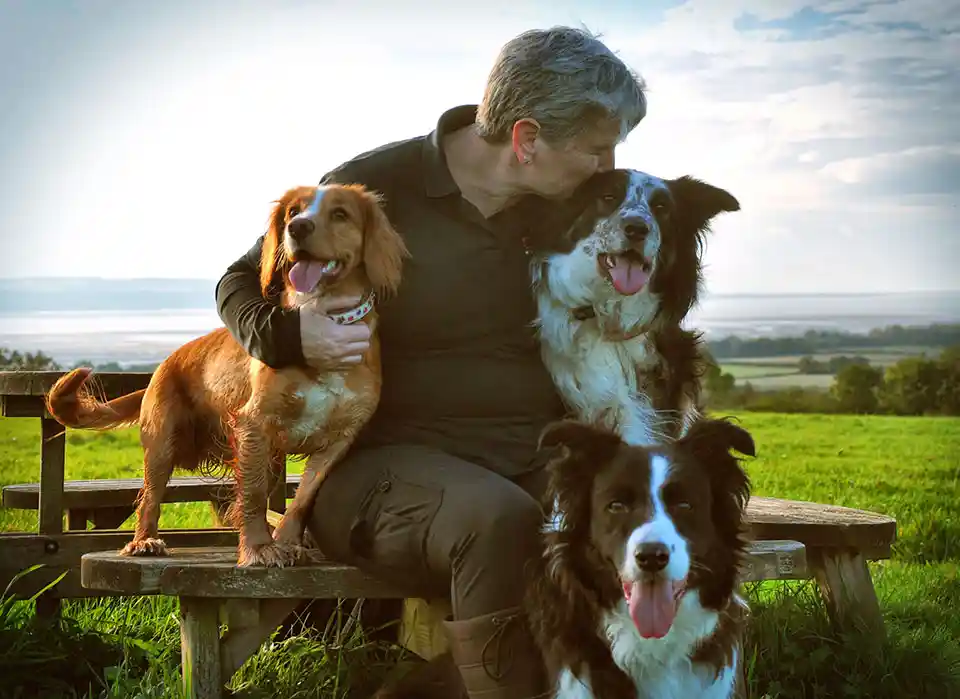 Rafa is a lovely friendly dog to people and dogs alike. Before retiring, he used to compete with me in agility quite successfully, and has also enjoyed flyball. He has also been a therapy dog and, together we made regular visits to a local school as part of the Read2dogs scheme. He was well-loved by both the children and the teachers. I'm very proud of his achievements.
Wizard is my youngster. His training is coming along nicely, and he has achieved Grade 4 in agility competitions. He is slightly more reserved than Rafa, but once he gets to know you he will be your friend for life.
I continue to assess dogs in and around the Chester, Wrexham and North Wales area, for 'Therapy Dogs Nationwide', so that people who might be struggling due to ill health can enjoy the rewards that come from the human/canine bond. I also regularly volunteer at Friends of Birkenhead Kennels, where I help to socialise and rehabilitate dogs so that they can find new homes.
I have also recently completed the PDTI Level 3 Practical Instructing Course, and hold an "Applied Instructing Skills" award. I understand that both dogs and people learn at different paces and in different ways, so my training is always tailored to you and your dog.
You can also relax in the knowledge that my Bark Busters Support Guarantee means that I will return to support you for the duration of the Support Guarantee you have purchased. I will also leave you with clear written guidelines, instruction and information to help you when you practice the training.
I'd love to meet you and help you to bring the best out of your dog. If you'd like to know more, you can visit my Facebook Page:
https://www.facebook.com/BarkBustersWirralChesterAndNorthWales.
Here you'll find lots of useful advice and information for dog owners like you.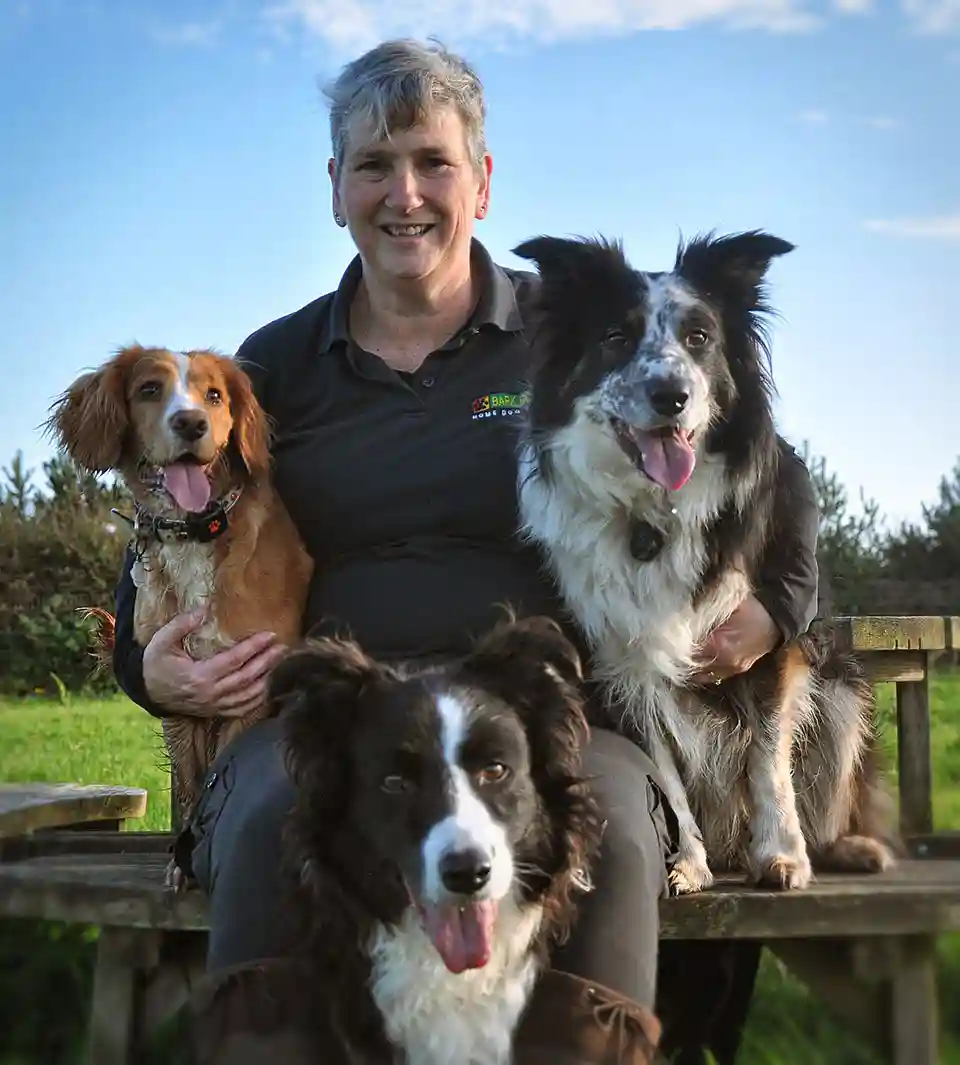 I can also help if you are looking for a dog trainer in North Wales
She listened then advised and talked about the practicalities of how to carry out better practices. She didnt overwhelm me with too much information and patiently repeated how to carry out the tasks. I worked with the dogs as she corrected and encouraged me. I felt so much better about my relationship with the dogs . It is proving difficult to get them to change but i am not going to give up. Looking forward to my next session with Sharon

A.T.

15th March 2020
Services provided by Sharon
more...
Sharon is a certified dog First Aider
how we can help you and your furry friend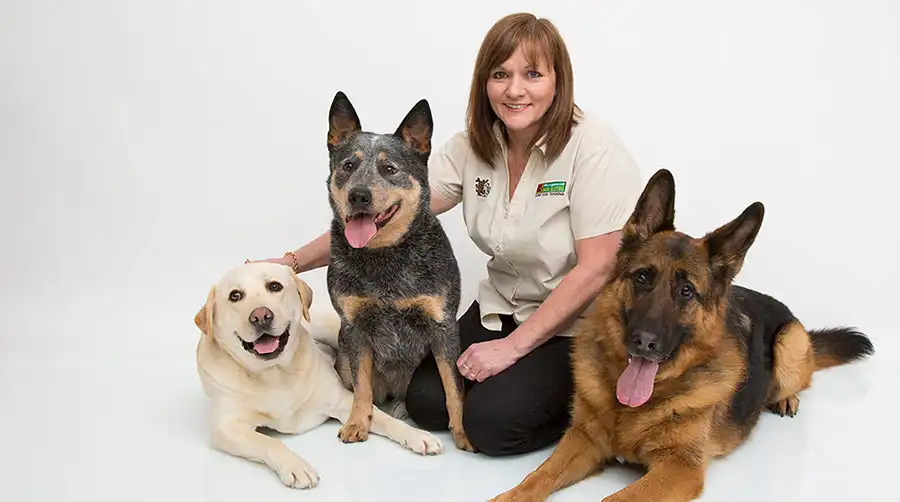 The Bark Busters communication methods help solve behaviour issues such as aggression towards people or other animals
Cure embarrassing habits like barking, jumping up on people, scratching & whining at doors or inappropriate toileting.
Create an obedient dog or puppy that will happily walk on the lead without tugging, sit or stay on command, and come immediately when called.
Set off-limit areas.
Reduce the stress of separation anxiety without the need for sedatives or drugs.
We teach you to communicate with your pet.
Do you find yourself shouting? Do you think your pet isn't listening to you? Maybe you're simply not speaking their language. The Bark Busters communication method is based on the way how our dogs communicate with each other and how they learn from older, more experienced members in the pack. This is what makes our training unique and effective.
Why do we train in your home?
Your pet lives with a family, in a home. This is where he spends most of his time and misbehaves most often, so this is where our programme is most effective. Our dogs learn by association. Bark Busters teaches him to listen in the home environment. If he does not listen at home, he will most probably not listen outside where there are far more distractions.
In your home we teach a one-on-one system without other distractions or the stress of being sent away from you to learn.
Of course, where you are experiencing problems outside the home such as pulling on the lead or dog aggression etc..., we will set up controlled situations in the park or wherever is most practical.
Your trainer is an independent business owner who operates their own business under a franchise agreement with Bark Busters. Sharon Chapman trading as Bark Busters, is a franchisee of BBDT (UK) Limited, the Master Franchise holder.