meet your specialist trainer Lee Hardy
Puppy Education Derby Dog Training & Behaviour
or call 0808 100 4071
Lee Hardy of Bark Busters Home Dog Training Derby is a Grand Master Dog Behaviour Therapist & Dog Trainer and received recognition in 2019 for helping over 4,000 dogs and their owners.
No doubt if you are looking at this page you are thinking of getting help with your dog. You may have tried everything from basic dog training and obedience classes to watching all the TV programmes in your quest to get better control over your lovable rascal. It's not that your dog is naughty, they're just misunderstood.
Many years ago, before I joined Bark Busters Dog Training, I remember a friend once said to me "Get a dog it will change your life". Boy he wasn't wrong there. My dog turned my life upside down, leaving me desperate for help. Now, over 10 years on and thanks to Rannan, a black Labrador, I am enjoying my career with Bark Busters Home Dog Training.
Rannan had major problems. Serious aggression to other dogs was the main issue and everyone I spoke to said the same thing. 'Have her put to sleep, she will make your life a misery'. I am so glad I didn't take that advice, since Rannan spent many years happily living with me and six of my other dogs before she sadly passed away in January.
Six other dogs! How you may ask? Well all those years ago when I was looking for help, possibly as you are now, I found Bark Busters Dog Training. Rannan was under control in almost no time - certainly within the first visit with Bark Busters.
I was absolutely blown away by the training techniques; so much so that I had to find out how I could help people like me to have happy and well-behaved dogs. At that time there was an opening for someone to work as a Bark Busters dog trainer and behaviourist and I jumped at the chance. That was a quite a few years ago now and I have never looked back. Since then I have constantly worked with owners fixing their dog's behaviour problems. It's great to see the smile on those owners faces when they realise that there is hope and that they are getting results. From homes with 12 dogs (yes I have trained 12 dogs in one household) to people with rescue dogs and puppies, I have ensured the dogs are happy and obedient because their owners understand them and know how to behave with them. Through helping out at rescue centres and working with dogs from the RSPCA in Burton, I have helped ensure that rescue dogs stay in their new homes and live in harmony with their new owners.
We get a dog for many reasons and we want them to be a member of the family, but a lot of dogs interpret our kindness and our behaviour the wrong way and start to take control of us. They are not doing it to be naughty, it's in their genes and they are just misunderstanding you as a "Pack Leader".
This is where I can help and with my expertise and experience I can get you and your dog understanding one another again. The training programme is easy to follow and in most, if not all cases you will see a result on the first day of my visit. If you're still not convinced read the testimonial from all the happy clients on my pages.
If you are experiencing such problems as Pulling on the Lead, Boisterous Behaviour, Barking or Howling, Separation Anxiety, Destruction, Aggression, Toileting and much more or you just want to get a good start with your puppy, then I can help you to get things back on track. Why not drop me a line to see how I can help.
I can also help if you are looking for a dog trainer in Ashbourne or Burton on Trent or Swadlincote or Uttoxeter
Lee was incredible! From the outset he achieved immediate results with my dog's behavioural issues of barking over conversations and jumping up. Although my initial reason for receiving training was to alleviate my dog's pulling on the lead, it transpired that there were so many other issues that need addressing that are all interlinked. You fail to realise you have become the dogs follower, not leader, and he has managed to control you and your life to his liking! Lee was clear, thorough and friendly with his instructions and training but it was also fun, because you could see the almost immediate consequences of the programming on your dog. He emailed really useful lesson notes and instructions so you can continue with the programme consistently until the next lesson. I would recommend Lee to anyone considering dog training, for whatever reason, in an instant. It's well worth the investment of time and money as it will certainly create a much better relationship between you and your dog and everyone and everything around you. Extremely happy, thank you! Caroline and JangoC.O.

30th September 2021
Services provided by Lee
more...
how we can help you and your furry friend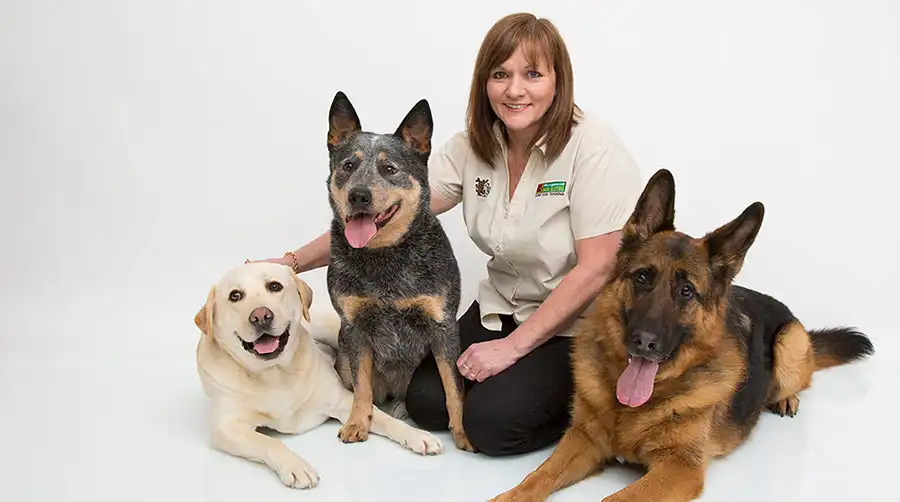 The Bark Busters communication methods help solve behaviour issues such as aggression towards people or other animals
Cure embarrassing habits like barking, jumping up on people, scratching & whining at doors or inappropriate toileting.
Create an obedient dog or puppy that will happily walk on the lead without tugging, sit or stay on command, and come immediately when called.
Set off-limit areas.
Reduce the stress of separation anxiety without the need for sedatives or drugs.
We teach you to communicate with your pet.
Do you find yourself shouting? Do you think your pet isn't listening to you? Maybe you're simply not speaking their language. The Bark Busters communication method is based on the way how our dogs communicate with each other and how they learn from older, more experienced members in the pack. This is what makes our training unique and effective.
Why do we train in your home?
Your pet lives with a family, in a home. This is where he spends most of his time and misbehaves most often, so this is where our programme is most effective. Our dogs learn by association. Bark Busters teaches him to listen in the home environment. If he does not listen at home, he will most probably not listen outside where there are far more distractions.
In your home we teach a one-on-one system without other distractions or the stress of being sent away from you to learn.
Of course, where you are experiencing problems outside the home such as pulling on the lead or dog aggression etc..., we will set up controlled situations in the park or wherever is most practical.
Your trainer is an independent business owner who operates their own business under a franchise agreement with Bark Busters. BBD Home Training Limited trading as Bark Busters, is a franchisee of BBDT (UK) Limited, the Master Franchise holder.