meet your specialist trainer Jacquie Callaby
Home Dog Training Guildford, Surrey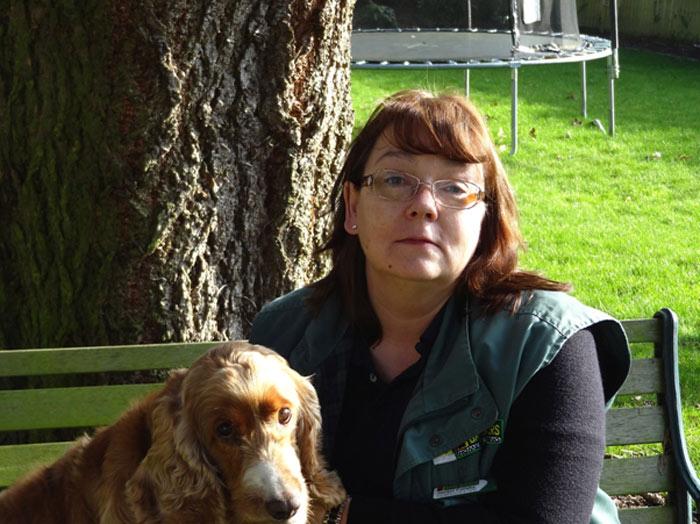 or call 0808 100 4071
Welcome to Bark Busters Dog Training Guildford. I have been helping dogs and their owners for over 12 years. In that time I have helped owners overcome some of the worst behaviour problems from aggression to sibling rivalry.
He takes me for a walk! He's stressing me out! He's barking and now the neighbours have complained! I feel I've lost control!
These are just some of the comments I hear from dog owners time and time again but it doesn't have to be the case. Every day I see clients who have tried many dog training techniques and they are still at the wrong end of the lead. Thankfully they have now taken back the control and both dog and owner are no longer stressed thanks to the Bark Busters training techniques.
At Bark Busters we cover all dog behavioural problems; pulling, separation anxiety, chewing, jumping, biting, recall, chasing and much more... I will show you how to take control and have a happy, well balanced dog.
I also sponsor Sally, a retired Greyhound, through the PDSA. Sally needs regular, expensive, medication so my contributions help to give her a better quality of life.
I was recently called in to see Honey, a Labrador who had been re-homed by the RSPCA. Not much was known about her history and for the first two months Honey was very well behaved. However, after she settled in she started pulling on the lead, jumping & mouthing at visitors. It is often the case that when a dog joins a new home, especially from a rescue centre, they settle well for several weeks. It's only a little later that they start training their owners and realise that they can be the pack leader!
With a little training, new rules and boundaries these behaviours can be quickly reversed, leaving you with a happy dog and a happy family.
At Bark Busters we believe in looking after your dog's welfare and behaviour, working with the family to change bad habits. It's not just about training your dog, sometimes aspects of your dog's life need to be rearranged so that they feel more comfortable in their surroundings. I get to the root cause of why your dog is showing the behaviour and put a plan in place to suit both owner and dog.
Please e-mail me and see the difference I can bring to you and your dog.
I can also help if you are looking for a dog trainer in Woking
I have 2 miniature Dachshunds that are the love of my life and between them had several issues which needed addressing - but the main issue was the escalating aggressive behaviour of the older Dachshund (4 years) which prompted me to contact Bark Busters. On the initial visit Jacquie spent several hours with us and also accompanied us on a walk to observe them. She made several suggestions and devised a plan for us to follow. (I think really it's about training the owners not the dogs)!!! After 3 weeks she returned for a progress check. I can honestly say the results were amazing and I can hardly believe that such small changes in their routine and lifestyle have made such huge improvements. It is now 6 weeks after the initial visit and their behaviour is very much improved. For anyone experiencing difficulties with their dogs behaviour, I would have no hesitation In recommending Jacquie. She has a wealth of knowledge, very patient and not at all judgmental.

T.S.

2nd July 2019
Services provided by Jacquie
more...
Jacquie is a certified dog First Aider
how we can help you and your furry friend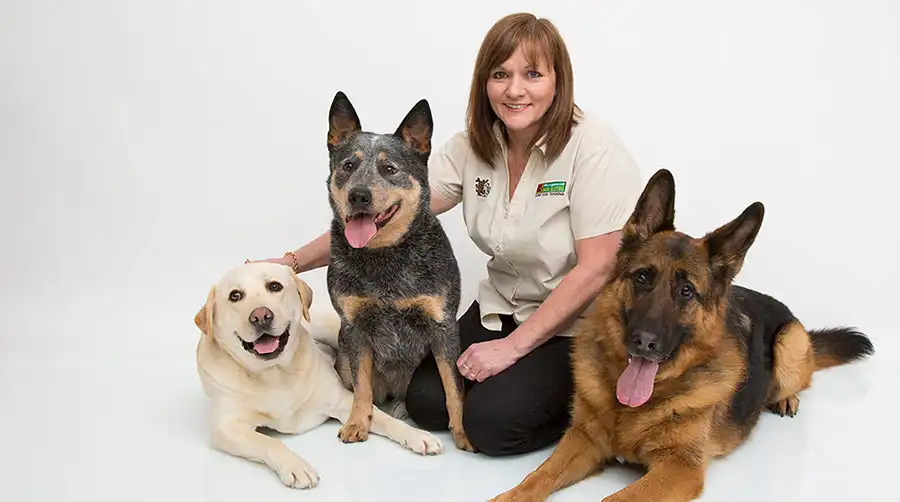 The Bark Busters communication methods help solve behaviour issues such as aggression towards people or other animals
Cure embarrassing habits like barking, jumping up on people, scratching & whining at doors or inappropriate toileting.
Create an obedient dog or puppy that will happily walk on the lead without tugging, sit or stay on command, and come immediately when called.
Set off-limit areas.
Reduce the stress of separation anxiety without the need for sedatives or drugs.
We teach you to communicate with your pet.
Do you find yourself shouting? Do you think your pet isn't listening to you? Maybe you're simply not speaking their language. The Bark Busters communication method is based on the way how our dogs communicate with each other and how they learn from older, more experienced members in the pack. This is what makes our training unique and effective.
Why do we train in your home?
Your pet lives with a family, in a home. This is where he spends most of his time and misbehaves most often, so this is where our programme is most effective. Our dogs learn by association. Bark Busters teaches him to listen in the home environment. If he does not listen at home, he will most probably not listen outside where there are far more distractions.
In your home we teach a one-on-one system without other distractions or the stress of being sent away from you to learn.
Of course, where you are experiencing problems outside the home such as pulling on the lead or dog aggression etc..., we will set up controlled situations in the park or wherever is most practical.
Your trainer is an independent business owner who operates their own business under a franchise agreement with Bark Busters. Jacquie Callaby trading as Bark Busters, is a franchisee of BBDT (UK) Limited, the Master Franchise holder.