Woking Dog Training & Behaviour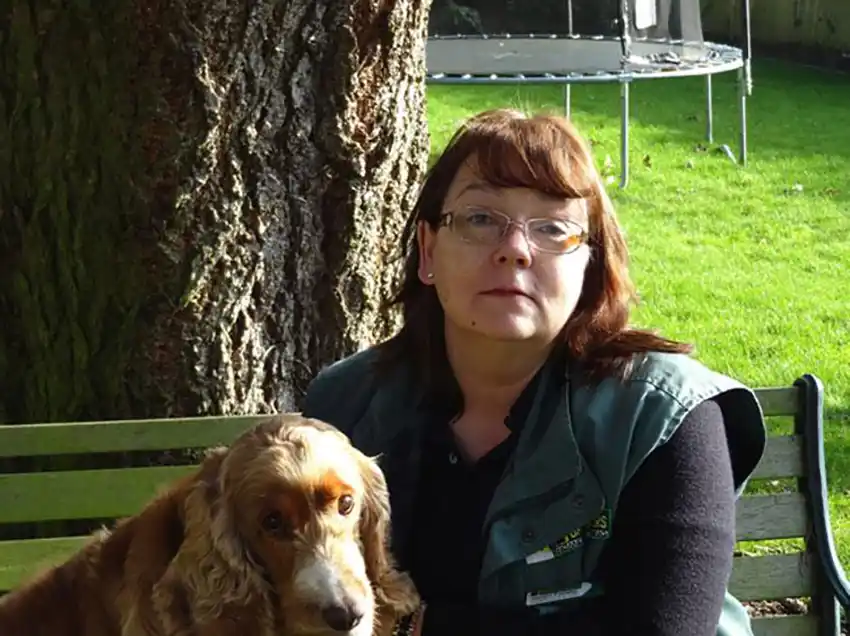 Welcome dog training Woking, my name is Jacquie Callaby, your local Bark Busters dog trainer and behaviour therapist, here to help you with any problems you may be experiencing with your dog or puppy. With over 17 years of working with dogs and their owners, means that I am confident that I can help you to find a way forward with any, and all your training needs.
Many dog owners struggle for years not knowing how to cure their dog's bad behaviour, and unsure of how to get help. I come to you in your home, at a time to suit you, which means I can meet you and your dog in your own environment, where they feel most safe, less stressed, and relaxed. You will have lots of time to explain the problems to me and together we will work on ways to get things back on track. I do not judge, and I always stress that I will be there to help and support you throughout the training programme. Once I have showed you how my training approach, of good communication and kind, consistent leadership works, and I have taken you through my simple training techniques, you will see for yourself how quickly you can get your dog to listen to you again.
If you are looking for professional dog training near you, then you have found the right place. Whether it is excessive barking, destructive behaviour, pulling on the lead, poor recall, separation anxiety, aggression to either dogs or people (or both), sibling rivalry, toilet training, or any other behaviour that is causing you stress, I can help. I also offer puppy training so that you can get off to a good start with your new puppy.
From our very first lesson, we will start to understand the underlying issues behind your dog's behaviour and work towards putting those things right. You will learn new techniques and training exercises and have lots of opportunity to practise whilst I am with you. Then I will leave you with a tailored plan and guidance on how to continue your dog's training after I have left. My Support Guarantee means that I will return to support you with your progress throughout the term of the service with me. I will also be available for telephone and email support too.
Whilst I up grew with, and have always been around dogs, I also understand that people have lives away from their dogs, and that my training needs to fit in around work, home, children, and other commitments. So, although I am a 'doggy person', I am not of the opinion that a dog owners world needs to revolve around their dog. Everything that I teach you can be incorporated into your daily life, whatever your other commitments.
My lessons are tailored specifically to yours, and your dog's, needs and are fun and friendly. I can confidently say that you will enjoy training your dog, and that your dog will enjoy the training too! Once you have learnt to communicate with your dog in a way that they understand, your dog will be much happier, and many of the bad behaviours will be easily eradicated. I know from my own dog, Miller, that the Bark Busters training methods work. By using them consistently and patiently, he was able to overcome his separation anxiety issues, meaning that we were not prisoners in our own home – something that I know is an issue for many dog owners.
I would love to meet you and your dog if you think I can help you in any way. If you'd like to know more, take a look at my testimonials from satisfied customers. Alternatively, you can call our freephone 0808 100 4071 for a no-obligation chat about the services I offer.
I hope to meet you very soon.

Jacquie is first aider trained
Areas Covered
Your trainer is an independent business owner who operates their own business under a franchise agreement with Bark Busters. Jacquie Callaby trading as Bark Busters, is a franchisee of BBDT (UK) Limited, the Master Franchise holder.
Contact Your Local Trainer
My Service Ratings