meet your specialist trainer Estelle Jackson
Nottingham puppy & dog training and behaviour therapist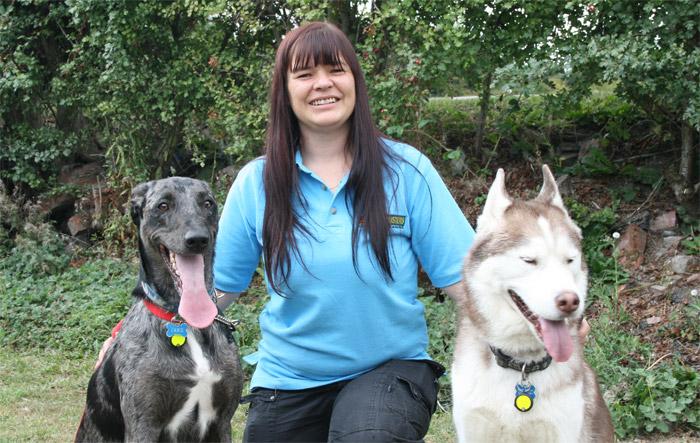 or call 0808 100 4071
Welcome to home dog training Nottingham, I'm Estelle Jackson and I am your local dog behaviour therapist and trainer. My training techniques are kind and calm, using voice tone and body language, in the way dogs naturally communicate with each other. This makes it so easy for dogs to understand and enjoy the techniques and games we use to remove the unwanted behaviours and to train in the good behaviours. The Bark Busters training can successfully help all problem dogs to become responsive, happy and trustworthy members of your family and I love passing this knowledge and training onto others. I find it hugely rewarding in seeing the results and the relief dog owners feel, so that they can relax and enjoy their dogs all the time.
The training takes place in your home, at time that is convenient to you and less stressful for you dog. Of course, where your dog is having problems outside the home, I'll venture outside and guide you through the training in local roads, parks or fields etc. I'll will sit down with you to listen to your concerns, observe and assess your dog or puppy's behaviour, then explain why the unwanted behaviours are happening. Together we will devise a tailor-made training programme that you and your dog will enjoy. I'll coach you in the techniques needed, so that you can communicate in a way that your dog will understand and get the results that you want.
Puppy Training
I love working with puppies too as they are always a joy to work with. It's really important to start early and put the right training in place to prevent mouthing, nipping, jumping, stealing, toileting accidents, chewing expensive shoes or the corners of lovely wooden table legs, all of which are natural behaviours for pups! I can help you to manage and retrain those unwanted behaviours so that your puppy becomes a loving part of your family.
Our Support Packages
You will also have the peace of mind that having purchased the Lifetime or 12 months support package, all return visits are conducted free of charge and I will help you maintain the progress and keep everything on track. Click here to read more about our unique support guarantee.
If you are unhappy or struggling with any aspect of your dog's behaviour, no matter whether minor or major and it's preventing you from fully enjoying your time with your dog, then we'd be delighted to help. Take a look at our reviews and testimonials to see what other dog owners like you are saying about our training.
Please do make contact so you can fully understand how we work, and learn all about our amazing unique support guarantee, either for your dog's lifetime or for 12 months, whichever you prefer.
About Estelle
I have been working as a dog trainer and behaviour expert for many years. I love my career with Bark Busters and it is such a privilege to be out and about in your area meeting people from different walks of life and, of course, lots of amazing dogs with various behaviour issues every day. Working with animals was something I was always destined to do; since my schooldays I have been surrounded by animals of various types. My Dad used to help injured animals and wildlife, so our house was always full of an array of creatures. It still is, but more of that later.
I trained as a veterinary nurse after leaving school and travelled to Australia where I lived and worked for several years. There, my passion for animals developed into an interest in dog behaviour and I found myself working with the RSPCA in Australia, running training and behaviour workshops. Eventually, this led me to become a Bark Busters therapist because I loved the idea of visiting dogs and their owners in their own homes where dogs respond better to training as they behave "normally" and are more relaxed.
When I returned back to the UK, I was able to continue this work that I love. The Bark Busters communication system is easy-to-understand and easy to put into place, in a kind and consistent way, and I find that dog owners are amazed at the speed of the changes in their dog's behaviour. It always gives me real pleasure to see the smile on owners' faces once they realise that, underneath the stressed exterior, they have a calm and relaxed dog who is a pleasure to live with. Often, dogs are anxious because they have taken on too much responsibility and feel that they have a need to protect themselves and their family. This anxiety makes them difficult to train, because they can't listen properly. Once I teach you how to communicate better with your dog and show some sound and consistent leadership based on voice tone and body language, you will give your dog comfort and confidence to know that it is ok to relax. Then he/she can learn much more quickly and start to have some fun.
Issues like excessive barking, destructive behaviours, aggression, skin problems, separation anxiety and guarding of objects can be signs of an anxious or overwhelmed dog. These are all issues I can help you with by teaching you how to train and communicate with your dog. I can also help with problems like pulling on the lead, poor recall, sibling rivalry, toileting and much more.
I also love meeting puppies! So, if you would like help with your puppy training and getting off to a good start with your new puppy, then please don't hesitate to ask.
I own dogs, cats, ferrets, ducks, sheep and horses. My three dogs are a Husky and a Lurcher that I have had from pups, and a 3- legged Chihuahua that was rescued from the Bush in Australia (where she lost her leg). There is always lots to learn from animals about their resilience and ability to adapt and learn. Whatever behaviour problems you may be experiencing from your dog, I can assure you that I will have come across the problem before from many dog owners. There is never any need to be embarrassed to tell me about the problems you are having as I will always be a compassionate listener and will always help and not judge.
As the lessons take place in your home, you can relax and take your time as I show and guide you through the training. Your programme will be tailored specifically to you and your dog, and you can contact me at any time for support during the period term or your support guarantee, knowing that I will come out to help you with each stage as you progress. I will leave you with written notes and guidance so that you can recap what you have learned at any time. If you find that you are struggling, we will work together to find a way forward that suits you better.
If you are struggling and think that you have an untrainable dog, or a dog who won't listen to you, give me a call, and let's work together to get your relationship with your four-legged friend back on track. You can call our freephone number 0808 100 4071 anytime. Alternatively, just click the contact button above and leave me your details. You have taken the first step towards a better way to a better dog!
I hope to meet you very soon.
Services provided by Estelle
more...
Estelle is a certified dog First Aider
how we can help you and your furry friend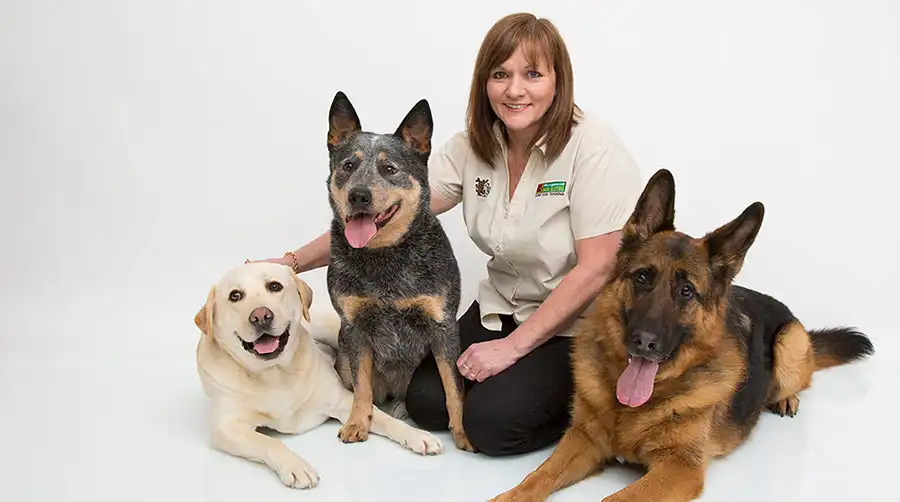 The Bark Busters communication methods help solve behaviour issues such as aggression towards people or other animals
Cure embarrassing habits like barking, jumping up on people, scratching & whining at doors or inappropriate toileting.
Create an obedient dog or puppy that will happily walk on the lead without tugging, sit or stay on command, and come immediately when called.
Set off-limit areas.
Reduce the stress of separation anxiety without the need for sedatives or drugs.
We teach you to communicate with your pet.
Do you find yourself shouting? Do you think your pet isn't listening to you? Maybe you're simply not speaking their language. The Bark Busters communication method is based on the way how our dogs communicate with each other and how they learn from older, more experienced members in the pack. This is what makes our training unique and effective.
Why do we train in your home?
Your pet lives with a family, in a home. This is where he spends most of his time and misbehaves most often, so this is where our programme is most effective. Our dogs learn by association. Bark Busters teaches him to listen in the home environment. If he does not listen at home, he will most probably not listen outside where there are far more distractions.
In your home we teach a one-on-one system without other distractions or the stress of being sent away from you to learn.
Of course, where you are experiencing problems outside the home such as pulling on the lead or dog aggression etc..., we will set up controlled situations in the park or wherever is most practical.
Your trainer is an independent business owner who operates their own business under a franchise agreement with Bark Busters. Estelle Jackson trading as Bark Busters, is a franchisee of BBDT (UK) Limited, the Master Franchise holder.