meet your specialist trainer Ben Jordan
Plymouth Dog Training & Behaviour, East Cornwall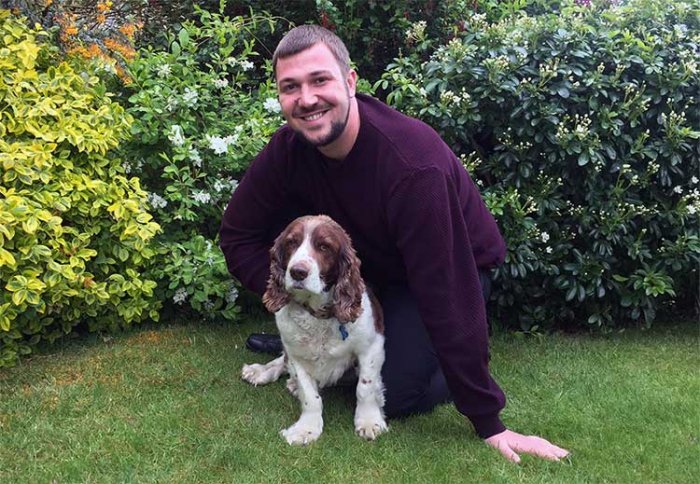 or call 0808 100 4071
Welcome to home dog training Plymouth, my name is Ben, your local dog behaviour therapist and trainer for Bark Busters. I also service Tavistock and Ivybridge. If you are looking at this page, you are probably thinking you need help with your dog's behaviour. The dogs I meet are changed for the better; from being aggressive, reactive, hyperactive, pulling on the lead, barking or you may not be able to let your dog off lead because you are never convinced that they'll return. You may be thinking of getting, or have just got, a rescue dog or young puppy and want to make sure that you give them the best possible start, safe in the knowledge that you can walk anywhere, in control, sit in a café without anxiety and enjoy seeing them run and play off lead. Whatever your reasons for reading this, I'd love to meet you and help you with any problems you're experiencing.
My lessons take place at your home at a convenient time to suit you. I will listen to your concerns and observe your dog's behaviour. Then I will teach you how to effectively communicate through voice tone and body language and to ensure you have all the tools to proceed. I will show and guide you through various exercises tailored to your specific needs and, once our first lesson is over, I will leave you with a tailored training plan and written information to practice and follow. By simply practicing the techniques I show you, for 10 to 15 minutes every day, can bring a lasting change in your dog's behaviour. You have the added assurance that I will always be available to return to help further under the Bark Busters Support Guarantee.
If you're looking for professional dog training near you, then you've found the right place. During our first lesson I will demonstrate the techniques and make sure everyone involved in the training has the opportunity to learn and practice the techniques, be involved and practice the exercises. This ensures that they have the confidence to continue to build on the results of our first lesson and to create that calm, relaxed responsive dog that you always wanted.
Some dog owners that I meet think that they have "done things wrong". Often, they've had dogs before and do the same with their current dogs, but it just doesn't seem to work. Every dog is different, and dogs learn in different ways. I will be able to assess the reasons for the unwanted behaviour and design a tailor-made programme just for you. So, whatever the problem, from aggression, separationanxiety, sibling rivalry, excessive barking, destructive behaviour, toileting, through to poor recall, pulling on the lead, or any other behaviour problem that you need help with, I will coach you to understand your dog, speak his language so that you can communicate in a way your dog will respond, so that the problems melt away.
You may be looking for puppy training? I can help you with all the stages of puppy training from toilet training through to recall. Our support packages ensure that your puppy has continued support throughout life, as your puppy grows.
If you would like to find out more, don't hesitate to get in touch for a no-obligation chat about my services. I hope to meet you and your beloved dogs very soon.

You Only Pay Once ** Free Return Visits **
Fast, Effective & Long Lasting Results
Proven Training That Works
All Problems Addressed
Any Dog, Any Age, Including Puppies
About Ben Jordan
I am a dog lover and until recently my first dog, a Springer Spaniel, Raffa, lived with me and helped me in my work and was a big part of my life. Sadly, due to age related illness I had to make the very difficult decision to ask my lovely vet to put him to sleep so that he had dignity at the end.
I got him over 10 years ago as a rescue who was reactive to other dogs. His behaviour sparked my interest in canine behaviour and started my progress to research and understand dogs and a very strong desire to work with them. I was able to "manage" his behaviour but did wish that I could walk him off lead without worry and without checking the horizon all the time for other dogs.
Over the years I have had various jobs, nothing quite giving me the job satisfaction that I've now found. I worked in a call centre, then found rewarding work in the care industry, sometimes working with aggressive human behaviour and learning how to dissipate, distract, divert and calm the situation. This, plus my experience with Raffa, helped me to understand reactive dogs and show owners how to anticipate and divert the energy to something more rewarding.
It was difficult to find quality dog training near me, so to pursue my longing to work with dogs, I studied Animal Behaviour for 12 months and started my own business as a dog walker. This was great and I loved all the different breeds. Each day was different; I could be picking up, German Shepherds, Border Collies, Mastiffs or some of the very lively Spaniels or naughty little terriers, Bulldogs or lovely mix breeds, lots of "doodles"!
Joining Bark Busters, I have learned so much and love the training techniques which are a great balance between giving dogs a consistent structure and the fun games that teach impulse control and focus.
It is easy to adapt the training to each very different situation, considering the personality of the dog(s), the home situation and the issues needing help. You can also rest assured that the Bark Busters system is fast acting and long lasting. It's based on voice tone and body language so that it's as easy as can be for your dog to understand. We like to think of it as "speaking dog" and it produces amazing results. It has addressed behaviour problems in over 1 Million dogs, and we've been successfully training dogs for over 30 years; starting firstly in Australia and now adopted Worldwide.
I couldn't be more pleased with the training provided by Ben. He was thorough, patient and made sure that I understood everything bit by bit. I totally understand where and how I've been going wrong and it is helping my anxieties around other people and dogs immensely, plus Truffles is so much more calm and happy! Big up to Ben at Barkbusters- thank you- I'm looking forward to continuing to learn over the coming year. :)

K.P.

6th February 2019
Services provided by Ben
more...
how we can help you and your furry friend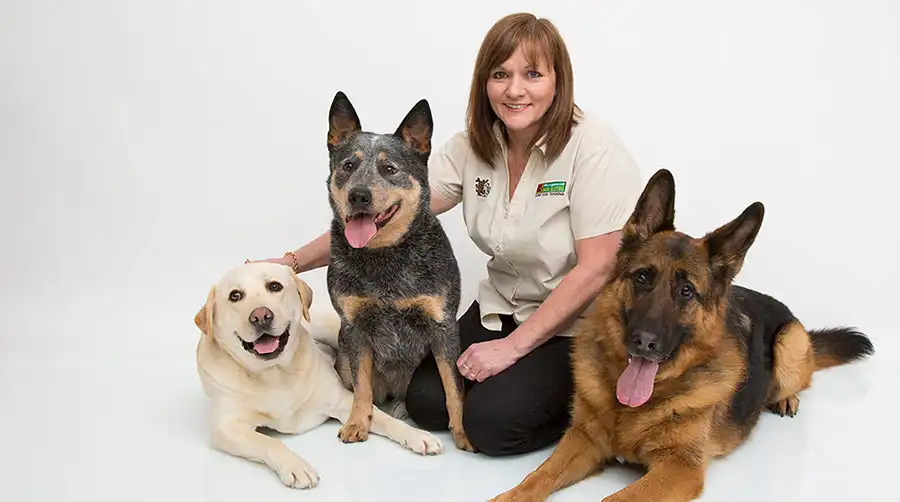 The Bark Busters communication methods help solve behaviour issues such as aggression towards people or other animals
Cure embarrassing habits like barking, jumping up on people, scratching & whining at doors or inappropriate toileting.
Create an obedient dog or puppy that will happily walk on the lead without tugging, sit or stay on command, and come immediately when called.
Set off-limit areas.
Reduce the stress of separation anxiety without the need for sedatives or drugs.
We teach you to communicate with your pet.
Do you find yourself shouting? Do you think your pet isn't listening to you? Maybe you're simply not speaking their language. The Bark Busters communication method is based on the way how our dogs communicate with each other and how they learn from older, more experienced members in the pack. This is what makes our training unique and effective.
Why do we train in your home?
Your pet lives with a family, in a home. This is where he spends most of his time and misbehaves most often, so this is where our programme is most effective. Our dogs learn by association. Bark Busters teaches him to listen in the home environment. If he does not listen at home, he will most probably not listen outside where there are far more distractions.
In your home we teach a one-on-one system without other distractions or the stress of being sent away from you to learn.
Of course, where you are experiencing problems outside the home such as pulling on the lead or dog aggression etc..., we will set up controlled situations in the park or wherever is most practical.
Your trainer is an independent business owner who operates their own business under a franchise agreement with Bark Busters. Ben Jordan trading as Bark Busters, is a franchisee of BBDT (UK) Limited, the Master Franchise holder.