meet your specialist trainer Ryan Busst
Dog Training South Birmingham, Redditch, Bromsgrove
Hi I'm Ryan Busst your local therapist for Bark Busters Home Dog Training in Redditch, Bromsgrove & South Birmingham.
To work as a dog trainer and behaviour therapist was always my ambition, so I am delighted to be working with dogs and their owners every day and helping them to overcome any training or behaviour problems that they are struggling with. Having been a dog owner all my life, I fully understand the challenges that dogs can present. I have attended many training programmes and I also volunteer every weekend at a rescue shelter in Walsall where I am involved in training, exercising and socialising the dogs in their care to improve their chances of rehoming. It is my passion for dogs and my desire to help people to live harmoniously with their pets that brought me to Bark Busters.
I grew up with Boxer dogs who could be very challenging at times. They were all loveable rogues! This taught me the importance of calm, kind, consistent leadership and training. Currently I own two mixed-breed dogs; Milo, a Rhodesian Ridgeback Cross, and Ruby, a Staffordshire bull terrier/German Shepherd cross. They could not be more different. Even so, with the knowledge and skills that I have acquired, they are able to live happily together knowing that I can be trusted to fulfil all our needs. We love going out for walks together, meeting other dogs and their owners, and we also love having visitors to our house. This is the kind of relationship I aim to help create for all my clients.
I know that everybody wants a happy relationship with their dog, but I also understand that things can go wrong, and this can cause frustration. Helping people to overcome the behaviour issues that are causing them stress is what brings me the most job satisfaction. Whether it is barking, jumping up, separation anxiety, sibling rivalry, destructive behaviours, resource guarding, through to aggression towards other dogs or people, the training system that I teach you can help.
Often people are so frustrated with their dog's behaviour that they are considering rehoming. I am often the dog's last chance. By taking on my fast acting and long-lasting system that I teach them, they soon come to understand why things have got to this stage, there is hope and they can turn things around! Dogs who appeared not to listen to any of their owner's commands, suddenly begin to understand what is being asked of them once the owner is consistent in communicating with them in a way they understand. I am always delighted to see my clients learn to love their dog again.
Our lessons take place at your home at a time to suit you. You will have as much time as you need to explain the problems you are struggling with. Then, once I have coached you on how the training works, we will begin to introduce our system of calm, consistent communication that your dog understands. There will be plenty for you to learn and the lessons are very informal and relaxed. I will guide you along the way and give you plenty of opportunity to practise. After our initial lesson, I will leave you with written notes to help you maintain the training programme, together with my written support guarantee that I will return to support you for the term of your contract.
Before becoming a Bark Busters therapist, I worked in industry for several years. I understand that different people learn in different ways and at different speeds. My lessons are one-to-one and therefore catering to individuals and their specific needs, so you won't be rushed or feel judged. I can also assure you that, whatever problems you are experiencing, I will have seen similar issues before so there is no need for embarrassment. My only wish is to leave you with a dog who is well-behaved and a pleasure to live with but who still has his own spirit and personality.
Having lived in the Birmingham area all my life, I am thrilled to be working with the friendly people in the Bromsgrove and Redditch areas. I hope to meet you and your wonderful dogs very soon.
Backed by the Bark Busters Support Guarantee.
I can also help if you are looking for a dog trainer in Halesowen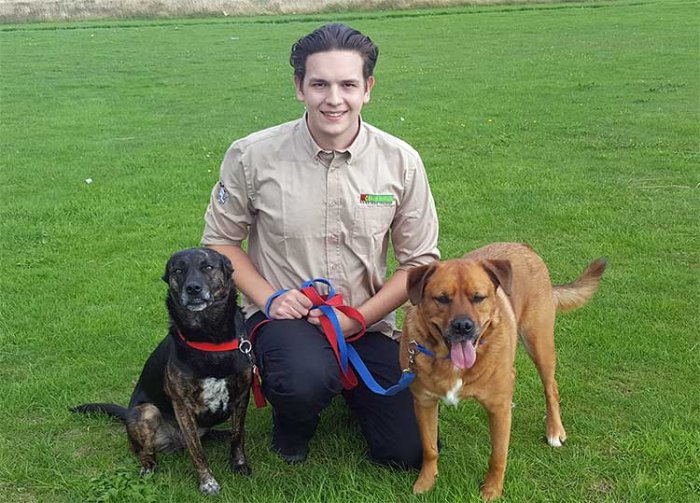 or call 0808 100 4071
Services provided by Ryan
more...
how we can help you and your furry friend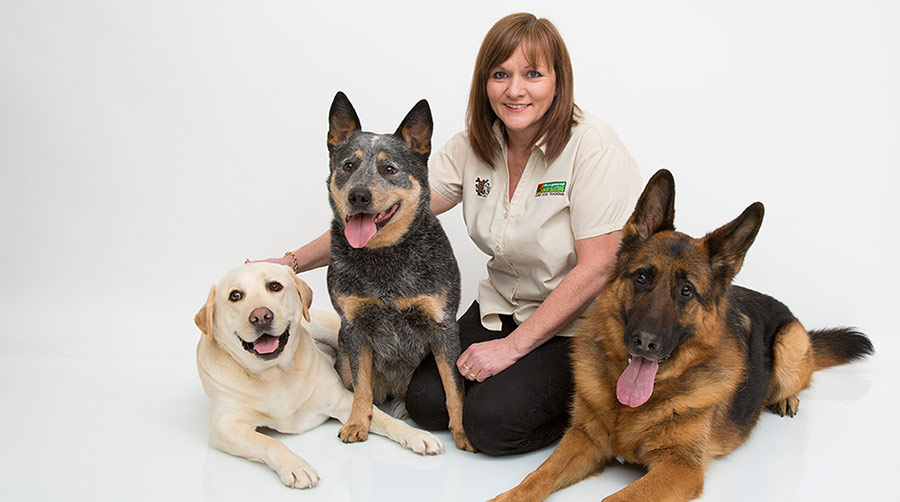 The Bark Busters communication methods help solve behaviour issues such as aggression towards people or other animals
Cure embarrassing habits like barking, jumping up on people, scratching & whining at doors or inappropriate toileting.
Create an obedient dog or puppy that will happily walk on the lead without tugging, sit or stay on command, and come immediately when called.
Set off-limit areas.
Reduce the stress of separation anxiety without the need for sedatives or drugs.
We teach you to communicate with your pet.
Do you find yourself shouting? Do you think your pet isn't listening to you? Maybe you're simply not speaking their language. The Bark Busters communication method is based on the way how our dogs communicate with each other and how they learn from older, more experienced members in the pack. This is what makes our training unique and effective.
Why do we train in your home?
Your pet lives with a family, in a home. This is where he spends most of his time and misbehaves most often, so this is where our programme is most effective. Our dogs learn by association. Bark Busters teaches him to listen in the home environment. If he does not listen at home, he will most probably not listen outside where there are far more distractions.
In your home we teach a one-on-one system without other distractions or the stress of being sent away from you to learn.
Of course, where you are experiencing problems outside the home such as pulling on the lead or dog aggression etc..., we will set up controlled situations in the park or wherever is most practical.