meet your specialist trainer Lee Hardy
Dog Training South Birmingham, Redditch, Bromsgrove
or call 0808 100 4071
I offer a variety of options to conduct lessons whilst maintaining social distancing. This includes home lessons, conducting lessons in your garden / open spaces and using video conferencing where applicable. We have introduced a new "Home Lesson Risk Assessment" to help to combat the spread of the virus.
Hi I'm Lee Hardy your local therapist for Bark Busters Home Dog Training in Redditch, Bromsgrove & South Birmingham.
I've been working as a dog behaviour therapist and trainer with Bark Busters for 20 years and I received recognition in 2019 for helping over 4,000 dogs and their owners.
It all started when my life was completely changed by a dog. Now we all love our dogs, but Rannan, a beautiful black Labrador, did cause me to question this at times. She had a multitude of major issues, the worse one was serious aggression to other dogs. After struggling on my own, I seriously considered my options, but not one to give up, I sought some professional help. I found Bark Busters Home Dog Training and during the very first visit from the local therapist I began to understand life from Rannan's point of view and was able to calmly show her that I could make decisions on her behalf, to keep her safe. I understood that she was extremely anxious about interactions with other dogs, so she was being defensive in the only way she knew! She began to relax and with some consistent work, she spent many happy years living with me and my other six dogs!
The techniques I learned that day helped me with my dog pack and I began to think that helping others to achieve what I had, would be a great way of life. I therefore made the decision to join Bark Busters and have happily spent the subsequent 16 years enjoying my days providing help and support to hundreds of humans and dogs.
Life is understandably varied. From working with rescue centres and my RSPCA, helping new adopters and especially working with those dogs deemed difficult to rehome, to one memorable occasion with a family with 12 (yes 12) dogs! That was a great experience, helping them to walk their dogs on lead without being treated like a sled being dragged, was certainly an achievement, simply using the calm, kind techniques I had learned and taught the owners; no shock collars, no choke chains and no yanking on leads.
Dogs see the world in a very different way to us humans, so it's understandable that we sometimes find that the dog we hoped would be a great addition to the family, has become unruly, noisy, destructive or seemingly unpredictable in some way. It sometimes seems that the dog is defiant and trying to punish us; they are just seeing the world in a canine way, so it's important for us humans to learn their language. That's where Bark Busters can help.
My work is very rewarding; using fun training games and seeing owners rebuilding relationships with their dogs, their dogs changing in front of their eyes, into focused happy to respond members of the family. It's great working with experienced dog owners as well as people bringing home a new puppy for the very first time to join the family and showing them how to ensure their pup has the very best start in life.
Our training programme is simply based on the way that dogs communicate with each other, it's simple and easy to follow and in most cases, you will see a difference in the way your dog responds to you in the very first session. Do check my testimonials for confirmation.
If you are having issues such as boisterousness, excessive barking, separation anxiety, aggression, toilet accidents, resource guarding, pulling on the lead, separation anxiety, destruction or lack of recall and much more, or you would like to make sure your puppy has a good educational start in life, I can tailor make a programme to suit you. So please do drop me a line to find out how I can help.
I am thrilled to be working with the friendly people in the Bromsgrove and Redditch areas. I hope to meet you and your wonderful dogs very soon.
Backed by the Bark Busters Support Guarantee.
I can also help if you are looking for a dog trainer in Halesowen
Great to have someone come in and be able to identify the problems fairly quickly as well as offer simple but effective solutions. Lee was great at giving us techniques to use which we could easily understand and just need to work on to put into practice. Our two dogs have come a long way in a short space of time which gives us confidence and makes us feel more positive going forward. It's also great to know we have someone at the end of a phone for any questions or issues that crop up.

S.L.

9th February 2020
Services provided by Lee
more...
how we can help you and your furry friend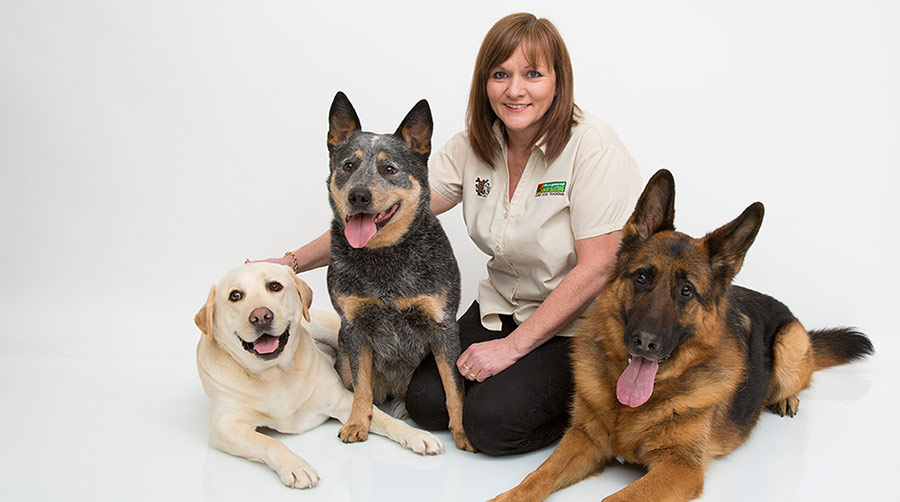 The Bark Busters communication methods help solve behaviour issues such as aggression towards people or other animals
Cure embarrassing habits like barking, jumping up on people, scratching & whining at doors or inappropriate toileting.
Create an obedient dog or puppy that will happily walk on the lead without tugging, sit or stay on command, and come immediately when called.
Set off-limit areas.
Reduce the stress of separation anxiety without the need for sedatives or drugs.
We teach you to communicate with your pet.
Do you find yourself shouting? Do you think your pet isn't listening to you? Maybe you're simply not speaking their language. The Bark Busters communication method is based on the way how our dogs communicate with each other and how they learn from older, more experienced members in the pack. This is what makes our training unique and effective.
Why do we train in your home?
Your pet lives with a family, in a home. This is where he spends most of his time and misbehaves most often, so this is where our programme is most effective. Our dogs learn by association. Bark Busters teaches him to listen in the home environment. If he does not listen at home, he will most probably not listen outside where there are far more distractions.
In your home we teach a one-on-one system without other distractions or the stress of being sent away from you to learn.
Of course, where you are experiencing problems outside the home such as pulling on the lead or dog aggression etc..., we will set up controlled situations in the park or wherever is most practical.