Puppy & Dog Training Redditch & Bromsgrove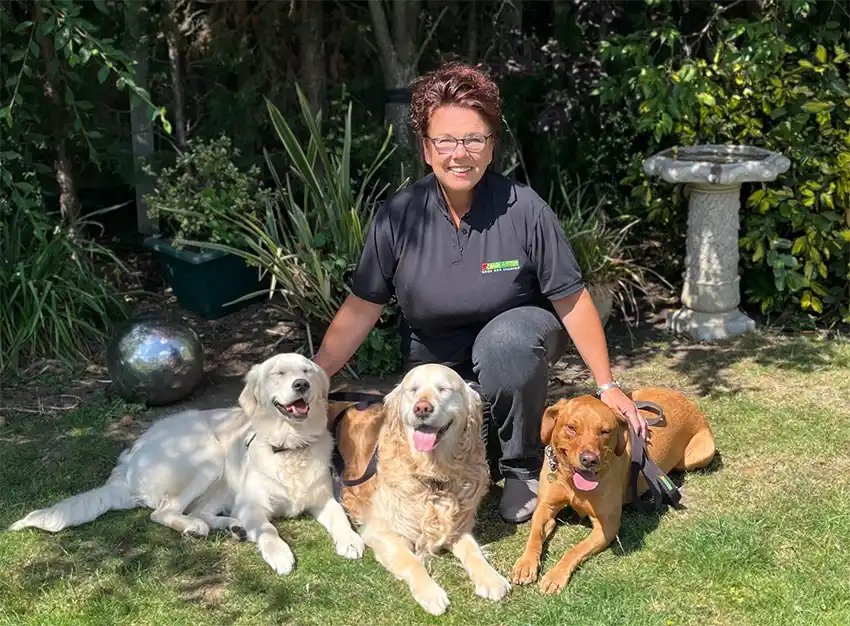 Welcome to dog training Redditch and Bromsgrove, I am Kirsty Dudfield your local Bark Busters dog behaviour therapist and trainer. If you have started reading this, you may well be hoping to find help and support to resolve a behaviour problem you are experiencing with your furry member of your family. I'm here to help you whether your dog is a rescue, adult or puppy, or even if you are just thinking about getting one. Maybe you are looking for general training needs or looking to resolve a behaviour problem. My training is conducted in your home where you and your dog are less stressed, most relaxed, and where you can take the time to focus on your dog without distractions. I come to you at a time that suits you and we work together to resolve any unwanted behaviours that are causing you problems and putting strain on your relationship with your dog.
I've been very lucky in my working life, working with both horses and dogs. It never ceases to amaze me that I love getting up to go to work.
My journey started as soon as I left school when I began my studies for equine qualifications. Once qualified at 21 years old, I began to teach horses, some with behavioural problems. I would work with their riders and owners, using kind and calm methods, to teach them how to fully enjoy relationship. Travelling all over the world, running my own business, showed me that great customer service, a strong work ethic and good organisation skills were the key to building and maintaining my business.
The first dog in my life was Elka, a lovely long haired German Shepherd. Once back in the UK and settled, she became my soul mate and best friend, coming to work with me every day until she passed away aged 13. This is when my passion for understanding dogs began.
After having my family, I found it too difficult to continue running my business and so I became involved in the Guide Dogs for the Blind Association. I jumped at the opportunity to work with them and became a foster mum to a beautiful brood bitch called Chloe, a Golden Retriever who was such a good mum. Over the years Chloe had 4 litters, with a total of 35 puppies. They all lived with my family until they were ready to be fostered with their chosen puppy trainers. It was so difficult to say goodbye to them, but I have followed all of their progress and most successfully became guide dogs or medical detections dogs.
Chloe is now 8 years old, retired, and living a lovely, relaxed life with me and my family and my 16-week-old Golden Retriever pup, Willow.
Despite their differences, training dogs and horses is very similar. It involves watching their body language, understanding the breed, their behaviour from their point of view, and acknowledging their instinctive needs and behaviours. Showing patience, being consistent with the daily training methods, having good timing, plus staying calm and providing great leadership is the key to helping them to understand what we want to achieve. All this is not difficult to learn with our methods and support, and it's also fun too.
I have 3 teenage children, so I understand how a busy home with an unruly dog or young puppy can be testing. I am happy to report that training dogs is easier than teenagers.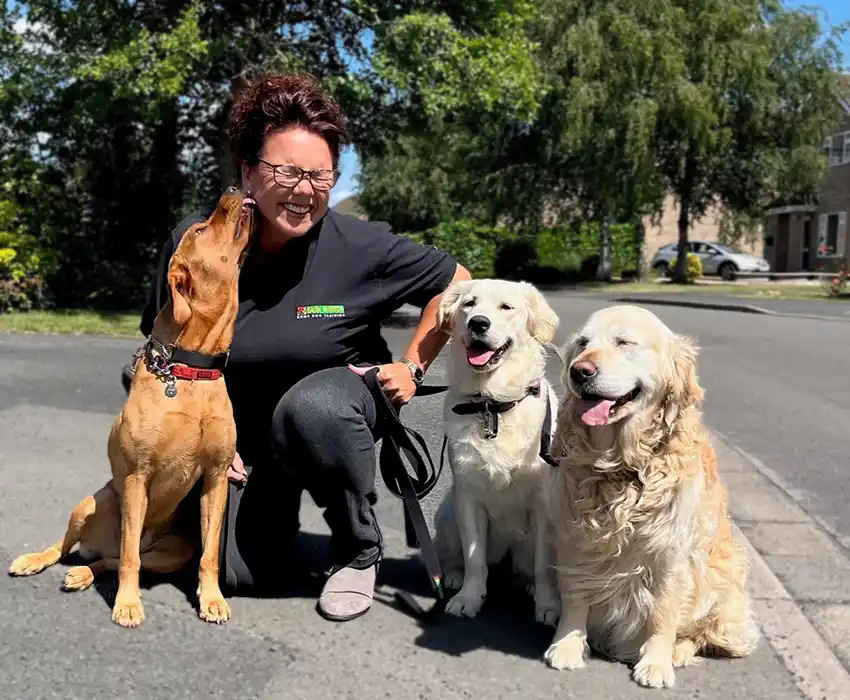 If you are looking for professional dog training near you in Redditch or Bromsgrove, then you have found the right place. Maybe you are looking to better or improve your relationship with your dog or puppy, or if there are specific behaviour problems causing you concern such as barking, jumping up, guarding items, aggression to dogs or people, separation anxiety, pulling on leads or anything you think needs improving, please do call and put your mind at rest that help is on its way.
My methods follow the way that dogs naturally communicate with each other. We use voice tone and body language and no physical punishment. I show you how to carry on with daily training to achieve the best possible results. Once the first lesson is complete, you will have the skills to guide your dog into the "wanted" behaviours rather than allowing repetition of the unwanted ones. No dog is beyond help and my motto is "Any dog, Any age, Any Problem".
Our Bark Busters Support Guarantee will provide you with peace of mind knowing that I am only a phone call or email away, to return to help you further and you pay only once. I will support you free of charge for any recurrence or new behaviour problems for the term of the support you have purchase.
Contact me to find out how I can help with you with your training needs or your dog's behaviour problems, and together we can build your relationship with your dog to be a loving and rewarding one.
I can also help you if you're looking for a trainer in Halesowen

Kirsty accepts debit/credit cards

Kirsty is first aider trained
Areas Covered
Quinton, Halesowen, Pedmore, Hagley, Romsley, Woodgate, Bartley Green, Frankley, Selly Oak, Bournville, Northfield, Rubery, Longbridge, West Heath, Lickey, Cofton Hackett, Hopwood, Belbroughton, Fairfield, Dodford, Catshill, Bromsgrove, Barnt Green, Alvechurch, Portway, Tutnall, Beoley, Holt End, Redditch, Webheath, Hunt End, Ham Green
Your trainer is an independent business owner who operates their own business under a franchise agreement with Bark Busters. Kirsty Dudfield trading as Bark Busters, is a franchisee of BBDT (UK) Limited, the Master Franchise holder.
Contact Your Local Trainer
My Service Ratings