Solihull Dog Training & Behaviour, Puppy Education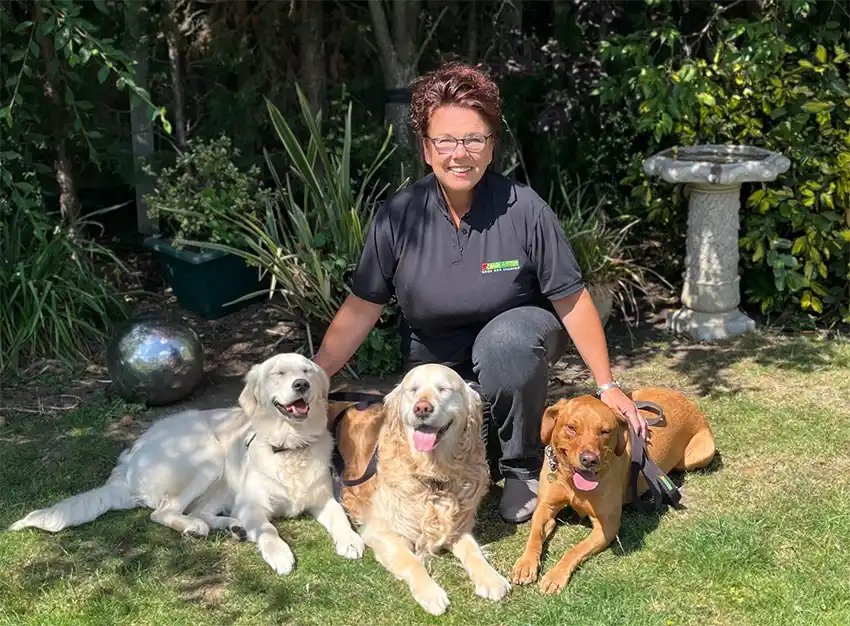 Welcome to dog training Solihull, I am Kirsty Dudfield, your local Bark Busters dog behaviour therapist and trainer. If you've started reading this, you may well be seeking the right behaviour therapist to help you resolve some issues with your furry family member. Below you will find details of my journey to finding my dream job, and how I can help you with your canine companions' behaviour or with your puppy to make sure you have the knowledge and techniques to feel confident to become the happy human/furry family that you want. Any dog, any age, any issue is our motto!
About me
After leaving school my love for horses drew me into studying to gain suitable equine qualifications. Once achieved, I began my career of successfully competing and teaching clients' horses and their riders. By the age of 21 I was running a successful business and finding out that good customer service and a strong work ethic was important for success. I was able to travel all over the world meeting wonderful people and their horses, helping to build better relationships between human and equines using kind, calm methods to overcome their horse's behaviour problems, as well as helping riders obtain the best possible results for either pleasure or competition.
Once settled in the UK, Elka, my first dog a beautiful long haired German Shepherd, became my companion and best friend who travelled with me every day to my equine work until she passed away, age 13 years. During this period my passion for understanding the canine mind began.
I found that once I had a family, I was unable to continue with my first love of working with horses so a friend who worked with the Guide Dogs Association, suggested that I apply to work with Guide Dogs for the Blind. After vigorous vetting I became the proud foster mum to a brood bitch named Chloe, a beautiful Golden Retriever. She was a brilliant mum and had a total of 35 puppies over the years. Each litter lived with my family until they were ready to start their journey with a guide dog trainer. I was very proud of my role in their upbringing as most became successful guide dogs or medical detection dogs.
Chloe aged 8 yrs old retired and now has a lovely life with me and my young Golden Retriever pup, Willow.
You may be surprised to learn that training dogs and horses is very similar. It is about learning and watching their body language, understanding the breed, their instinctive needs, behaviours, and what they are trying to tell us. Showing patience, being consistent with the daily training methods, having good timing, staying calm and providing great leadership is the key to helping them to understand what we want to achieve. All of this is not difficult to learn with my training method and support.
I have three teenage children, so I understand how a busy home with an unruly dog or young puppy can be testing. I am happy to report that training dogs is easier than teenagers.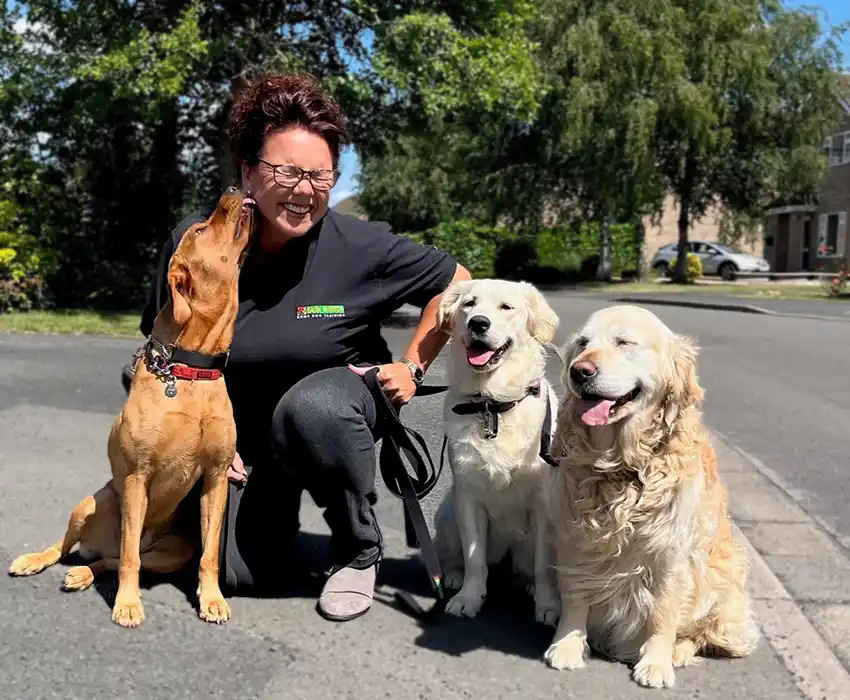 The training system
If you are looking for professional dog training near you, then you have found the right place. My system is straight forward, easy to use and understand, by both you and your dog. There are no physical harsh methods and I believe hands are for praise and reward. We will work together to ensure that your dog is listening to your voice tones, watching your body language and understands what you want from him/her. I can help you with all problems such as aggression to other dogs, aggression to people, sibling rivalry, separation anxiety, excessive barking, destructive behaviour, toileting, boisterousness, pulling on the lead, recall and much more… I also offer puppy training so that you can get off to the right start with your puppy.
My lessons will be packed full of activities and information so that you feel you have lots to continue to work with. You will receive lots of written information and follow-up training tips to help you absorb and consolidate what you have learnt. I want to ensure you get the best value possible from my training system.
Our only pay once Support Guarantee will also give you peace of mind that I will return, free of charge, to support and guide you through the term that you have purchased. You can feel confident knowing that I am only a phone call or an email away from retuning to help you if you struggle.
Contact me to find out how I can help you with your dog's behaviour problems and together we can rebuild a rewarding relationship with your dog.

Kirsty accepts debit/credit cards

Kirsty is first aider trained
Areas Covered
Marston Green, Acock's Green, Sheldon, Elmdon, Bickenhill, Hampton in Arden, Elmdon Heath, World's End, Kineton Green, Hall Green, Solihull, Sharman's Cross, Yardley Wood, Billesley, King's Heath, Hollywood, Shirley, Wythall, Cheswick Green, Earlswood, Knowle, Dorridge, Hockley Heath, Chadwick End, Lapworth, Wood End, Tanworth-in-Arden, Ullenhall, Henley-in-Arden, Wooton Wawen, Little Alne
Your trainer is an independent business owner who operates their own business under a franchise agreement with Bark Busters. Kirsty Dudfield trading as Bark Busters, is a franchisee of BBDT (UK) Limited, the Master Franchise holder.
Contact Your Local Trainer
My Service Ratings